Ript Showdown
If you're familiar with Ript Revenge Disc Golf Card game, then you should look into their new card game: Ript Showdown! This is available on InifniteDiscs.com for $8.99.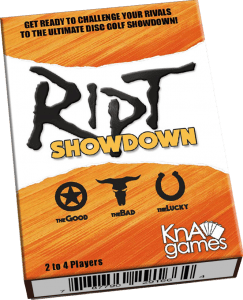 Are you Good, Bad, or Lucky? Ript Showdown features double sided cards allowing Disc Golfers to choose a side to play based on their style. Will you be Good and play a defensive game, or Bad and attack your opponents mercilessly? Either way, you hope to be the Lucky in the end and pull off a win. Showdown features all of the cards you love from Ript, Ript Revenge, as well as all new cards.
Play While You Disc Golf – Add some spice to your disc golf game! Best played with 2-4 players. Choose weather to play Defensively or Aggressively, as the cards you play will modify your round. May the best score win!