State of Disc Golf 2018 – How We Carry Our Discs
The State of Discgolf Survey has been tracking the trends in disc golf bags and the different ways that we carry our discs around the course. The trends leaned from traditional shoulder bags to a strong surge in backpacks, and has been moving steadily toward carts for the last couple of years. Here is a look at the survey results for 2018.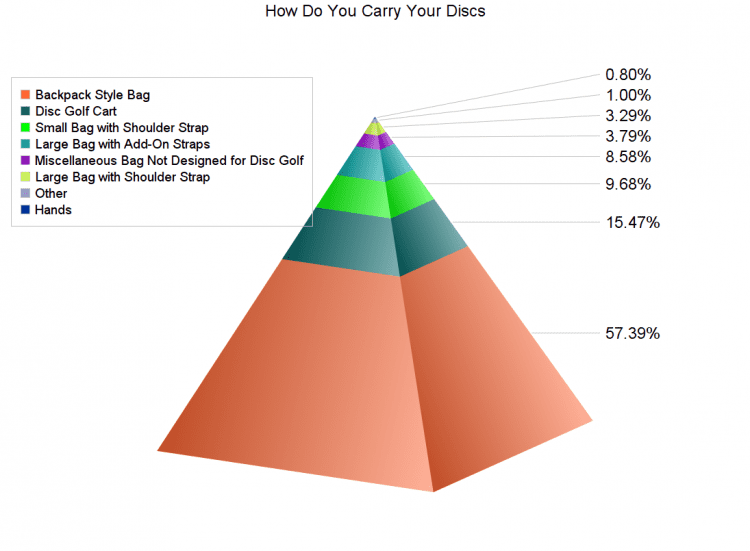 By far, the most popular way of transporting discs around the course is by using disc golf backpacks. Disc Golf Carts have now moved strongly into 2nd place, pushing aside the large bags (with and without shoulder straps). The small shoulder-strap bags still have the edge over large bags with shoulder straps. Here is what the results looked like in 2017: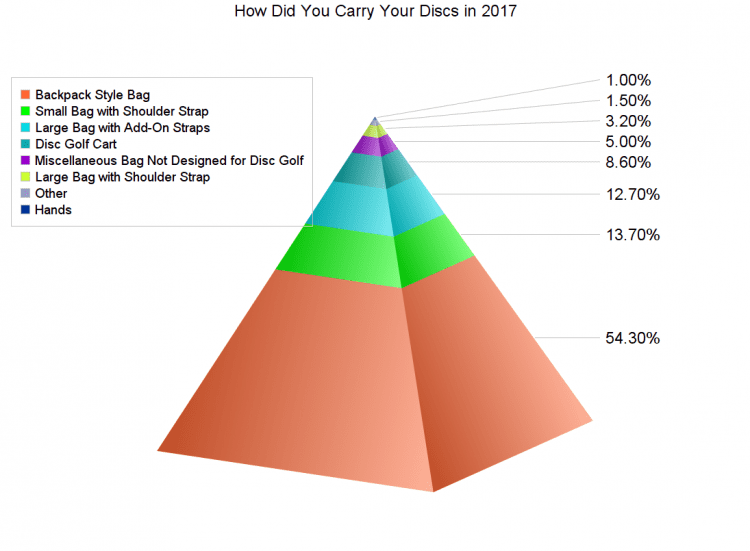 Where disc golf carts used to be 4th place at 8.6% of survey participants, carts are now 2nd place at 15.47% of survey participants. The percentage of small bag users has dropped from 2017 to 2018 but still remains a good portion of players that prefer to travel light. It appears the the trend is generally away from larger should-strap bags (even with added straps for backpack-style carrying) and toward either backpacks or carts, with small bags holding ground.
Going back to the 2015 survey, large disc golf shoulder bags accounted for 34.4% of those surveyed. That percentage has been cut to a third in 2018 with a total of 11.87% using large bags with or without straps. Disc Golf Carts were not included separately in the survey in 2015 and would have fallen into the "other" category which amounted to less than 3%. Carts are definitely an exploding part of the market.