State of Disc Golf 2019 Survey Demographic Overview

Infinite Discs conducted its annual survey of disc golfers in the beginning of 2019 so that we could once again take a look at the growth and opinions held by those who play disc golf. It is always fun to see the changing trends and to weight the opinions of a large group of players. Infinite Discs has been conducting the survey since 2014 and as always, we thank those of you who contributed.
While some of the basic information that we asked, like gender, employment, location, etc. may only be marginally interesting on their own, those answers also help to analyze more interesting data from the other questions. We will continue to publish those results and analysis in the coming weeks. For now, here are the basics…
6542 Disc Golfers Participated in the Survey This Year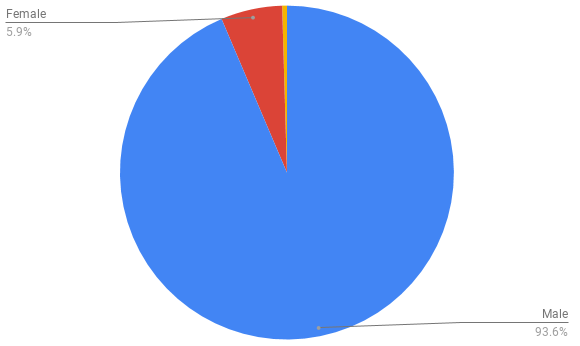 Of those surveyed, 93.6% were male, 5.9% were female, and the remaining .5% did not specify gender. That result is virtually identical with the 2018 results, showing no change in the balance of male vs female players who took the survey. While that may not translate exactly into the percentage of total players (these are simply survey participants), it does represent a continued disparity between males and females involved in the sport.
Married vs Single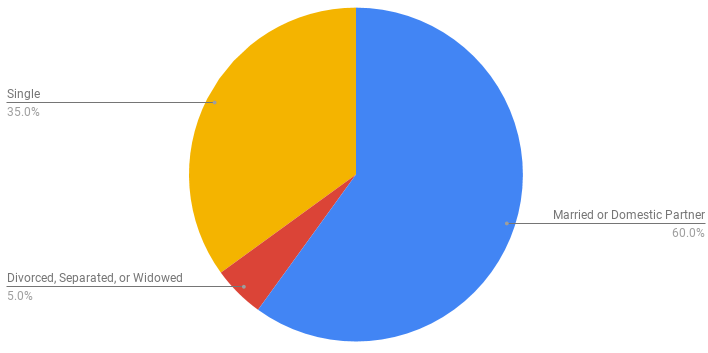 The majority of players who took the survey this year are married or with a domestic partner while 35% are single and 5% or divorced, separated, or widowed.
Age of Survey Participants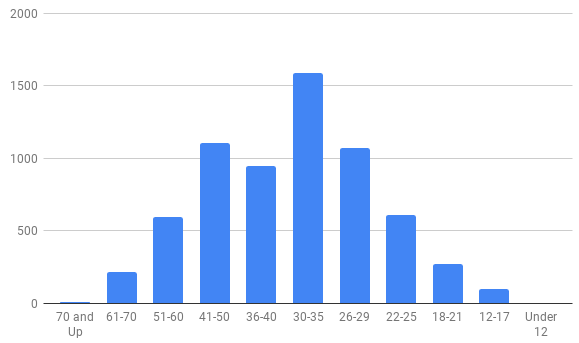 While it appears that the bulk of disc golfers still fall in the age range from 29 to 50, we must also consider that few youth would know about or participate in a lengthy disc golf survey. It would still be nice to see the numbers grow in that younger age group below 18-years-old. There is a lot of growth potential in the junior high and high school age groups.
Employment Status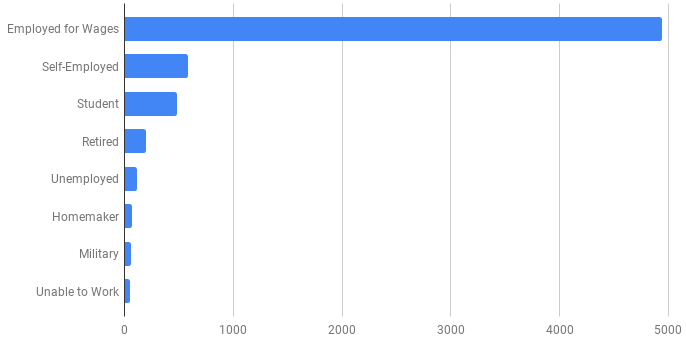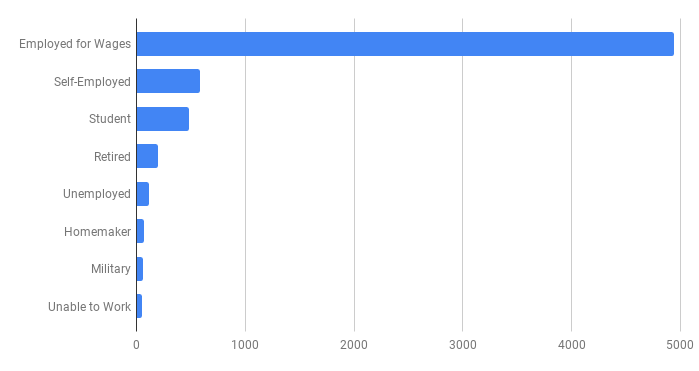 While there were some different "other" responses in the survey which specified occupations like bartender, caretaker, lawyer, frolfer, professional disc golfer, none of your business, etc., most responses fell into the basic categories indicated in the chart. We see that 76.2% of those surveyed are employed for wages, while 8.9% are self-employed, 7.4% are students, and 3% are retired with the remaining falling in other categories. I supposed it is great news that the unemployed percentage dropped from 2.5% in the 2018 survey to 1.7% in 2019's survey.  The number of retired players also increased from 2.3% last year to 3% this year.
Most Popular States
We will reiterate that these results are drawn from those who participated in the survey. While it may not represent the entire disc golf scene, it gives a pretty nice snapshot of where there are more disc golfers. Plus, we realize that our survey is not shared nearly as much outside the USA.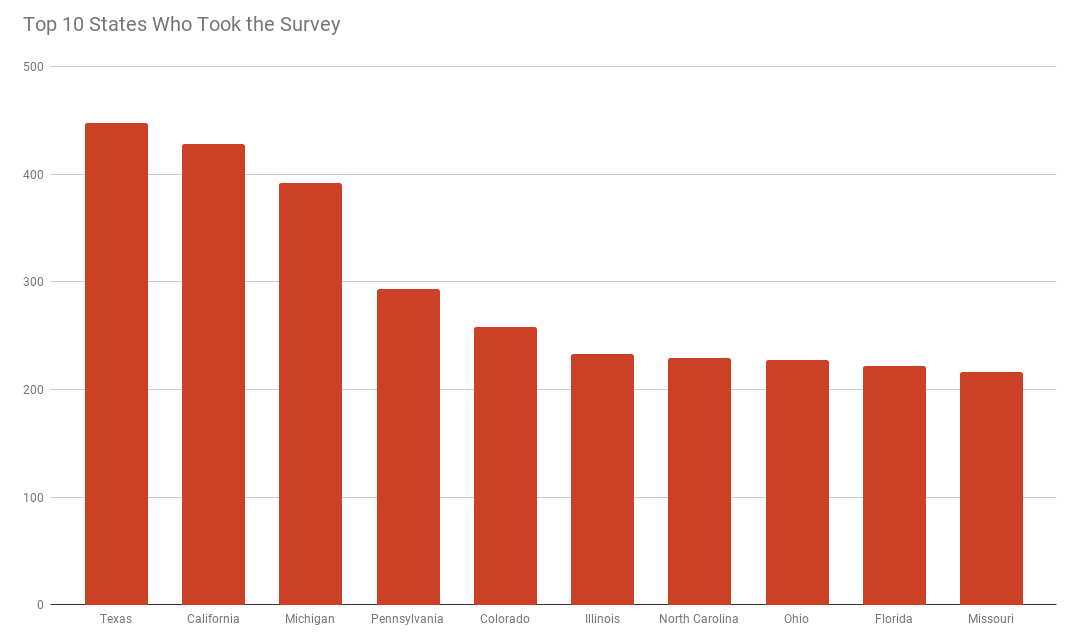 For those of you who like a "heat map" of where survey participants live, here is map of the USA where the darker the state is shaded, the more people participated in the 2019 State of Disc Golf Survey. The lighter shaded states had fewer participants: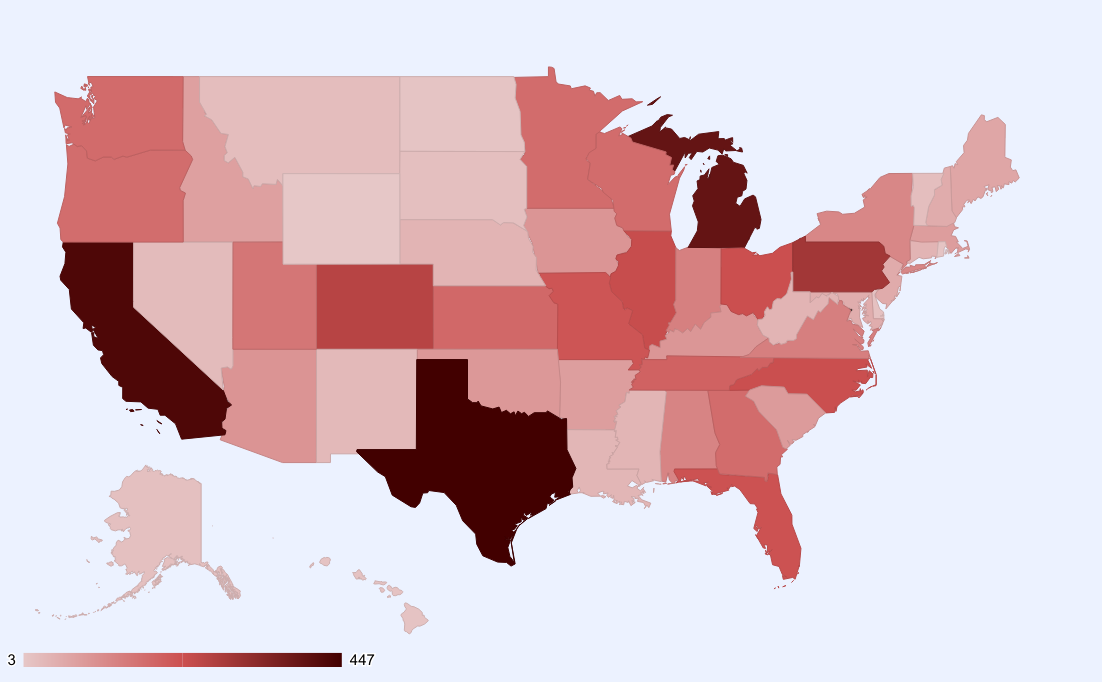 We also had a very healthy number of survey participants from Canada, Europe and Scandinavia. There was one survey participant from Africa.
Watch this blog for more 2019 State of Disc Golf Survey results!