State of Disc Golf Survey 2022

It is time for our annual State of Disc Golf Survey where we ask for all disc golfers everywhere to share their thoughts and experiences with the sport through some simple survey questions. This survey has become a great way to see how the sport is growing and evolving. We have really appreciated everybody's input in the past.
Where to Take This Year's Survey
You can take the 2022 State of Disc Golf Survey by going to THIS LINK
Feel free to share that link on social media and with your disc golfing friends. The more opinions that are shared, the better!
Where to See Previous Survey Results
We always share the data from these surveys through the Infinite Discs blog. You can click easy links to see those different articles presenting the results. Here are links for the previous three years:
It's worth taking a look at those blog posts for all of the fun charts and analysis. Here's an example from the 2019 survey showing how many discs did survey participants collect without any intention of throwing in 2018?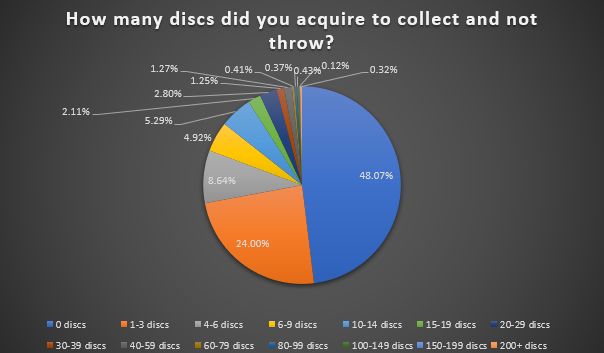 Random Prize Winners Will Be Selected
As usual, we will be giving away a few prizes to randomly selected participants. We'll be giving away some slinger bags, discs from boutique brands, and other prizes and you have a chance to win if you take the survey this year. Winners will be contacted after the survey is complete.
THANKS FOR YOUR PARTICIPATION!