Team Infinite — November Update
Hey Infinite Discs Readers! You may be wondering where the team results went, and I can tell you they are back! Let's see what our team members were up to since the last post on 07 November 2016.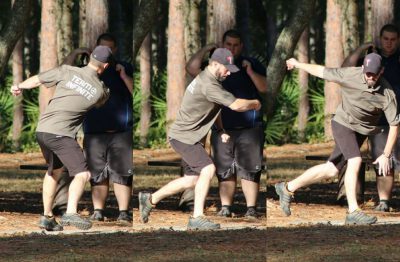 William Trimble enjoys shorts and tee-shirt weather in Florida at the Chainhawk Open
Ratings Updates– I have listed everyone that received a ratings bump in November or December, or both!

Karissa Donaldson #83450: From 665 to 719; +54
Andrew "Big Country" Belet #55114: From 854 to 872 to 873; +19
Jonathan Grimes #82885: From 910 to 927 (Nov.); +17
Rodney Tripp #78186: From 933 to 937 to 944; +11
Holly Saugling #78655: From 419 (Oct.) to 430 (Dec.); +11
Casey Lee #63411: From 928 to 933 to 937; +9
Alec Falzone #57550: From 954 to 960 to 961; +7
Robby Harris #43412: From 943 (Nov.) to 949 (Dec.); +6
John Saugling #68406: From 893 to 899 (Nov.); +6
Paul Kb #76745 From 939 to 944 (Dec.); +5
Taylor Salanoa #76083: From 929 (Nov.) to 934 (Dec.); +5
William Trimble #71368: From 882 to 887 (Nov.); +5
Alex Sakash #87695: From 881 to 886 (Nov.); +5
Cameron Beck #78346: From 867 to 872 (Nov.); +5
Nick Lopez #60929: From 934 to 938 (Nov.); +4
Connor Kisling #83766: From 876 to 880 (Nov.); +4
Jake La"Putt"ka #52776: From 971 to 974 (Nov.); +3
Deann Donaldson #66842: From 839 to 840 to 842; +3
Christopher Ostheimer #76726: From 838 to 841 (Nov.); +3
Jennifer Lovett #63271: From 682 (Oct.) to 685 (Dec.); +3
Justin Bilodeau #45478: From 976 to 977 (Nov.); +1
Tony Martinez #43921: From 976 to 977 (Nov.); +1
Ted Hegemann #59765: From 859 to 860 (Nov.); +1
Brian Cole #46301: Stays at 978 (Nov.)
Belch'n Turkey XIV (PDGA B-tier); Chattanooga, TN 11/26/2016
Jennifer Lovett: 3rd Place FPO
Adair Classic (PDGA B-tier); Corvallis, OR 11/12-13/2016
Brian Cole: 8th Place MPO
6th Annual Valdosta Open (PDGA B-tier); Valdosta, GA 11/12-13/2016
William Trimble: Tie 18th Place MA2
5th Annual Chain Hawk Open – Ams (PDGA B-tier); Jonesville/Gainesville, FL 12/3-4/2016
William Trimble: 22nd Place MA2
Fall Classic (PDGA B/C-tier); Tolland, CT 11/26/2016
Alex Sakash: 3rd Place MA2
Fairgrounds Fundraiser (PDGA C-tier); Logan, UT 11/12/2016
Steve Suhaka: Tie 3rd Place MPO
Kesler Martin #88497: Tie 3rd Place MPO
Nick Lopez: 7th Place MPO
Bob Davies #27055: 11th Place MPO
Nate Reiner #55277: 12th Place MPO
Rodney Tripp: 1st Place MA1
Casey Lee: 2nd Place MA1
Alan Barker #66339: 3rd Place MA1
Bradley Bauer #78607: Tie-5th Place MA1
Jace Smellie #64593: 9th Place MA1
Dylan Durrant #78185: 1st Place MA2
"Turbo" Ted Hegemann: 5th Place MA2
Victory Junction's Inaugural Campership Classic (PDGA C-tier); 11/20/2016
Jacob Byrd #76723: 6th Place MA1
Bradford Open (PDGA C-tier); Huntersville, NC 11/19/2016
Deann Donaldson: 2nd Place FPO
CADL Presents: The Downtown Urban Open 5 (PDGA C-tier); Cary, NC 11/27/2016
Deann Donaldson: 3rd Place FPO
2016 PDGA Director's Cup (PDGA C-tier); Crown Point, IN
Markus Mika #47001: 3rd Place MPM
11th Annual West Coast College Open (PDGA C-tier; Team format: Match play, with individual results for girls and extra players)
Jake LaPutka: Played as University of Oregon's #2 seed and goes undefeated; Oregon Ducks win the tournament
Karissa Donaldson: 5th Place FA1
3rd Annual Shawn Dawson Memorial (PDGA C-tier); Pueblo, CO 11/12-13/2016
Andrew "Big Country" Belet: Tie-7th Place MA2