Team Infinite's Kade Filimoehala

Kade Filimoehala:
The Quest to Win the Junior World Championship
How old were you when you started playing disc golf? In the 2021 State of Disc Golf survey the average age that we started playing disc golf was around 27 years old. In the next couple of blog posts, we'll take a look at two players who started playing disc golf in two extreme age groups: under 12 and over 70. They are both Team Infinite players who are active in disc golf and who recently competed in their respective PDGA World Championships. In this blog we'll start with the younger player, Kade.
Heading Into Junior Worlds
Kade Filimoehala played in the 2021 Junior World Championships in July of this year. It was the culmination of a goal set years ago when he first attended Junior Worlds. Although he was excited to be competing in Championship, he also a little nervous entering the tournament. He was the highest rated player and this was his last chance to win the tournament.
Adding to his nervousness was a first round result that was less than he hoped for. To be more accurate, it was a great round of disc golf. But it put him a little further outside of first place than he wanted. Kade knew he had his work cut out for him if he wanted to take the top spot for the tournament. But, before we get to the results, let's get to know Kade a little better.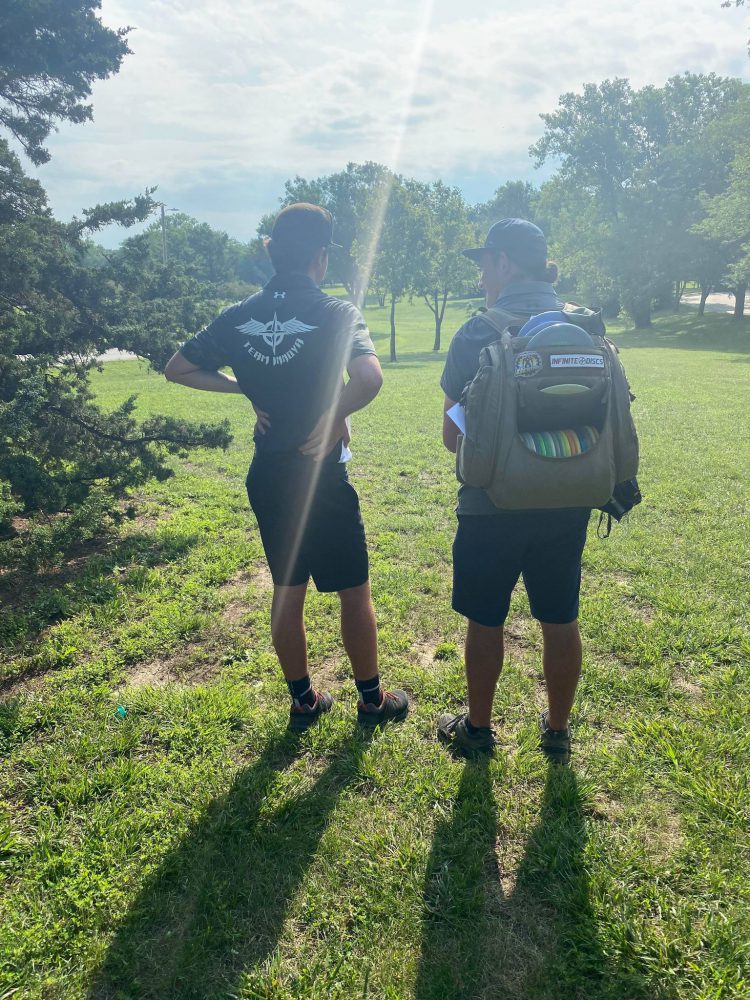 About Kade
Kade lives in Northern Utah, in the community of Kaysville. His name is Tongan. He is one-quarter Tongan and his grandpa on his dad's side is full Tongan. Despite having numerous courses within a fairly short distance of his parent's home in Kaysville, he stumbled onto the sport on a family vacation in Idaho. They were at Lava Hot Springs and noticed some disc golf baskets at a park near the hot springs pool. He and his family visited a local sporting goods store and picked up a few Echo Star Destroyers and played the course. That is where his passion for disc golf began.
First Trip to Worlds
Although Kade's disc golf career essentially began as a 10-year-old on a humble 9-hole course in Idaho, something happened later that had an important impact on his game: He attended a PDGA Junior World Championship in 2018. His performance there landed him toward the back half of the pack. But that fueled his desire to come back to the tournament, and win!
Though not satisfied with his finish, his experience in Emporia that year was positive. "Junior Worlds is such a well-run tournament and it is so fun to play with people my age," he said.
Competing to Improve
Kade played in numerous regional tournaments in 2019, mostly as an Amateur, winning some and slowly improving his rating and his skills. He also returned to Junior Worlds, finishing slightly better than the year before.
In 2020 Kade started playing more in the open division, even playing in numerous DGPT events around the country. He gained a lot of experience. He also got to see what it was like to be a younger player in a group with older competitors.
"Now I don't get treated any differently," said Kade. "But when I first started playing disc golf tournaments, I sometimes wasn't handed the scorecard, and the other three guys just did the scorecard for me." That's something for the rest of us keep in mind, too. Especially since we're seeing more amazing young players entering the pro ranks.
During that year he won a few tournaments as an Open player, but declined the cash payout, as is the prerogative of an Amateur player who wants to maintain their Amateur status. He still had in mind his goal to win the Junior World Champion title that year. Then, unfortunately for his plans, the pandemic hit and it got cancelled.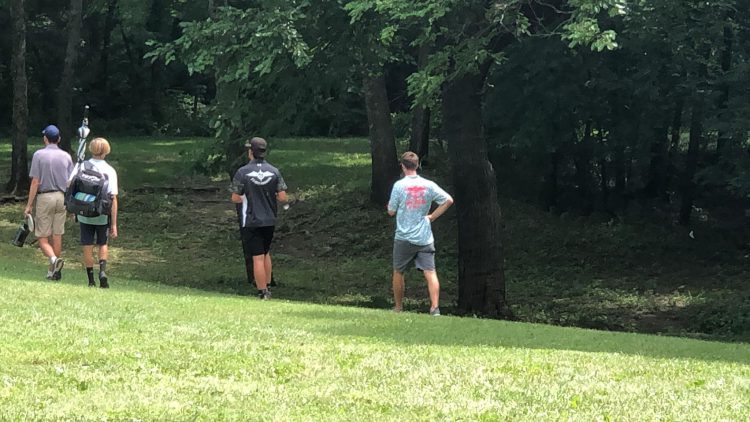 Getting Ready to Win
Undeterred by the cancellation, Kade continued to play as much as he could and continued to grow as a player. His MPO wins for that year included two B-tiers and a C-tier event. And his rating continued to climb.
This year, 2021, found Kade back playing competitively, this time exclusively as an MPO player. He competed at many local, regional, and a few DGPT events in preparation for achieving his goal to win Junior Worlds. Then, in July of 2021, Kade returned to Emporia to make the attempt.
As mentioned in the opening of the blog, Kade was less than impressed with his start at Jr Worlds. In his words he, "didn't play my best that first round." But, he did what everyone should do after a bad round, he focused on what he needed to improve for the next round. It worked and his next round was much better.
Meeting a Hero
At the Peter Pan Course in the second round Kade shot a 1028-rated round, which moved him from 14th place to 4th, and he made it onto the lead card. Something else special happened that round: Fellow Team Innova player Ricky Wysocki followed him and watched him play! That was special for Kade because Ricky has always been a hero to Kade. "Ever since watching the 2012 World Championships, my favorite disc golfer has been Ricky Wysocki," he said. Following the round Ricky invited him to dinner with Innova team manager Joe Rotan.
Finishing Strong
The third round of Junior Worlds was another round that wasn't his best, but wasn't horrible either. He maintained his place on the lead card, and even moved up a spot to third place. After that, he started the pick up speed.
Round four was another 1000+ rated round, and in rounds five and six Kade shot the hot round! Shooting some amazing disc golf he was able to coast into the final round with a 7-stroke lead. Even then, he didn't let off the gas and shot the hot final round en route to a 9-stroke lead and the championship!
It was a great week for Kade. Not only did he win the championship, he won the long drive competition with a throw of 555′. Plus, he took first in his division's Double's tournament with his brother Andrew, another rising star.
Turning Pro
The win at Emporia was a memorable event for Kade. It was the achievement of a goal he had set years earlier and the results of countless hours of practice and competition. It also put him in a position to make a big career decision. Should be remain an amateur, or become a professional? It was an easy decision for him.
"I had set a goal to win Junior Worlds and because I accomplished that I felt like I was ready to move on," said Kade. Plus, he was planning on attending college a few months later, so he didn't know if he would have the time to train properly for Am Worlds. So, he turned pro.
He is glad he did that. He has already finished near the top in a few tournaments, and was actually able to take cash for his efforts.
"It felt great to get rewarded for good play and feel like I'm competing for something more than a trophy and a good round rating," he said.
His Future in Disc Golf
Although he doesn't know exactly where disc golf will take him, he still has goals he will be working toward. Those include achieving a rating of 1030 or higher by 2023, make a DGPT Elite Series lead card, and finishing a DGPT tournament with 100% C1 putting. Given his history, he will likely see those goals fulfilled, too.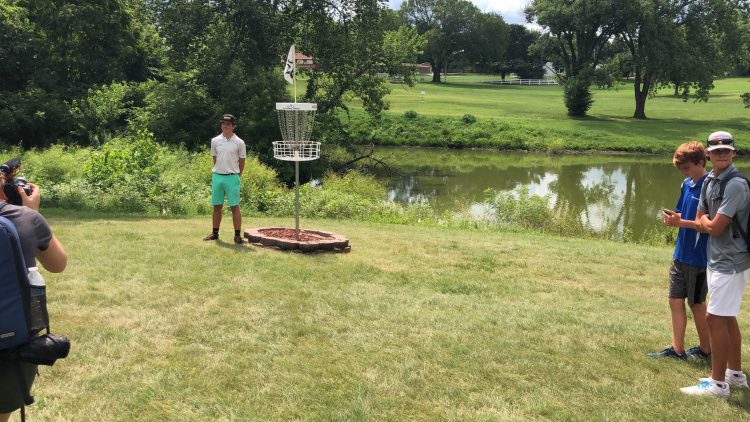 Pro Tips
Since he started playing when he was fairly young, he knows the challenges that face younger disc golfers as they rise in the ranks and play with older players. He was asked what advice he would give to someone starting out in the sport, who want to play competitively.
"Don't be afraid to speak up and take a turn at doing the scoring," he said.  "Also, don't be afraid to speak your opinion on a close call.  It is very easy to conform to what the rest of your card is saying. As a young player playing with adults, it is important not to be intimidated, and let your card know what you think regardless of what they are saying."
When things go wrong during a round, he has a tip that really helps him.
"I immediately start thinking about the next tee shot. I think about the disc I'm going to throw, the angle I'm going to throw it on, the wind, and where I want the disc to land. That seems to help me move on."
Learning and Teaching
In addition to Ricky Wysocki, Kade has other pros that he looks up to, including Drew Gibson. "Drew's backhand is what I have used to model my backhand." In watching Kade throw, the similarities are apparent.
Recently, Kade started making himself available to teach lessons. He'll show up to a session with a video camera and radar gun, then proceed to observe, record, measure, and give tips that will help that individual improve their game. When asked for the most common mistakes he sees people make, Kade said it usually has to do with upper body.
"The most common mistake I see is rounding. It usually stems from having an ultimate background, or when people try to throw really hard a lot of the time, they pull their shoulders through too fast. It causes the disc to lag and usually causes a massive power and accuracy loss."
In His Bag
As for what Kade has in his bag, it's no surprise that he throws Innova and Infinite molds. Here is what he throws the most:
Driver: Innova Destroyer
Fairway driver: Infinite Exodus
Midrange: Innova Roc3
Putter: Infinite Alpaca
Conclusion
From his start on a small course in Idaho to winning the Junior World Championship, Kade has worked hard to improve his skills as a disc golfer. Given that history of discipline and practice, the sky is the limit for this Team Infinite member!
Support Kade by checking out his new signature disc, a  Metal Flake Glow C-blend Exodus here:
https://infinitediscs.com/Infinite-Discs-Exodus/Signature-Metal-Flake-Glow-C-Blend