The Discmania MD5 MidRange Disc

To wrap up the 2018 year, Discmania released the MD5 mid-range. While it has become common for mid-range discs to have a wider diameter than longer drivers, the trend in 2018 was to release smaller diameter mid-range discs, particularly more overstable discs. The MD5 is one of those smaller diameter, overstable mid-range discs, and it is a very precise one.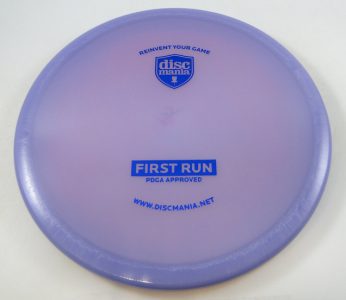 Released with a "First Run" stamp as well as with a stock stamp, the MD5 joined the ranks of similar discs released during the 2018 year– perhaps most closely related to the Innova Caiman. It has a profile quite similar to a Caiman, but in flight it does not get quite as much distance.  Rather than a smooth, drawn-out fade, the MD5 has the tendency to drop its edge and fade steeply out of the sky once velocity is lost. That provides a dramatic and precise overstable fade for great accuracy when thrown by experienced players.
It is not a disc that would be friendly to beginners, but is designed for experienced players who are looking for an easily controlled, short-range, overstable mid. Where discs like the Dynamic Discs Justice used to stand out in this category, Discmania has added to their lineup with this strong contender in the MD5.
Speed: 5.0
Glide: 3.0
Turn: 0.0
Fade: 4.0
Other End-of-Year Plastic Releases by Discmania
Also to end the 2018 year, Discmania released a couple of runs of their most popular discs in fun, premium plastics. While this is not the first time these discs have been run in these plastics, they are getting a lot of love from Discmania fans. The available of these discs in these plastics is sporadic, so it is good to grab them while they are available. It is hard to know when the next run will come.
C-Line Luster FD – Straight Fairway Driver in durable, creamy translucent plastic
Glow C-Line P2 – Extremely popular putter in durable, glow plastic