NEW DISCS: June 19 – 15
Here is a breakdown of some of the latest molds that were released and restocked last week:
Infinite Discs Emperor
The Infinite Discs Emperor has been out of stock for a few months, so we were pleased when this mold arrived at the warehouse. These came in Metal Flake Glow C-Blend plastic and were stamped with a special edition stamp. This is a very popular plastic due to its durability and unique flight ability. There are still a few available, get yourself one HERE 
This is a moderately overstable, powerful distance driver that can enhance the accuracy of your distance game. 12 | 6 | -1 | 3
Discraft Raptor
We released a lot of Z Glo plastic Raptors this week, featuring several stamps. Raptors in love and Raptors in space are the most recent stamps that you can find on these molds. Get yourself a Raptors in love stamp HERE, and purchase a Space Raptor stamp HERE
The Raptor is a speed 9 disc with a flat top and overstable finish. It is designed to slice through the air in any weather conditions for a reliable flight. You'll find that the Raptor feels extremely comfortable as a driver to use with both forehands and backhands.
Prodiscus Jokeri X
The Jokeri has an older brother now… the Jokerie X. If you have never heard of this small brand, check out our most recent blog post introducing the Prodiscus brand. The Jokeri is a highly rated putt and approach disc that people find works very well in difficult weather conditions. The Jokeri X is very similar to this, but features a bead along the rim. If you like beaded discs, this one is for you… purchase one HERE.
The JokeriX is a beaded version of the Jokeri. This is a highly versatile disc that offers excellent control and a comfortable grip. You will find that it is a reliable overstable disc that performs well in a variety of situations.
TSA Mantra Restock
The Thoughspace Athletics Mantra is back! They are restocked in all three plastics; Aura, Ethereal, and Ethos. Each has a new, unique stamp that you'll want to add to your collection. Get a restocked Mantra HERE
The Mantra will fly straight at a manageable speed for new players, but will have a more understable flight for more experience throwers. It can be used for precision drives, anhyzer lines, and even power rollers. It's an all-purpose driver with great glide that feels and flies wonderfully.
Infinite Discs Anubis Restock
Being one of the best mid-ranges on the market, the Anubis is perfect for beginners and experienced players alike. We have released Run 11 of this mold in I-Blend plastic. Capitalize on this restock HERE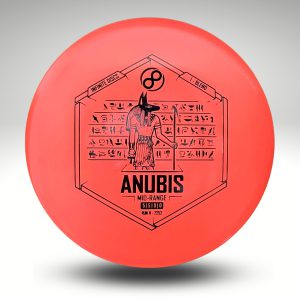 The Anubis is a straight-flying, all-purpose, precision mid-range disc that will fit into the bags of both novice and professional players. Every player can count on the Anubis to hold a line, whether thrown for shorter approaches or for longer distances off the tee.