The New "Macro" or Throwable Mini Disc Craze

There is a very new trend within the disc golf market that I don't believe many people saw coming. There has always been a small market for mini marker discs, since they are used in tournaments to mark a disc's lie. There has been a collectible element to mini markers as well, since they have sentimental or stamp value when tied to a special event, or there are people who are fans of certain brands and want to collect related minis. Small, novelty baskets were made for mini markers and mini rounds have been played as a matter of entertainment novelty.
But now, with the hugely successful release of the Mini Buzzz in 2016, the "macro" trend has lifted into high gear. Players are loving larger mini discs that are made to throw at respectable distances, rather than just marking a lie.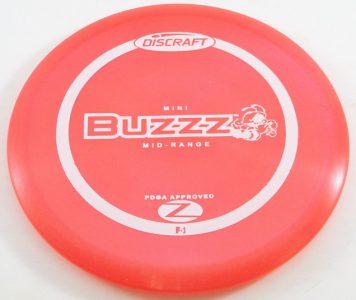 Discraft was the innovator with the Mini Buzzz, a smaller replica mold of the popular mid-range disc. It was initially released in Elite Z plastic with the same stamp design as the regular-sized Elite Z Buzzz, including the misleading text "PDGA Approved" (which obviously, the mini Buzzz itself is not PDGA approved). The Mini Buzzz has since been released in other plastics, including with the Big Z design, a limited Jawbreaker edition, limited Z Dyed Ledgestone edition, and a full-color Supercolor edition. Mostly collectors and Buzzz fans snagged the first run, which became very valuable very quickly. But almost immediately the word got out that they actually fly very well, with some players throwing them consistently over 200 feet and even up to 300 feet. In fact, one of our Infinite Discs associates managed to hit a 250 foot ace on one of his first Mini Buzzz throws. Demand soared, almost faster than Discraft could keep up for the first few months.
Since the Mini Buzzz, Discraft has pushed relentlessly to release new, throwable, miniature versions of their other popular molds. One of the hottest discs in the next wave was the Mini Nuke because of its sharp-edged design and overstability, making it easy to throw for impressive, high-speed distances. The Mini Undertaker was much more understable and difficult to launch at high speeds. The Mini Challenger was Discraft's first macro putter, released in Jawbreaker plastic.
The third wave of Discraft macro's included another distance driver, the Mini Crank, plus a marco version of their easy-throw mid-range, the Mini Comet, and another Jawbreaker plastic putter with the flat-topped Mini Zone.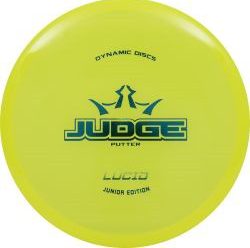 With the success of Discraft's Mini Buzzz, it wasn't long before other brands jumped on the bandwagon, including Dynamic Discs with their introductory Junior Judge.  The macro putter was released in their soft plastic, Prime, as well as in their premium durable plastic, Lucid. The mini was introduced at the 2017 Glass Blown Open tournament and received a warm welcome by fans of Dynamic Discs. The brand has since followed up with another miniature replication of their top-selling mid-range mold, the Emac Truth Jr. It remains to be seen if Dynamic Discs, or other Trilogy brands, Westside Discs and Latitude 64, will continue to produce these small versions of their popular disc molds. Will there be a Sheriff Jr, Compass Jr, Saint Jr, or Harp Jr?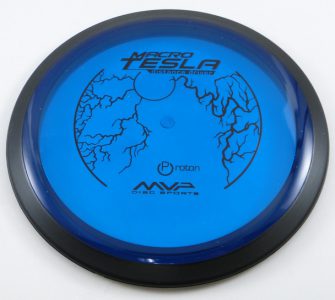 MVP is another brand that tested the macro market by introducing their Macro Tesla. This was the first such disc with an overmold design, using MVP's trademark Gyro technology. It is a great flyer, and sold wonderfully to MVP collectors upon its release. The quick sales are also due to MVP's knack for catering to their brand's fan base with limited edition stamps. The first release of the Macro Tesla was on Neutron plastic, and the limited edition stamp became an instant collector piece. The Proton plastic edition soon followed, again with another limited edition stamp which flew off the shelves of disc retailers. It remains to be seen if MVP / Axiom will continue to push the limits of the macro disc market.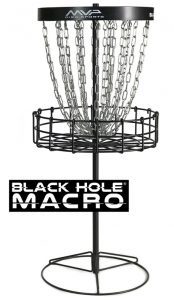 While both Dynamic Discs and MVP have touched upon the macro disc market, they haven't attacked it with the vigor of Discraft. Until it comes to baskets. Both brands were quick to introduce baskets that are appropriately sized for the new mini disc craze. MVP put out the Black Hole Macro which stands at 39 inches tall, with an 18-inch diameter. It is approximately 3/4 size of a regular Black Hole basket. With almost a $100 price tag, a player must be committed to the trend to want a special basket. Dynamic Discs also released the Junior Recruit basket, which is just under three feet tall and has the 18-inch diameter. With a price tag of $125, it is a sturdy, but expensive novelty basket.
Will such baskets begin to be used on a regular basis along with these larger mini discs? Or will they be an expensive investment into a passing trend? Will macro tournaments catch on over time, or continue to be a very small part of the disc golf novelty market? There is a lot that is still unknown about the craze.
A couple of other brands have had small versions of actual disc molds, including the Innova Sonic Jr, which is smaller and lighter than the other throwable minis, making it less useful in terms of game play. Their Sonic isn't one of their most popular molds to begin with. Innova is yet to commit any serious effort or resources to the trend. There is also the Lil Wizard by Gateway which is larger than the other macro discs, but still smaller than the very popular Wizard putter. It is produced only in small runs, so it can be a bit difficult to find.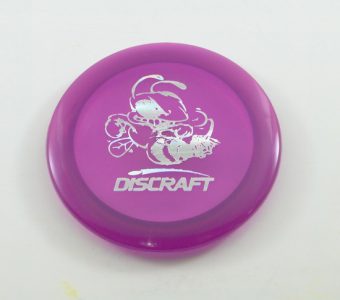 Like any trend, time will tell if more disc makers will consider this a real, long-term market. It takes financial commitment to invest in the small molds and add the new products into the marketing system. If the trend dies after a short life, then it would seem like wasted resources. But one thing is for sure– Discraft believed that there was money to be made, so they embraced it quickly and have been the leader so far. They also have introduced a new, Micro-Mini Buzzz, going to the even smaller side of the spectrum to see if there is anything to be done with a mini that is small enough to be a lid for a soda or beer can. At least with that product introduction, the cost can't be very high. How much does it really cost to make a disc that is only 7 centimeters wide and takes only 17 grams of plastic material? With a retail price of $3.99 it is undoubtedly a profitable venture if it catches on. As with most product introductions, time will tell.