The Top-Selling Brands at Infinite Discs in 2021

Infinite Discs has always strived to keep discs from all disc golf brands and manufacturers in stock on our retail website. As some brands are discontinued or the supply becomes slim, those brands can disappear from our sales figures for long periods. Other new brands jump into the market and begin to show their strength with time. It is always fun after each year to pull up the count of the discs sold through our retail site to measure the growth of all the brands that we carried.
Here is a look at how those brands all measured up against one another for the year 2021. Please keep in mind that these sales statistics ONLY represent retail sales through Infinite Discs. It does not account for sales through other retailers and may not represent the entire disc golf marketplace. Plus, many brands have their own retail outlets in addition to their wholesale operations, and those sales may account for a large portion of the total sales for those particular brands and would not be calculated here.
The Infinite Discs brand also has inflated numbers through our retail site simply because we are traditionally known as a kay retail source for our own brand. Throughout all of 2021, Infinite Discs brand was also distributed to other retailers, both online and brick-and-mortar, but no wholesale numbers are reflected in this disc count. Again, this is only retail sales through Infinite Discs.
Charting the Sales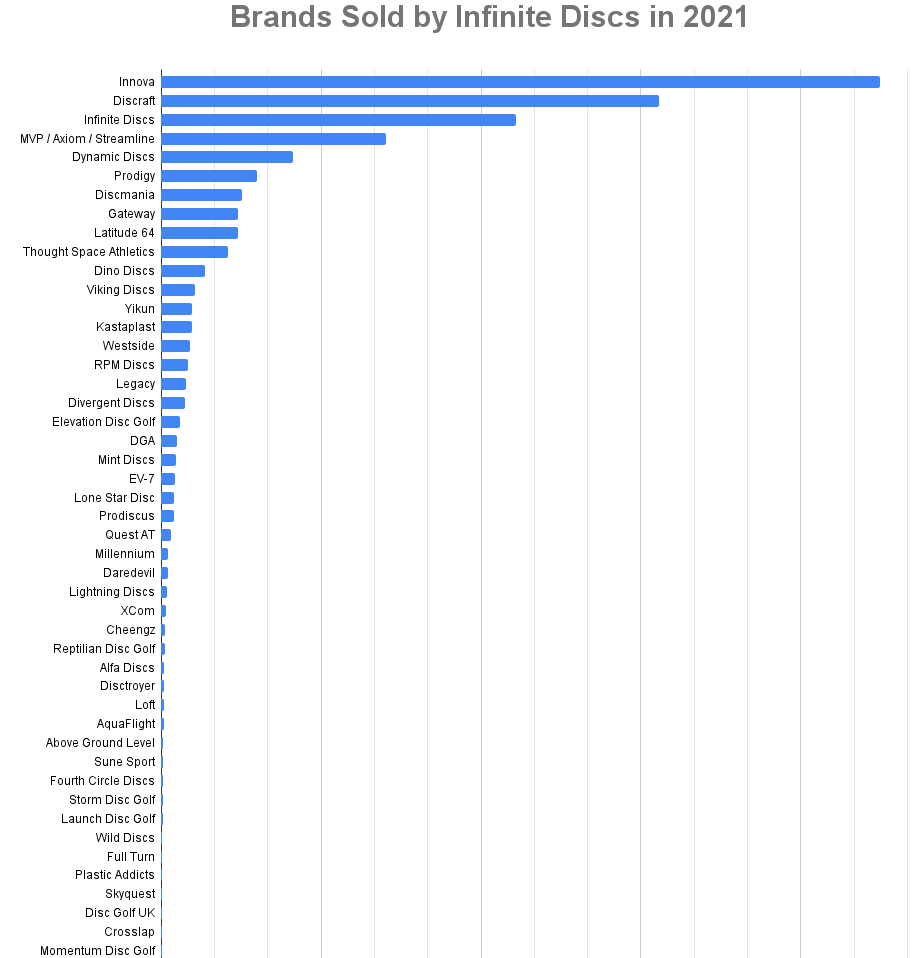 Innova remained the top-selling brand, as it has since Infinite Discs began in 2012. Discraft continues to build momentum, taking a strong #2 position. With the ups and downs of the supply chain in 2021, it is hard to know how the numbers would have looked if the most popular discs had been readily available at all times of the year. However, many popular discs went through repeated cycles where they would arrive, immediately sell out, then be missing from inventory for weeks or months before the next restock. The Infinite Discs brand of discs made a sharp move toward the top, though sales are particularly strong for that brand since this is a chart of sales through Infinite Discs' own website.
New Brands Making Moves
The number of small brands on the list continues to grow. We're excited about that. Here are some brands that were recently created and made impressive moves on the chart:
Thought Space Athletics at #10 with their ultra-artistic, high-quality discs
Dino Discs at #11 with their line of discs for kids
Divergent Discs at #18 with their line focused on recreational players
Elevation Disc Golf at #19 with two silicone rubber discs launched in 2021
EV7 at #23 with their putters-only manufacturing approach
What Will 2022 Bring?
We're excited to watch the disc sales in 2022 and see how things shuffle and move around. It should be particularly interesting to watch as we've seen a lot of professional players change brands for the new year. How will the sales for those brands be affected by the shuffle in sponsorships?
Feel free to leave your comments predicting the ups and downs of disc brands in 2022.