Top 50 Best Selling Discs of August 2021
As a replacement to the Top 20 Tuesday, we now have the Top 50 monthly best sellers. This should be a more complete comparison of what was hot at Infinite Discs during the month, rather than a weekly stock report. We're excited to see how it goes.
As was customary, we will count the disc AND plastic type for each spot, so it is possible that a single model could show up on the list several times, each time in a different plastic type. This also helps you to know which discs sold the most in which plastics.
Here are the top 50 bestselling discs of July 2021 at Infinite Discs:
Top 50 Best Sellers – August 2021
#1 – ESP Glo BANGER GT
#2 – R-Pro PIG
#3 – Star WRAITH
#4 – Ethos PRAXIS
#5 – Tour Series ESP PASSION
#6 – Halo Star DESTROYER
#7 – Gummy C-Blend MAYA
#8 – Big Z ZEUS
#9 – ESP BUZZZ
#10 – Star DESTROYER
#11 – Signature I-Blend EMPEROR
#12 – Signature Swirly S-Blend EMPEROR
#13 – Halo Star LEOPARD3
#14 – Signature ESP HADES
#15 – DX AVIAR
#16 – Signature Glow C-Blend CHARIOT
#17 – Champion FIREBIRD
#18 – D-Blend ALPACA
#19 – ESP AVENGER SS
#20 –Star MAMBA
#21 – DX AVIAR CLASSIC
#22 – KC Pro AVIAR
#23 – Star VALKYRIE
#24 – Star MAKO3
#25 – Champion MAKO3
#26 – Discraft Special Blend LUNA
#27 – Star TEEBIRD
#28 – I-Blend SPHINX
#29 – ESP HEAT
#30 – Discraft Prototype Putter Blend FIERCE
#31 – I-Blend X-Out PHARAOH
#32 – Halo Star WRAITH
#33 – Star LEOPARD
#34 – KC Pro ROC
#35 – Z Glo Sparkle UNDERTAKER
#36 – Premium Sparkle JOKERI
#37 – Signature ESP MALTA
#38 – Champion MAMBA
#39 – Champion THUNDERBIRD
#40 – R2 Neutron ANODE
#41 – Signature ESP ANAX
#42 – Prism Proton PYRO
#43 – Champion SIDEWINDER
#44 – Ethereal MANTRA
#45 – DX LEOPARD
#46 – Signature Cryztal FLX ZONE
#47 – R2 Neutron SPIN
#48 – Champion BEAST
#49 – Big Z FIERCE
#50 – Eclipse 2.0 REACTOR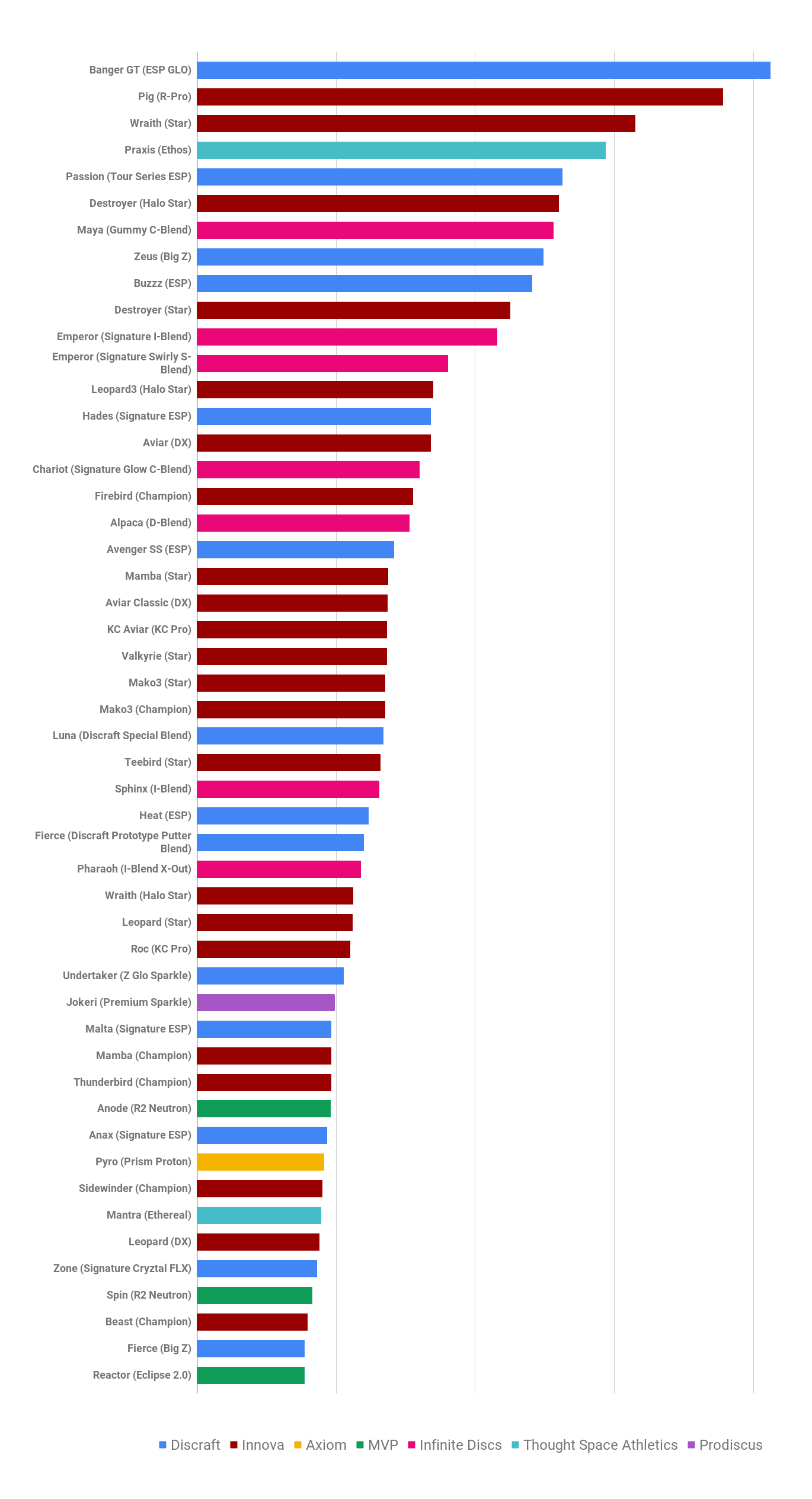 With a big Innova restock in August, the Innova line-up dominated the chart with many of their popular disc models. Discraft held strong with some discs that were restocked. Even on the monthly chart, it's still a battle of who has the most restocks to boost their sales. The #1 spot was taken by a special run of ESP Glo BANGER GT discs. The Thought Space Athletics Ethos PRAXIS took the #4 spot as the highest ranking new release on the chart for August.
Here is a look at how many times the different brands showed up in the top 50 this month: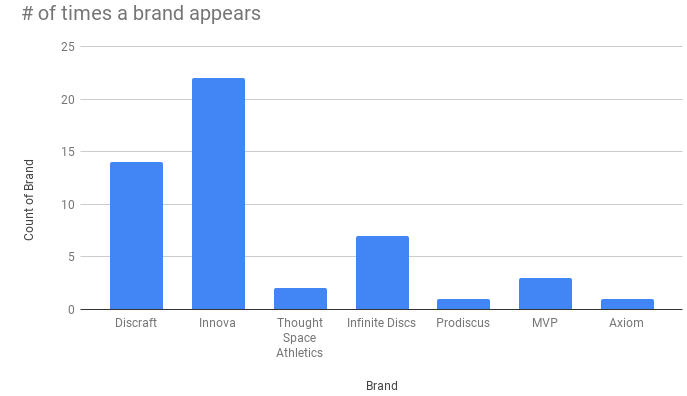 The Guessing Game
Every month you'll be able to place your guess for a certain spot on the chart for the next month. The first person to guess the disc and plastic type correctly for the named chart position will win a $20 gift card for the Infinite Discs online store.
— This month we had asked for a guess of the #4 spot. That spot was taken by the Ethos PRAXIS by Thought Space Athletics. The winning guess needed to be placed on the chart for the Top 50 Sellers for July, but we don't see any guess for the Ethos PRAXIS as the #4 spot there. Be sure to place your gust for next month (September) on THIS blog.
PLACE A GUESS for next month. If you can by the first to guess the #5 spot for SEPTEMBER, then you can be a winner. Leave your guess in the comments on this blog. Thanks!