TOP 50 BEST SELLING DISCS OF SEPTEMBER 2021
SORRY– we accidentally posted the last Top 50 blog in the wrong place and without comments available. It has now been fixed, but that made it hard to participate in the guessing game. I'll be more careful to post it correctly this week.
Here is a look at the Top 50 best-selling discs for the last month. These are arranged in order by number of discs sold with #1 being the most. They are also broken down by plastic type, so the same disc model can appear multiple times with different plastic types. This way, you can see not only the most popular discs, but in which plastic types they were popular. Here we go…
Top 50 Best Sellers – September 2021
#1 – C-Blend Glow CHARIOT
#2 – Metal Flake C-Blend CHARIOT
#3 – Elevation Rubber KOI
#4 – StayPut ALPAS
#5 – Signature Electron Firm ENVY
#6 – Signature Swirly S-Blend EMPEROR
#7 – Electron Soft NOMAD
#8 – Signature C-Blend RUIN
#9 – Star DESTROYER
#10 – Star WRAITH
#11 – Aura PRAXIS
#12 – Halo Star WRAITH
#13 – Champion FIREBIRD
#14 – ESP BUZZZ
#15 – Halo Star DESTROYER
#16 – Star VALKYRIE
#17 – Swirly Star EAGLE
#18 – Gummy C-Blend MAYA
#19 – D-Blend ALPACA
#20 – Signature I-Blend EMPEROR
#21 – DX AVIAR
#22 – Splatter S-Blend MAYA
#23 – Halo Star LEOPARD3
#24 – I-Blend X-Out PHARAOH
#25 – DX Glow AVIAR
#26 – Signature ESP ANAX
#27 – Z Line ZONE
#28 – DX AVIAR CLASSIC
#29 – Tour Series Metallic Z RAPTOR
#30 – Star MAKO3
#31 – DX LEOPARD
#32 – Champion MAKO3
#33 – Splatter S-Blend EXODUS
#34 – Crystal APOLLO
#35 – Retro Burst X-Out RIVER
#36 – Metal Flake Glow C-Blend SCEPTER
#37 – Retro Burst DIAMOND
#38 – DX ROC
#39 – Z Line COMET
#40 – Champion TEEBIRD
#41 – Z Line HEAT
#42 – Prime Burst EMAC JUDGE
#43 – Champion SIDEWINDER
#44 – KC Pro ROC
#45 – I-Blend EXODUS
#46 – Star ROADRUNNER
#47 – Cryztal Lite FLICK
#48 – Electron Firm NOMAD
#49 – Signature ESP ZEUS
#50 – Signature Rubber Blend ROACH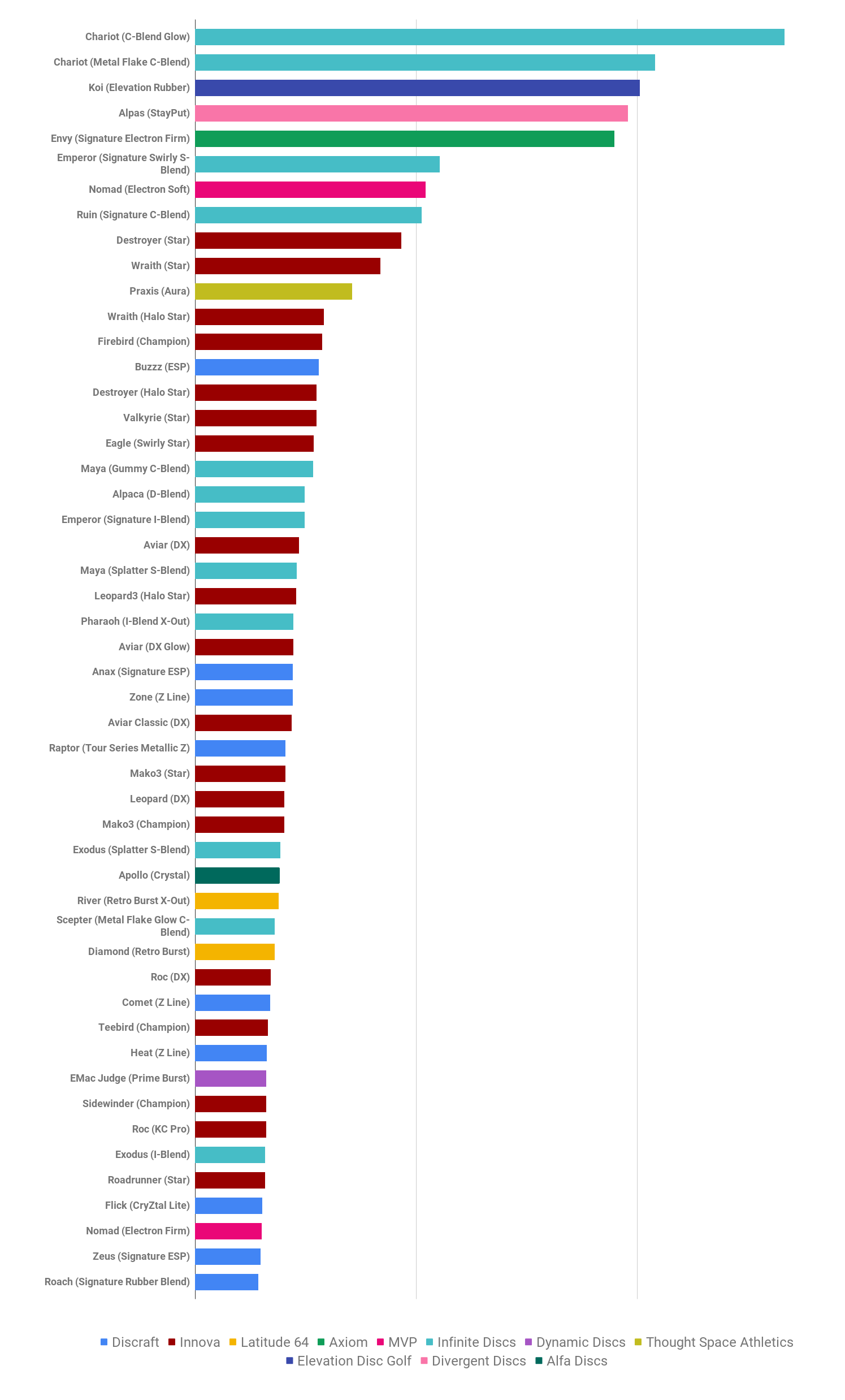 There were quite a few restocks of Infinite Discs molds last month and that helped to boost discs like the CHARIOT to the #1 and #2 spots, since it had not been available for a long time. The RUIN also came back in stock after a long wait, along with the Exodus and Maya. Many popular molds by Innova and Discraft made the rounds on the charts, moving up and down according to availability and supply.
The Elevation Disc Golf KOI had a very strong debut at #3 with the Divergent Discs ALPAS close behind in the #4 spot, showing a growing interest in rubber putt-and-approach discs. The APOLLO mid-range from the new brand, Alfa Disc Golf, also touched the top 50.
Here is a look at how many spots the different brands took last month: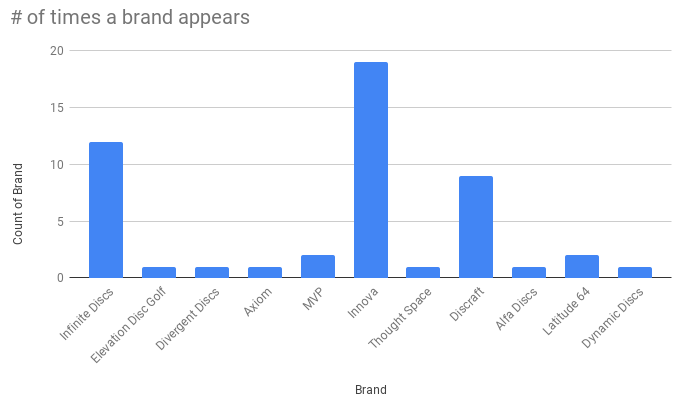 The Guessing Game
Every month you'll be able to place your guess for a certain spot on the chart for the next month. The first person to guess the disc and plastic type correctly for the named chart position will win a $20 gift card for the Infinite Discs online store.
— This month we had asked for a guess of the #5 spot. We messed up on the listing and comments were not able to be posted most of the month. Sorry about that! The Signature Envy was the winner there, but nobody guessed it. Our bad! We've got it right for this month.
PLACE A GUESS for next month. If you can by the first to guess the #6 spot for OCTOBER, then you can be a winner. Leave your guess in the comments on this blog. Thanks!