TOP TWENTY TUESDAY – DECEMBER 11TH 2018

Infinite Discs is happy to present the weekly blog post called TOP TWENTY TUESDAY where we let you know about the short-term sales trends for discs. We'll show the sales figures from the previous Tuesday through the most recent Monday. New discs will often spike in the chart as other top sellers shuffle spots. It can be fun to see which discs keep up the pace. These will also be broken down by plastic types, so the same model can show up in multiple plastics.
Here we go…
Top Twenty Tuesday for DECEMBER 11th, 2018
#1 – P-Line Soft P2
#2 – Star DESTROYER
#3 – D-Line P2
#4 – Origio Burst MAIDEN
#5 – Star TEEBIRD3
#6 – BT Hard Burst Moonshine MAIDEN
#7 – P-Line P2
#8 – Metal Flake Glow C-Blend PHARAOH 
#9 – Full Foil Super Color BUZZZ
#10 – Fission TESLA
#11 – ESP UNDERTAKER
#12 – Titanium UNDERTAKER
#13 – Elite Z BUZZZ
#14 – Neutron DEFLECTOR
#15 – C-Line Luster FD
#16 – DX AVIAR
#17 – Elite Z ZONE
#18 – XT Mix NOVA
#19 – Star TEEBIRD
#20 – Sirius SCORPIUS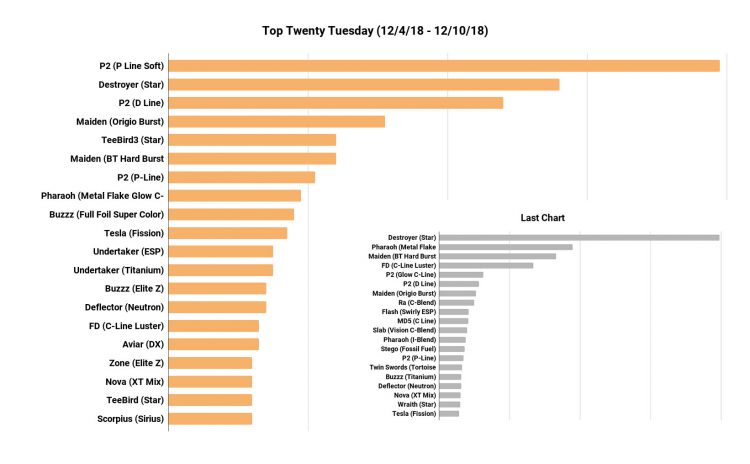 The far flying Star Destroyer dropped to 2nd place for the first time in a while with the P-Line Soft P2 taking its place at #1.  The P2 holds three spots in this week's chart, and that seems pretty typical as the P2 putter by Discmania has been the hottest selling putter all year at Infinite Discs. The Maiden by Westside is holding strong with the #4 and #6 spots this week– an exceptionally straight-flying, flat-topped, low profile putter.  The Metal Flake Glow C-Blend Pharaoh is still selling strong since its release before Thanksgiving.  One of the biggest movers in the charts this last week has been DISCRAFT in general, with the BUZZZ taking two spots (Full Foil Super Color sparked again with the Star Wars releases) and the Undertaker driver taking two spots, and the Zone taking a spot. That is 5 spots for Discraft week!  Also, the Sirius Scorpius by Millennium entered the chart on word that a Gregg Barsby signature edition is coming. 
–> Each week we'll invite you to leave a prediction for a certain chart position on next week's TOP TWENTY TUESDAY report. The first three people to predict that chart position correctly in the comments will win a $15 gift card for the Infinite Discs website.
WINNER? – The guessing contest for this week's chart was for the #5 position, and it looks like we didn't get a winner. There were some excellent guesses for discs that ended up all over the chart, but the closest to the #5 Teebird3 was somebody guessing the Star Teebird (very close, but not quite). 
GIFT CARD PREDICTION FOR NEXT WEEK:  Leave your comment below this blog to predict the #10 spot for next week's "Top Twenty Tuesday" chart.  Have fun and good luck!