TOP TWENTY TUESDAY – JANUARY 22nd 2019

Infinite Discs is happy to present another Top 20 Tuesday chart, looking back at the discs that sold the most during the last week. We break these charts down by plastics as well so you can see which plastic types are most popular for each disc. New discs will often spike in the chart as other top sellers shuffle position. It can be fun to see which discs keep up the pace.
Here we go…
Top Twenty Tuesday for JANUARY 22nd, 2019
#1 – Star DESTROYER
#2 – Signature Titanium UNDERTAKER
#3 – Signature Elite Z FORCE
#4 – XT BULLFROG
#5 – Star WRAITH
#6 – Champion FIREBIRD
#7 – DX X-Out ROC3
#8 – K3 REKO
#9 – Origio Burst MAIDEN
#10 – C-Line Luster FD
#11 – D-Line P2
#12 – XT Mix NOVA
#13 – Signature Elite Z ZONE
#14 – KC Pro AVIAR
#15 – C-Line PD Freak
#16 – ESP VULTURE
#17 – Star X-Out DESTROYER
#18 – Star LEOPARD3
#19 – Star SHRYKE
#20 – K3 BERG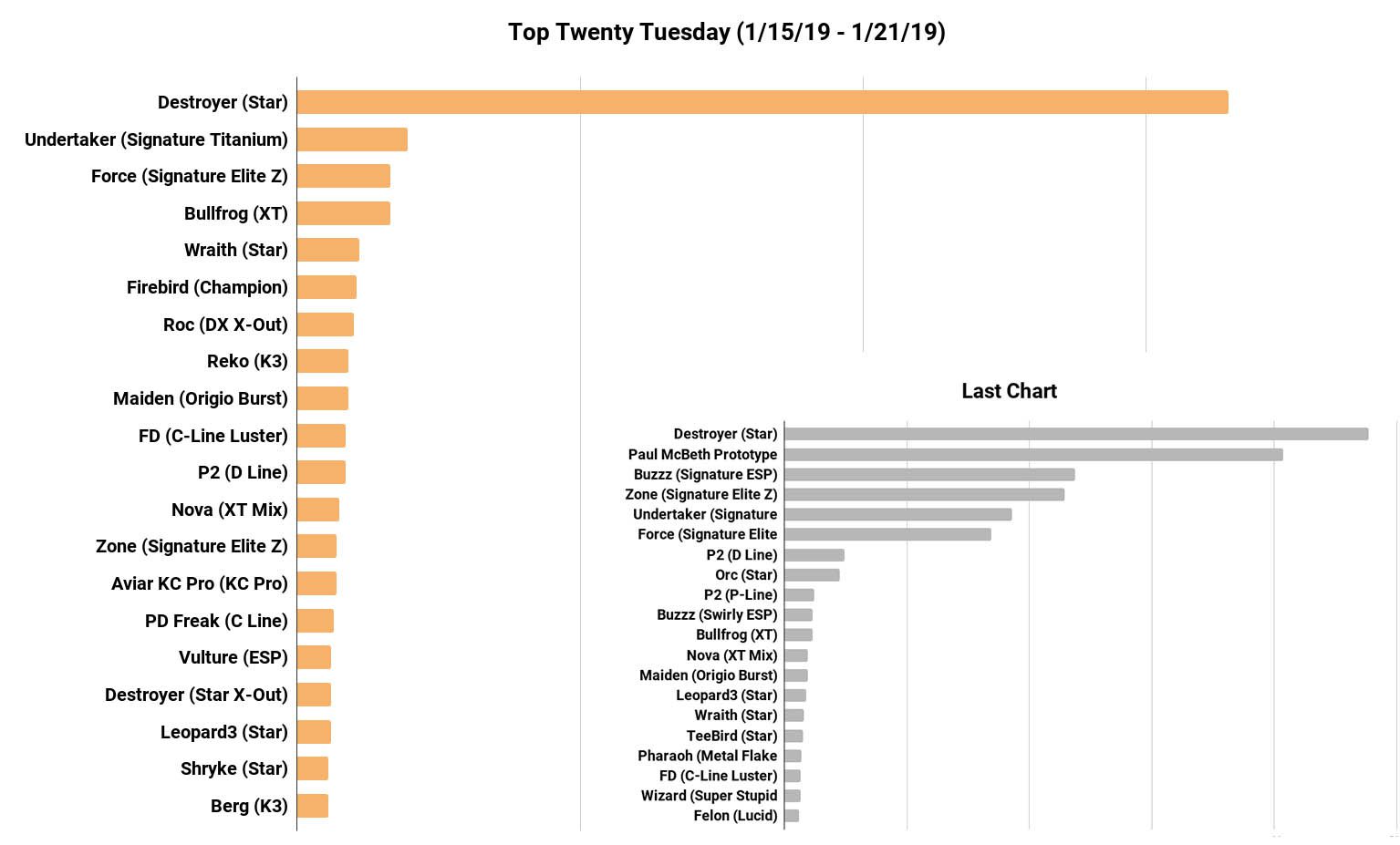 The Star Destroyer absolutely destroyed the chart, wiping out any other top contenders in this week's sales. A lot of that has to do with the fact that we got a big restock of Ricky Wysocki Destroyers, while we ran out of Paul McBeth signature discs. More of those are coming from Discraft soon, so the numbers should swing a bit in that regard.
We see a couple of X-Out (factory 2nd) entries into the chart this week as well as we also got a big restock of misprints and factory 2nd discs from Innova. Another restock that made a splash was the much needed restock of Kastaplast discs, boosting both the Reko and Berg putters into the top 20 for this week.
Here is a chart showing the number of times that different brands appeared in this week's chart: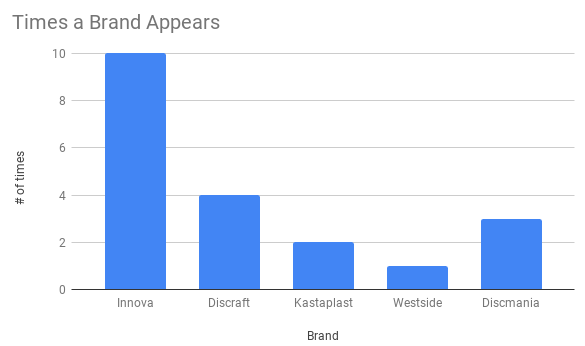 –> Each week we'll invite you to leave a prediction for a certain chart position on next week's TOP TWENTY TUESDAY report. The first three people to predict that chart position correctly in the comments will win a $10 gift card for the Infinite Discs website.
WINNER – The #12 spot was the pick for this week's chart and we saw four people get it right with the XT Mix Nova as their guess. We'll go ahead and give those four people the gift card for this week. But get your guess in early because we're going to make sure we only pick three if there are a lot of same guesses coming in the future. Congratulations Steven, Dawson, Drew, and Matthew!
GIFT CARD PREDICTION FOR NEXT WEEK:  Leave your comment below this blog to predict the #20 spot for next week's chart.