TOP TWENTY TUESDAY – NOVEMBER 20TH 2018

Infinite Discs is happy to present the weekly blog post called TOP TWENTY TUESDAY where we let you know about the short-term sales trends for discs. We'll show the sales figures from the previous Tuesday through the most recent Monday.
New discs will often spike in the chart as other top sellers shuffle spots. It can be fun to see which discs keep up the pace. These will also be broken down by plastic types, so the same model can show up in multiple plastics.
HERE WE GO…
Top Twenty Tuesday for NOVEMBER 20th, 2018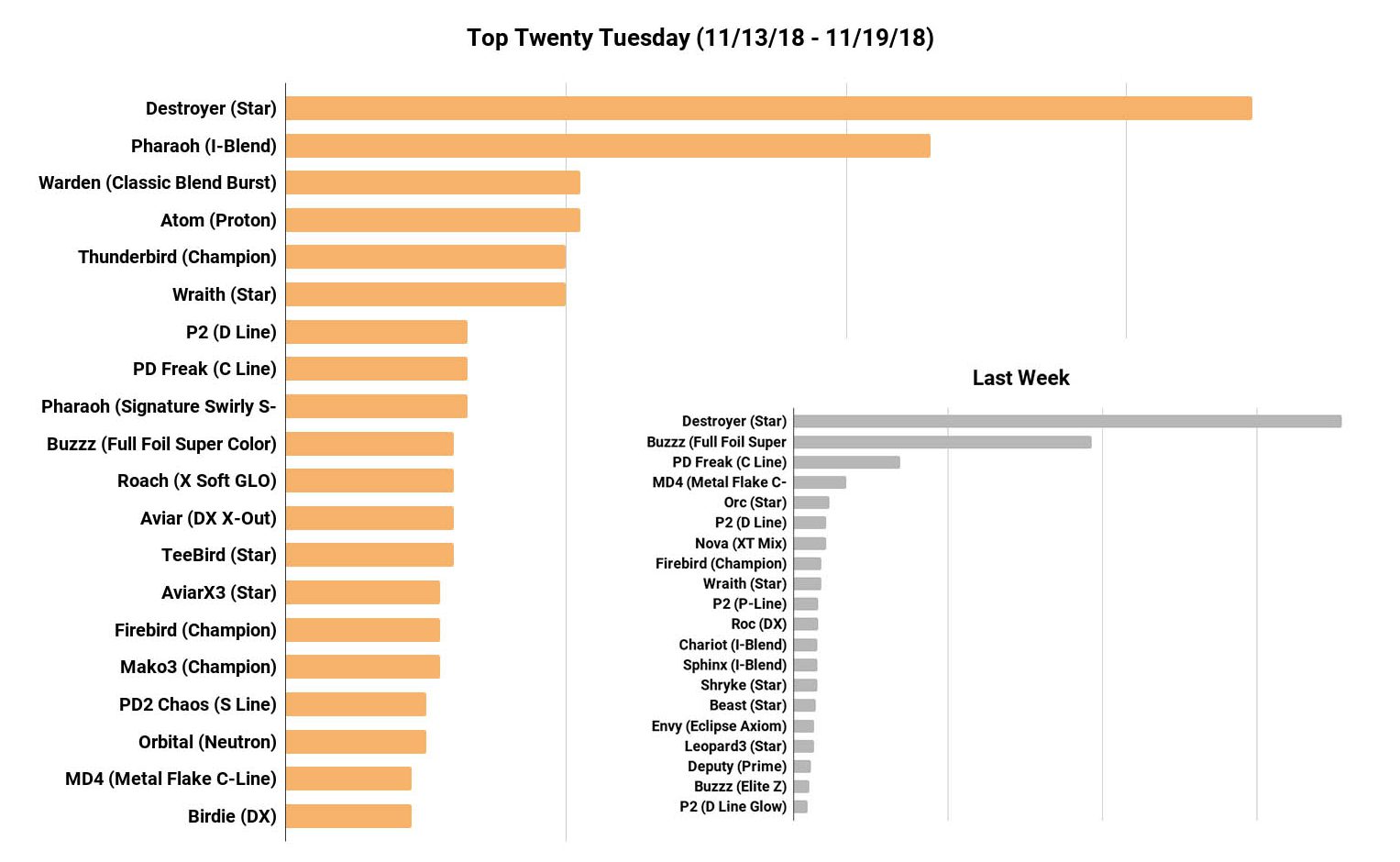 This week had a lot of shaking up, which is likely due to slower sales in general as disc buyers decompress and wait for the big Black Friday sales to hit. The Star Destroyer kept a strong lead, but with the newly released I-Blend Pharaoh chasing for a strong 2nd position. Then, out of the nowhere, the Classic Blend Burst Warden jumped to number three. The Warden is consistently a good seller, but we haven't seen it in the charts yet, so the jump to number three was impressive. The Proton Atom got a bump in sales due to the limited edition release that came out last week. The Pharaoh Pharaoh Signature edition was strong as it was also on sale (Garrett Gurthie edition). Another interesting seller was the X Soft Glo Roach, which may have got a little bump from rumors that a Roach was found on a course with Paul McBeth's signature on it. Also, what is the DX Birdie doing at number twenty?
–> Each week we'll invite you to leave a prediction for a certain chart position on next week's TOP TWENTY TUESDAY report. The first three people to predict that chart position correctly in the comments will win a $15 gift card for the Infinite Discs website.
We had no winners again this week, since the Warden jumped from nowhere into the #3 spot. We thought the number three spot would be an easier guess, but alas, we were also surprised.
GIFT CARD PREDICTION FOR NEXT WEEK:  There will be NO CHART for next Tuesday, since sales will be influenced greatly by Black Friday week-long deals. We'll rejoin Top 20 Tuesday the next week after that. The guess for two weeks from now is for the #2 spot, and it will cover a two-week period from now through December 3rd. So, places your guesses for that #2 spot in two weeks.