TOP TWENTY TUESDAY – SEPTEMBER 24TH 2019

Welcome to another Top 20 Tuesday sales chart. We break these charts down by plastics as well so you can see which plastic types are most popular for each disc. New discs will often spike in the chart as other top sellers shuffle position. The chart is created by sales figures that are pulled from all Infinite Discs sales for the previous week — our customers decide the results with their purchases.
Top Twenty Tuesday for September 24th, 2019
#1 – ESP MALTA
#2 – Cryztal LUNA
#3 – Discraft Special Blend LUNA
#4 – ESP ANAX
#5 – ESP ZEUS
#6 – Tortoise Line TOMAHAWK
#7 – Star DESTROYER
#8 – D-Line P2
#9 – R-Pro PIG
#10 – Tortoise Line METEOR HAMMER
#11 – Champion MAKO3
#12 – Star WRAITH
#13 – ESP BUZZZ
#14 – Neo ENIGMA
#15 – K2 BERG
#16 – K1 BERG
#17 – Eraser WIZARD
#18 – Nexus FIREFLY
#19 – K3 BERG
#20 – Gold Line Burst RIVER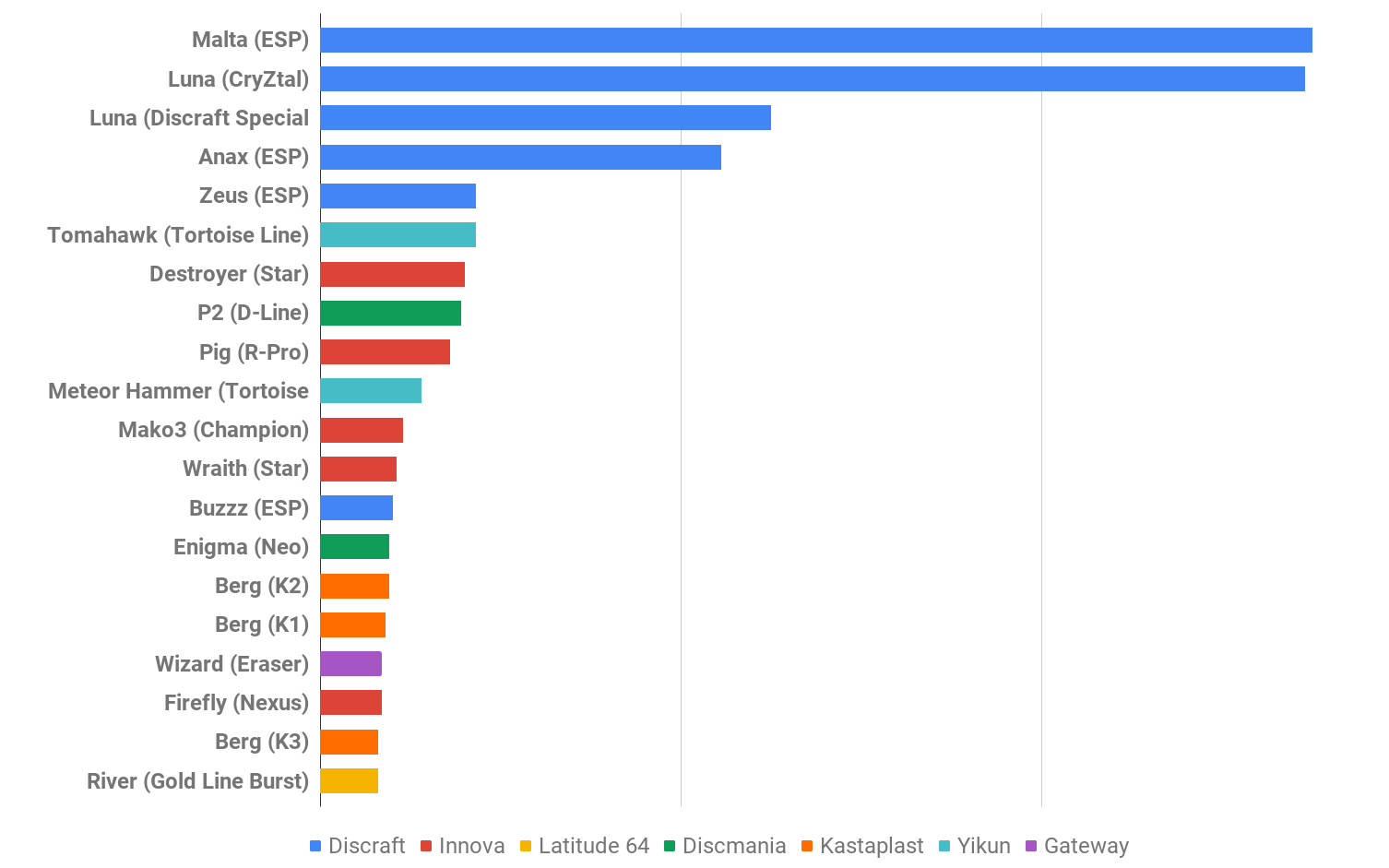 From first glance you'll see that blue has taken over the top of the chart, and that blue represents Discraft. With a couple of special releases last week, the new MALTA overstable mid-range in the McBeth line jumped to the top, followed closely by the limited edition Cryztal LUNA release commemorating his fifth worth championship. We still don't know why Discraft didn't just make more of those Cryztal Lunas, but at this point they were extremely limited and there are none left on our website. The Zeus, stock edition Anax, and stock Luna all stayed at the top of the chart as well.
We also see a couple of other interesting entries on the chart this week. Two of the new overmold releases from Yikun hit the charts with the TOMAHAWK and the METEOR HAMMER. Those two molds join the Twin Swords to make a complete set of driver, mid, and putter with Yikun's interesting overmold approach called "Tortoise Line".  We also see that the BERG putter from Kastalplast his the top 20 with all three plastic types, K1, K2, and K3. It's fund to see a couple of import brands on the chart!
Here is a look at the number of times that different brands hit the chart this week: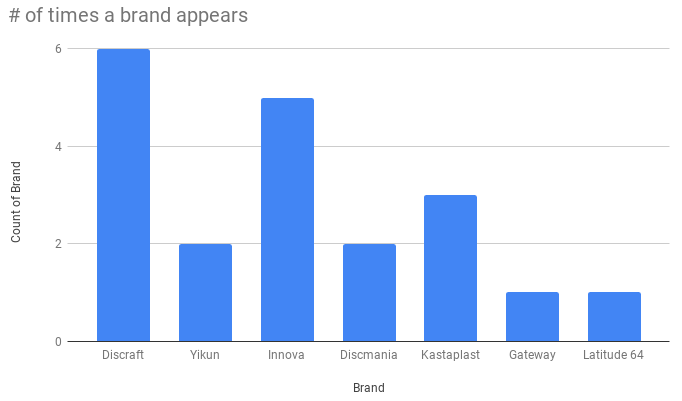 –> Each week we'll invite you to leave a prediction for a certain chart position on next week's TOP TWENTY TUESDAY report. The person to predict that chart position correctly in the comments will win a $10 gift card for the Infinite Discs website.
WINNER – The number 14 spot was claimed by the Neo ENIGMA which dropped from the top of the chart the week before. Two people picked the Neo Enigma for the #14 spot, and they did it within four minutes of each other. We'll typically give it to the first, but for this week we'll give it to both since it was a very close call on a very good guess. Congrats Daniel and Gruchy!
GIFT CARD PREDICTION FOR NEXT WEEK:  Leave your comment below to guess the #15 spot for next week. It will go to the FIRST person to get it right. Good luck!