Westside Discs Best Sellers – October 2019 Edition

Westside Best Sellers
Here we are again with another stats blog! This time, we're going to take a look at the best selling discs from Westside. This will complete our "Trilogy" of stats blogs on Dynamic Discs, Latitude 64, and Westside Discs.
Okay, let's jump in and look at the graph, then discuss. This graph is the last 12 months of sales on InfiniteDiscs.com.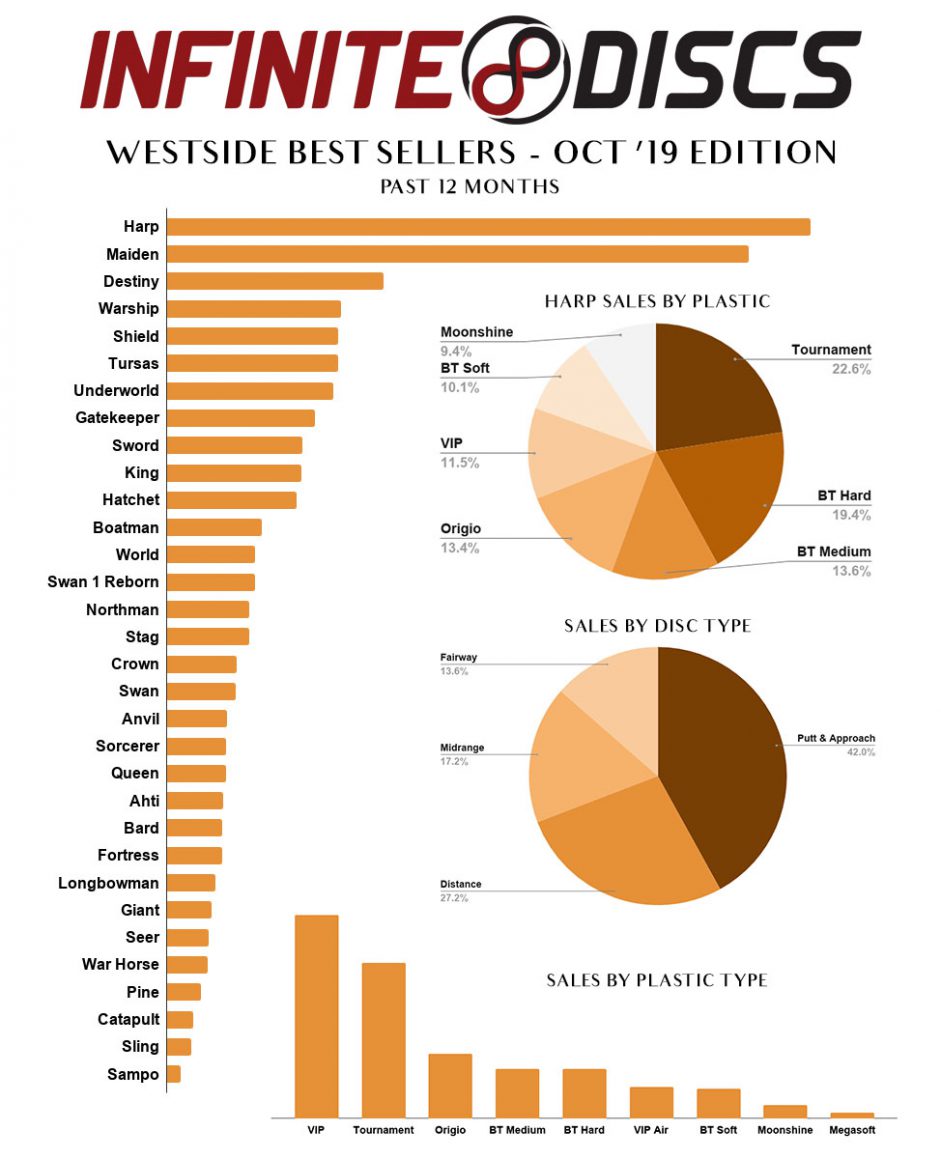 ---
The Top Three
No big surprise here, the Harp takes the #1 spot again! The Harp is one of the best selling and most widely used discs for overstable approach shots. If you haven't tried one, you're missing out.
The Maiden was hot when it released, and is still hot today. It continues to climb the charts and has made it's way to the #2 position on the chart. It isn't too far behind the Harp either! The Maiden is Putt & Approach disc that putts well and can handle power with drives.
The Destiny has been the most popular distance driver from Westside for years. It offers a long, understable flight that helps the thrower achieve maximum distance. It takes the #3 spot for the year.
---
Disc Types
Westside really knows how to make their Putt & Approach discs. 42% of the sales for the last year have been exactly that, Putt & Approach discs. The Swan is the least selling putter and it's still about halfway up the list! The Harp, Maiden, and Shield really boost up the sales for the Putt/Approach category.
Distance drivers come in second at 27%, with the Destiny leading the charge. Mids come in at about 17%, and Fairways are in last place with only 13.6% of all Westside sales.
---
Plastic Types
As far as plastics go, VIP and Tournament take the cake for most purchased plastics. The three most popular putter plastics are next, Origio, BT Medium, and BT Hard. The Harp has a lot to do with these stats, and it sells very well in Tournament plastic for driving/approaching.
Megasoft comes in dead last, but that's no surprise as it has been discontinued.
---
Let us know! What are you favorite Westside Molds and Plastic Types?