What Is Your Favorite Disc Golf Brand – State of Disc Golf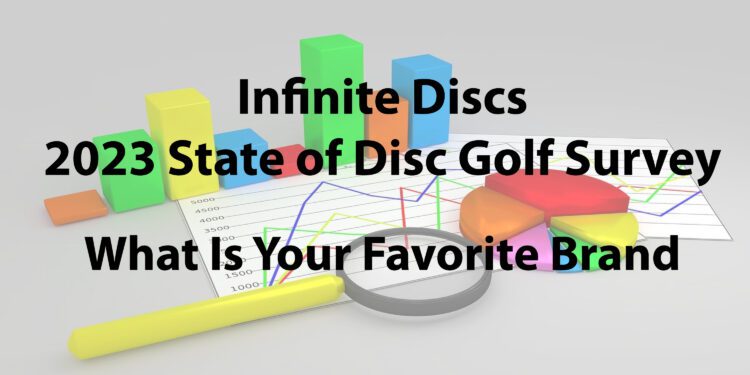 It wasn't long after I started playing disc golf that I started throwing only Innova discs. I'm not sure exactly why I made that decision, but it probably had to do with Paul McBeth. He was sponsored by Innova and was also winning World Championships. I was a big fan of his, and probably wanted to throw the same brand as him.
My bag has definitely changed since then. Now I try to support the home team and throw mostly Infinite molds. However, I definitely have a mixed bag. I currently have six or seven different brands in my bag. Many of the Innova molds that I started with were replaced with similar Infinite molds. I do still have my original Dart that I started putting with years ago, but most of the others changed.
Which Brand Is Our Favorite?
We asked a few questions in the State of Disc Golf survey concerning the brands that we consider our favorite, and whether or not that brand changed in the past year. Let's take a look at the results and see which brands are the most popular.
We've seen in past surveys that most of us throw a mixed bag. Which means we have more than one brand in our bag. In fact, we might not even have a favorite brand. So, the survey gave us the choice to indicate our favorite brand, or which single brand that we had the most of in our bag.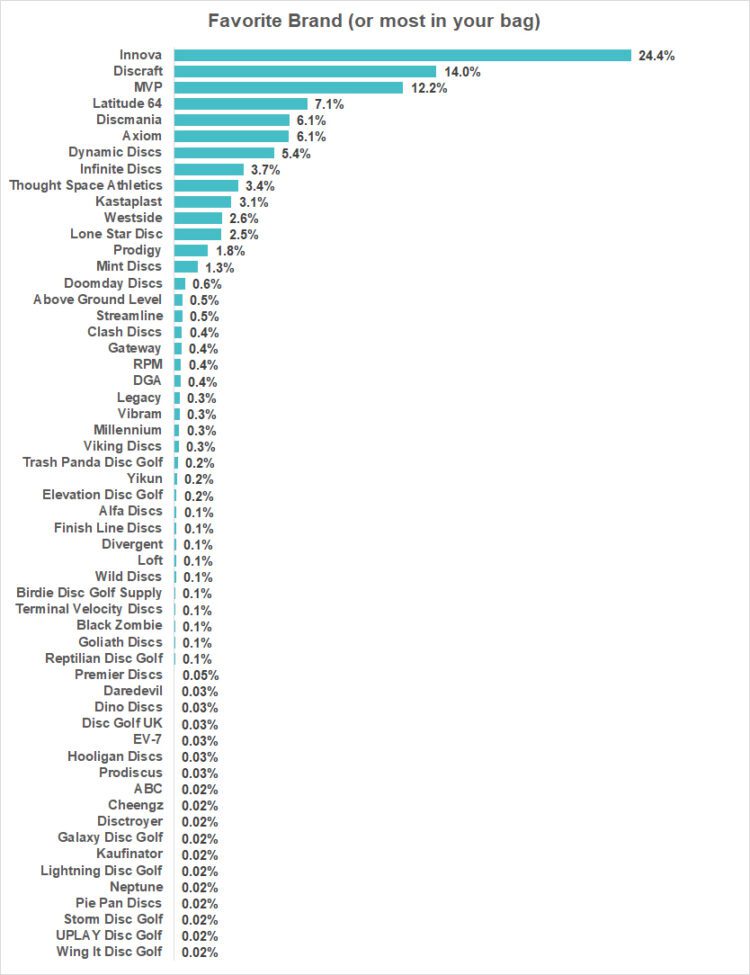 Innova is the favorite brand of one in every four of us. That's quite bit more than second place Discraft. Discmania is sandwiched between two trilogy brands near the top of the list. And MVP rounds out the top five. A total of 56 different brands were chosen by at least one person as their favorite in the survey.
There were quite a few people who gave answers such as, "I don't have a favorite" or "I like several brands equally". Sometimes it can be hard to pick just one. That is a good commentary about having so many brands that make quality discs.
Did Our Favorite Brand Change?
The follow-up question that we asked in the survey was whether or not people's favorite brand changed last year. People can have a lot of different reasons for changing favorites. So we also asked the people who indicated that their favorite brand did change last year, why it changed. Here are the results.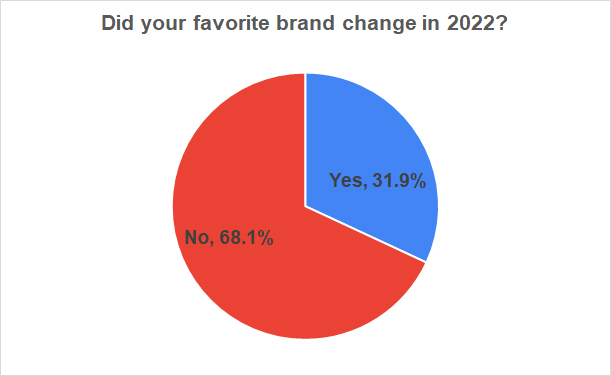 Surprisingly, nearly a third of us decided to switch favorite brands! That is a lot higher than I would have guessed. Switching favorite brands means learning new discs and breaking them in. Let's take a look at why people were switching favorites.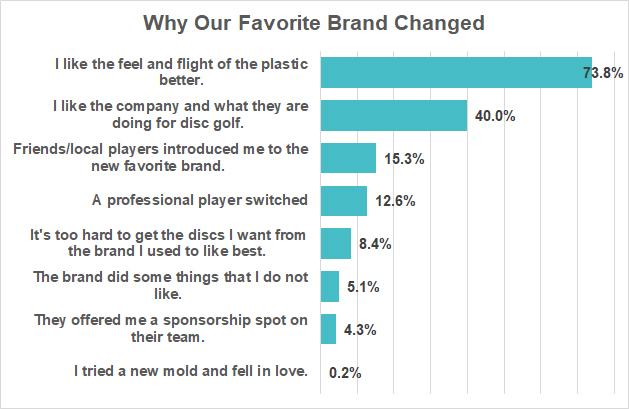 Plastic and Flight Numbers
Keeping in mind that people could select multiple reasons for changing favorite brands, nearly three-fourths of the people who changed, said they did so in part because of the flight and feel of new plastic. As we learned in a previous survey blog, the plastic type and the flight of a disc are two of the most important factors we consider when looking at discs. So it should come as no surprise that those two factors would be the reason people might want to change favorites.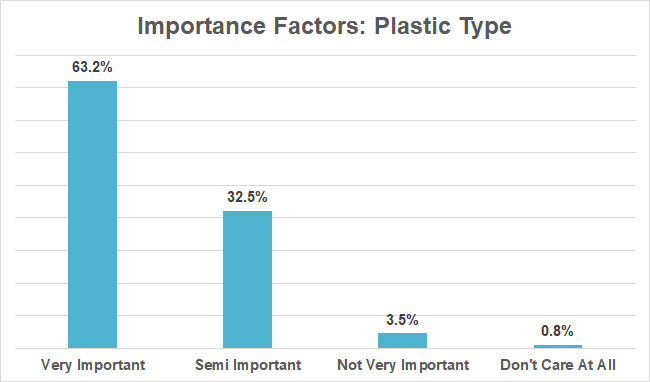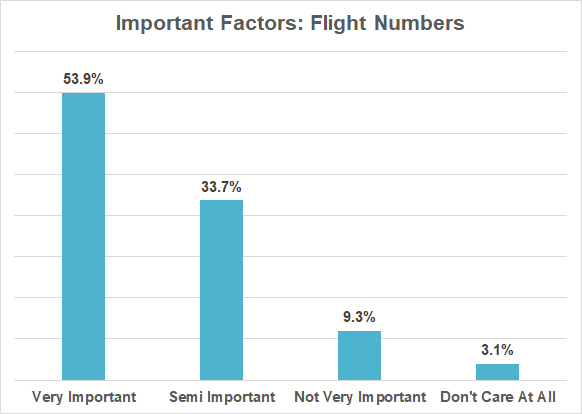 The second most popular reason people changed favorites is because of the company itself. There were 40% of people who changed because they liked what the company was doing for disc golf, while 5.1% changed because they didn't like some things the company was doing. Both groups were voting with their money.
Just over 15% of the people who changed favorites indicated that they did so because someone introduced them to some molds/plastics. I've seen a lot of people add a mold to their bag because of the recommendations of a friend or card-mate, but never switched brand favorites entirely. I had to see what brand their friends recommended. Here is a chart that shows the new favorite brand for people who received a recommendation.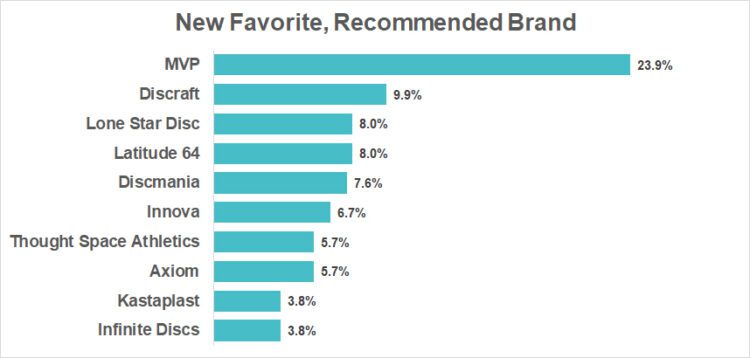 MVP apparently draws the most people into its lair with their overmold technology.  Nearly a fourth of the people who changed favorites because of a recommendation did so by changing to MVP. The next closest wasn't really close. Discraft was a distant 9.9%. Lone Star was in third place, ahead of many larger brands.
Switching because a pro that you follow changed sponsors accounted for a decent number of us who indicated that is why we changed. I suppose that is why I chose my favorite when I started. Plus McBeth's leaving Innova might have influenced my brand selection.
From One Brand To Another
The final question about favorite brands that we asked was meant to see which brands we changed from, if we had a change last year. We wanted to see which brands decreased in the number of people who chose them as their favorite, and which brands increased. Here is the data: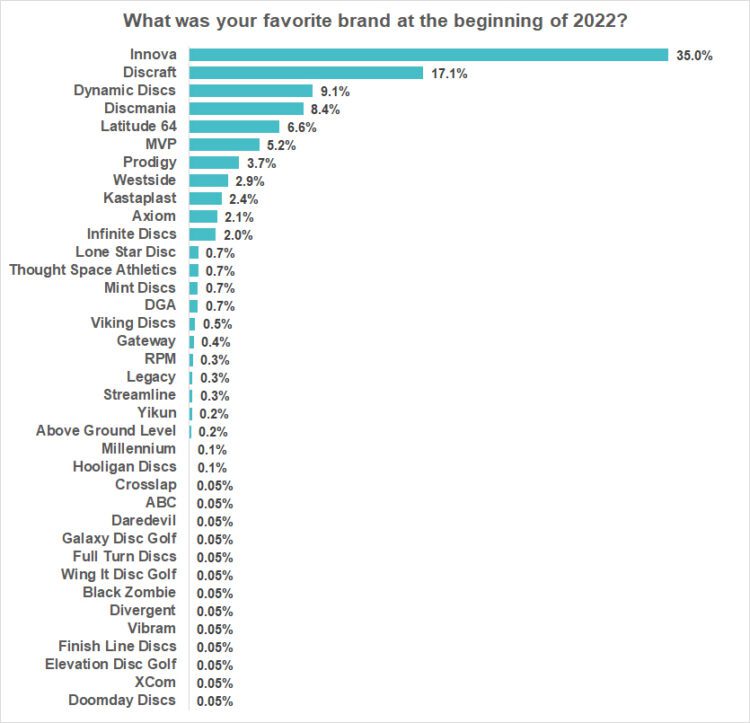 It looks like Innova took the biggest hit from their former fans. There were 35% of those of us our favorite brand was Innova in 2022. But this year, only 24.4% of us picked Innova. Discraft and Dynamic Discs also dropped some numbers.
MVP, on the other hand, more than doubled the number of people who indicated that the brand was their favorite at the end of 2022, vs the beginning. Latitude 64 and Axiom also picked up some loyalists.
People will always be switching brands and trying new plastic. With all of the selections out there, why not try something new? Whether or not we make a new brand our favorite remains to be seen. Maybe we love the brand that is our current favorite, but then our favorite pro signs a new contract…
Tune in next week for more results from the State of Disc Golf Survey.