When Did You Start Playing?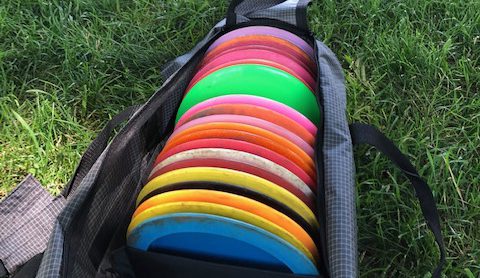 2021 State of Disc Golf:
How Long Have You Been Playing?
In last week's blog we looked at the ages, gender, and where we live. This week we will look at when we started playing, and check out some other data related to when we started. We will also look at people who started recently, as in during the pandemic, and see what their motivation was to start. I wanted to explore some other questions, but I think they will fit in better with other blog subjects.
We all got introduced to the sport of disc golf at some point, and in some fashion. For me, I'm happy to say that I invented disc golf! Well, sort of. My brothers and I were tossing Frisbees around the yard in the mid 70's and we came up with a cool game. We selected nine objects around my parent's spacious yard, and our disc golf course was born. It wasn't until decades later that we heard there was actually a sport similar to what we were doing, complete with formal baskets and discs. It wouldn't be for a couple more years before we would get actual discs and play on a 'real' course. (The first real course we played was Creekside in Salt Lake City).
Finally Getting Real
Although it wasn't for another many years until we considered ourselves disc golfers, the seed was planted and we were hooked. Today, when people ask how long I've been playing, I refer to my 2013 beginning, since that was when I got some 'real' discs and played a league round with our local club. In this blog post, we will check out when people say they started playing. Then we'll focus on a couple years or year ranges that had the highest number of people start disc golf. And we'll look at a couple other survey results.
When Did You Start Playing Disc Golf?
The question we asked in the survey was 'When did you begin playing disc golf?' The choices were individual years for 2011-2020, five-year blocks from 2001-2010, ten-year blocks from 1971-2000, and the final category was 'Before 1970'. If you were lucky enough to be able to answer 'Before 1970', good on you! Also, congrats for playing so long, and presumably still playing! Also, what is your PDGA number?!
Here are the results for when people said they started playing: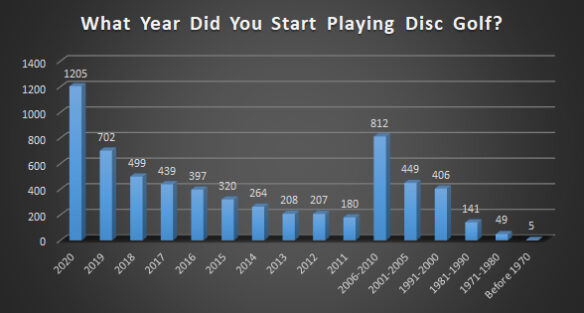 As you can see, there are a few people among the respondents who started playing more than 50 years ago! Interestingly, the biggest group are the people who started just last year. If you look at the next biggest group, it may be surprising to see such a large number of people in the 2006-2010 range. But, that's when the five-year span starts. Here is a chart with all of the years from 2001-2020 in five year increments. It's more of what we should expect.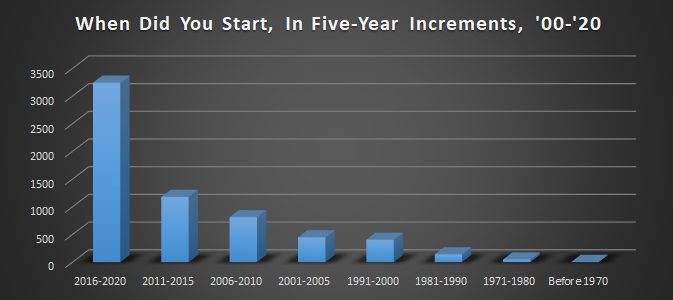 Even with the overall graph looking like what we would expect, the statistic that is the most impressive is how many people say they started last year. Factoring in the Covid19 shutdowns, leaving people with more time on their hands and fewer activities that could be done safely, the large increase is not surprising. The big increase in sales for Infinite for 2020 can be partially explained by the large number of disc golfers who already played the sport, but now wanted discs, putters, baskets, etc. for quarantine activities. Even so, the sport has been growing the last few years and while some organic growth is to be expected, such a large number of new players is partially because of Covid19. Let's explore some of the reasons why people picked up disc golf last year.
What's The Appeal With Disc Golf
According to the first graph above, 1205 people said they started playing last year. For that group of people, we asked a follow-up question to learn more about their motives. We asked, 'Why Did You Start Playing In 2020?' With nine responses to choose from, we know there would be multiple reasons why people started playing, so we gave them more than one choice. Of those 1205 people, 25% of them listed the pandemic as all or part of the reason they started playing. I was happy to see that over half of the people listed 'Friend invited me' as one of their reasons. I've seen many people get into the sport simply because someone invited them to play. Invite your friends! Here is a chart showing the percentage of reasons given by the newest members of our sport. It's good to see ESPN, CBS, and Brodie Smith contributing to the growth!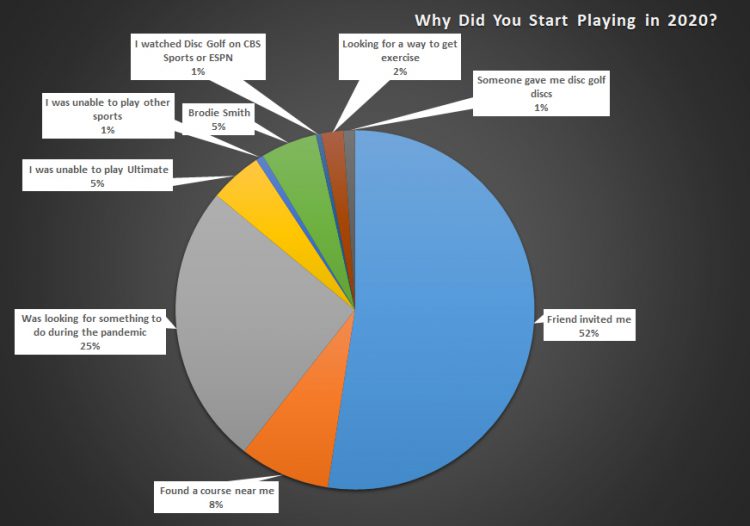 Age/Starting Year
I wanted to see the ages of people who started playing last year, to see if there were something that might stand out in the data. To start, here is the chart from last week showing the age divisions among all of the survey participants. Below that is a graph of the ages of the 1205 people who started last year.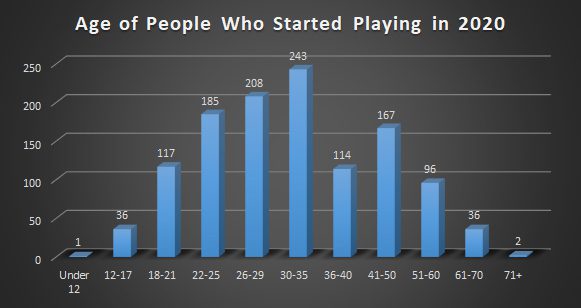 The new player demographic is pretty much spot on the average of all disc golfers in the survey. Out of curiosity, I checked out the ages of people who said they started in the 2006-2010, since that was the largest group of years in the survey outside of 2020. You would expect the ages to look different, since a group that started 10 years ago would statistically be older than a group that started last year. But, I would expect the graph to still have the same general highs and lows as the average. But, that is not the case. Here is a graph of the ages of people who started playing in 2006-2010: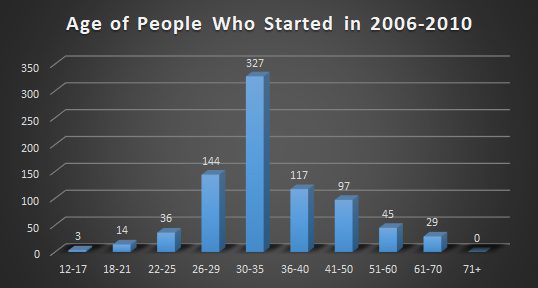 30-Somethings
To be clear, those are the current age groups of the people who said they started in 2006-2010. The early-30's group is still the largest, but the general shape of the graph doesn't look like the overall graph. Most notably is the smaller ratio of the 41-50 group. Since I wasn't playing then, I don't have an idea why that age would look different. It might be worth breaking down all of the groups by when they started and the age group they belong to.
If you have any thoughts on these stats, be sure to comment below. Also, if you have any survey results that you would like to have explored, let me know if the comments. Check back next week for more results of the 2020 State of Disc Golf
Click here for last week's blog.