2016–Year in Review at Infinite Discs
Well another year filled with discs flying through the air and flying off our shelves has come and gone here at Infinite Discs. As we stop and take a look back, 2016 really was quite an eventful year for us. We have had several opportunities to go out and make new friends within the disc golf community, and of course we have been lucky enough to sell more product than ever before, and help disc golfers all over find the discs and equipment that they need. So first and foremost, thank you all for your support this year.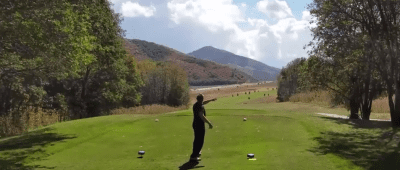 Thank you for making Infinite Discs what it is today, because we really wouldn't be where we are today without this amazing disc golf community that we are lucky enough to be a part of. Here is a look back on some of the highlights of our year.
Infinite Courses and Infinite Discs App
At the beginning of the year, we expanded our site to include a feature called Infinite Courses. With Infinite Courses, disc golfers have access to a large database of disc golf courses and layouts within those courses. Players can then use their Infinite Discs profiles to keep score and track their playing stats such as putting percentages. Over time, players earn an "Infinite Rating" which is similar to a PDGA rating, but it takes into account all rounds entered. This is great for disc golfers who are looking for ways to try and keep a competitive edge while playing their casual rounds. If you can't find your local course or current layout, you can create it! Also you can read and write course reviews that help other disc golfers decide which courses to play and what they should expect.

The best way to maximize the features available in Infinite Profiles and Infinite Courses is with the new Infinite Disc Golf Mobile App! The app makes it easy to keep track of your score and stats while you play and to find local courses as you travel. With the app you can review courses, update conditions, and store all of your rounds played to the cloud. When you submit your rounds, you can immediately see the rounds Infinite Rating. The app is now available on Android devices. Perhaps our biggest disappointment of 2016 is how long the development for the iOS version of the app has taken, but progress is being made and we look forward to making the app available to Apple devices in 2017.
Infinite Discs at Tournaments Across the Country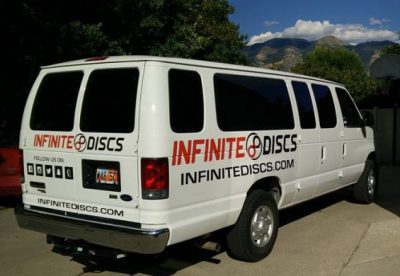 Early in the year we realized that it was time for us to invest in a company vehicle. This beauty, appropriately named the "Infinite Van," was the result of that realization. After buying the van in March, we have taken her to disc golf courses and tournaments that we have sponsored all over the place. Primarily we have made trips in the Utah and Idaho area for tournaments including the Utah Open which will be part of the Disc Golf Pro Tour this year, as well as Utah's only PDGA A-Tier, The Solitude Open.
This van also made two trips to lovely Emporia, Kansas. The first trip was for the Glass Blown Open, and the second was for the PDGA World Championships that we stopped in for on our way to Peoria, Illinois for the Ledgestone Insurance Open. We had the wonderful opportunity to be the Official Vendors of the Ledgestone Insurance Open in 2016. I was able to spend some time with Terry Miller during each day of the live stream coverage to promote Infinite Discs and announce the daily giveaways that we did for each day of the tournament. In all the traveling we have done this year, we have had the opportunity to play some great disc golf courses, but even better meet some extraordinary people. We love this disc golf community that we have, and we look forward to more travels and experiences in 2017.
Infinite Discs VIP Club

Another great project we launched in 2016 was the Infinite Discs VIP Club. This is an exclusive club aimed toward disc collectors. All members of the VIP Club receive a new package every month with a new limited edition disc that cannot be found anywhere else, not even on our own website! So far, the club has been a huge success, and right now we have an offer that will allow folks to sign up and pay for the entire year's membership up front. More info on this offer and the club in general can be found here.
Team Infinite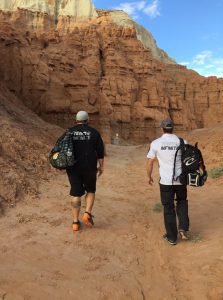 This summer, we opened up applications for players looking to represent our brand as part of Team Infinite. The response was incredible, and slightly overwhelming. After sifting through all the wonderful applications that we received, we selected several new team members from across the country.
Already we have seen Team Infinite be a positive influence in the local disc golf communities across the country. From running charity or fundraiser tournaments to teaching new and young players about the sport, Team Infinite is working hard to grow the sport, and we couldn't be happier with the team members we have. Are you interested in being a part of the team? While we are not actively accepting new members at this time, you can still fill out our application here.
New Infinite Discs Location in Pocatello, Idaho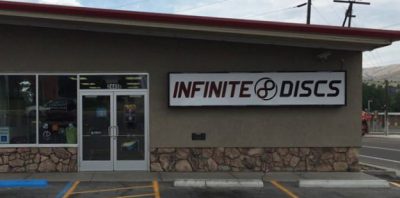 Here at Infinite Discs, we are quickly growing out of the small office building in Logan, Utah that we have called home since we first opened for business in 2012. We are excited to be building a new warehouse just down the road in 2017.
This past summer we were able to open for business a little further down the road (about 90 miles) in my hometown of Pocatello, Idaho. Pocatello is a growing and thriving disc golf community with three permanent disc golf courses and more in the works! We opened up the new shop just across the street from the 9-hole course where I learned to play this sport that we all love, Ross Park. Currently, the Pocatello store's inventory is separate from our online inventory, but in the coming weeks we will start to include parts of our Pocatello Inventory online to expand our online selection, particularly in the apparel department. So watch for more info to come on that soon! For now, go give our Idaho store a like on Facebook to be kept in the loop, and stop by when you are in the neighborhood!
New Infinite Discs Custom Stamp Designs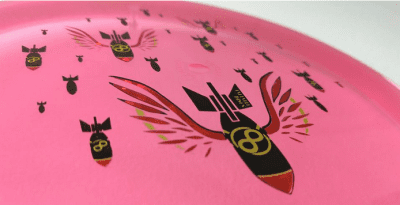 A couple years back we designed a simple Infinite Discs stamp that we released on a few disc molds, but we were never really in love with that design. So we worked hard to design some new awesome stamps that would look good and would make disc golfers want to show off their beautiful discs. First, we released the Infinite Bomber, which has received a very positive response, so we have tried to keep a healthy stock of Infinite Bomber Discs in stock.
About a month later, we released (my personal favorite) the Infinite Illuminati stamp. While the Illuminati sales have not quite matched the Infinite Bomber, we have still received some great feedback on this clean and unique design. Which one is your favorite?
Then there was the Blitzkrieg stamp, which was a limited edition 3-color stamp that we did with MVP/Axiom for the Black Friday Weekend. We still have a handful of the Blitzkrieg stamps left, and you can search for this stamp as well as the Bomber and Illuminati using our Advanced Disc Search on the site.
What Will 2017 Hold?
We do not know what exactly to expect in 2017, but we do have projects in the works. We know that the iOS app will be ready this year, and we know will be relocating to a new warehouse. We also may know a few things that I can't quite reveal yet, but we hope you will stick with us to enjoy the ride. We hope to continue to do our part to help grow the sport in 2017, and make everyone's disc golf experience just a little bit better.
To stay up to date with everything new from Infinite Discs, subscribe to our newsletter and follow us on: