2019 Team Infinite Application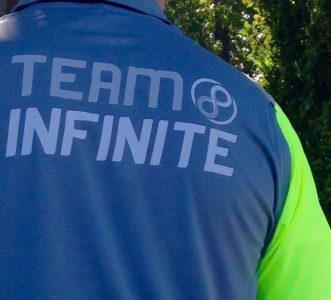 We are looking to expand our team for 2019!
Are you a fan of the Infinite Discs brand?
Are you a good example in the disc golf community?
Do you regularly play in or promote disc golf tournaments?
Are you active in online disc golf communities?
Are you a really good disc golfer who would like additional exposure for your brand, a signature disc, and more perks for mastering disc golf?
If you answer YES to several of these questions, you may be eligible for our team.
We are looking for disc golfers all over the United States that will help us promote Infinite Discs and the sport of disc golf. You don't need to be a 1000+ rated professional to apply, we also want enthusiastic amateurs, tournament directors and other ambassadors of the sport.
---
What does it mean to be on Team Infinite?
Well, for one, it means you are awesome. We are building a sponsorship based on reciprocal exchange, sort of a "You scratch our back, we'll scratch yours." The perks you receive will be based on how well you promote our brand.
Team Pack: "Team Infinite" Shirts, Infinite Stamped discs, bag tag, towels, mini marker discs and other accessories.
A personalized 5% discount code, which you can share with your friends, family and those you meet on the course.
Large Discounts on personal purchases (based on your PDGA rating).
Extra help and sponsorship from Infinite Discs when you run leagues and tournaments.
Member of the TEAM Facebook page where you interact with other team members and can provide input and insight on new products and news happening at Infinite Discs.
Potential Paid Tournament registrations for accomplishing goals.
Renewal Bonus– TBD. There will be additional perks if you fulfill our requirements and continue being an Infinite sponsored player after re-evaluation.
---
Requirements
Have an up-to-date Infinite Profile. This includes posting scores, writing course and disc reviews, and helping test our app as we continue to update and improve it. Please do not submit a team application until your Infinite Profile is updated (make sure to include a picture and detailed biography).
You must participate in at least 12 disc golf events each year including: PDGA events, unsanctioned tournaments, instructional clinics, or anything else where you will be able to interact with a large number of fellow disc golfers.
Take pictures at your disc golf events and post them on social media. Use the hash tags #TeamInfinite and #InfiniteDiscs. It's fun to see what all of our team members are up to! Take pictures of scenery, great shots, your group, or other Team Infinite members.
You cannot post your discount code publicly or share online. We understand that you may not be able to control what others do with your code, so we won't punish you if it gets publicized. If we do find a discount code posted online, we will destroy the code and issue you a new one.
Represent the sport in a professional manner. We hope that you will know what this means, but if you're worried or have any questions, contact the team captain(s) for more information.
Interact with our social media pages– Share on Facebook, comments on our posts, re-tweet, etc. when it makes sense to do so. The more you interact with our marketing efforts, the more it benefits us and helps your friends to see that you are part of Team Infinite.
---
Do I qualify for Team Infinite?
The main things we are looking for:
Role models in the disc golf community who actively work to grow disc golf.
Regular participation in disc golf events and tournaments.
Social media presence
Willingness to promote Infinite Discs
It also helps (but is not required) if you have some skills on the disc golf course and regularly place well in tournaments.
We want our team to be full of disc golfers from all walks of life, from all over the country, and of all sorts of ages and skill levels.