Infinite Discs REWARDS Program
Infinite Discs has a rewards program where you earn points and then cash them in for gift cards. Then you can use those gift cards to get free stuff from Infinite Discs!
HOW TO EARN POINTS
If you haven't already created a login for the Infinite Discs website, then that is your first step. You need to have a profile created in order to earn points. In fact, creating that profile will earn points for you.  CREATE YOUR LOGIN HERE.
https://infinitediscs.com/login
In order to complete your profile, you'll need to include certain information. These profile features must be included before points can be redeemed:
Profile Picture
Date of Birth
Biography
Years Playing
Driving Hand
Skill Level
Primary Driving Style
Typical Driving Distance
Max Driving Distance
Favorite Courses (at least one)
Favorite Discs (In My Bag) – Including at least one of each disc type.
Now that your profile is complete, you can check your profile page at any time after logging in. That is where your point tally and gift cards will be stored. You can reach your profile page by clicking on MY ACCOUNT and then MY PROFILE.

Once you are on your profile page, you can see a tally of your points. You can see that there are many ways to earn points. Not only do you earn points through purchases on the Infinite Discs website, but by writing reviews for discs, and writing reviews for courses.
Note: The scorekeeping app has not been updated and maintained since U-Disc became the industry's standard source for scorekeeping and finding courses.  While you can still earn points for keeping score on our app, there may be compatibility issues with some phones that prevent using the app from being an option.   We apologize if this is the case for you.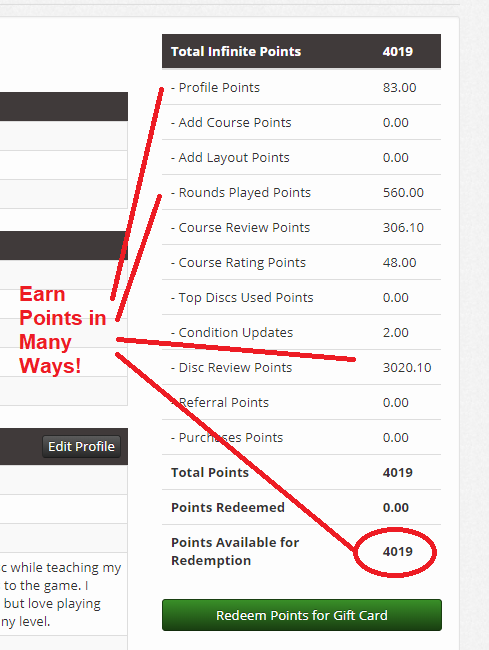 You can see in the above example that this player has written a lot of disc reviews which have tallied into over 3,000 reward points. Other points were earned by logging rounds on the Infinite Discs App, and by reviewing courses.
If all of the courses around you have already been added to the Infinite Courses database, then you can still write reviews for those courses, or add photos for each hole, if they aren't there already. There are ways that you can contribute to the quality of the disc store, course database, etc. and earn points while doing it.
HOW TO REDEEM POINTS
The conversion from points to gift card can easily be calculated by moving the decimal over two points.   For example, 1000 points is equal to a $10.00 gift card.
Once you have 1,000 points or more, you can REDEEM your points for a gift card that can be used to pay for your purchases through the Infinite Discs store! Simply click the green REDEEM POINTS button under your points total.
All requests to redeem points are reviewed by our staff to ensure everything is accurate before the gift card is issued.
(When you click to redeem your points, they will disappear and no longer show up as available points, this is normal.  The redemption process will then take 1-3 days before the gift card will be visible on your profile under My Gift Cards.) If you redeem points and do not see the gift card in 3 days, we would be happy to follow up on it for you if you reach out.   
This review process ensures that people are earning the points through legitimate contributions, and not by spamming the website with useless one-word reviews, adding an excessive number of discs to their "favorites" list, or other things that do not provide meaningful content.  Yes…we do have to occasionally police this program to make sure that points are earned through useful contributions and purchases. While we want to reward our valuable customers, our intention is not to give away gift cards to people who try to "beat the system."
CLICK HERE FOR RULES AND DISCLAIMERS FOR THE REWARDS PROGRAM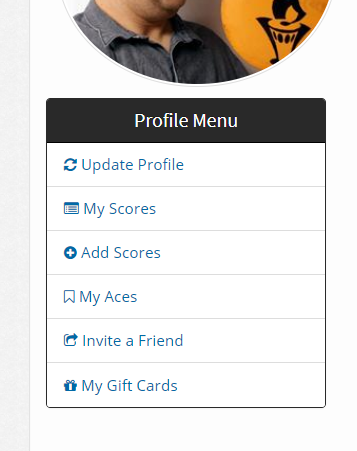 Once we have reviewed your points redemption request, you will then see your gift card code appear on your profile page by clicking on MY GIFT CARDS.
The Gift Card code can be used in the payment screen, by selecting the Gift Card tab as your payment type. (Do this BEFORE entering any credit card information.)
Once the gift card is applied, you can pay the remaining balance however you'd like.
We're excited to reward our loyal customers! We invite you to try out the Infinite Discs Rewards program right away. If you have any questions, email support@infinitediscs.com for clarifications.