Best Fairway Driver of 2022

Best Fairway Driver of 2022
To find the best Fairway Driver of 2022, we looked at the sales date and mold ratings to determine which discs you are buying the most, and which ones you rate the highest. Then we reached out to you to have you vote for the mold that you throw the most. Combining all of that data we can now announce the Best Fairway Driver of 2022! Here are the top molds:
Although Innova is the consistent leader in disc golf sales, we didn't expect a clean sweep of the top spots in the category. The fan voting really cinched it for several of the molds. The results of the fan voting is listed near the end of this blog. For now, let's take a closer look at the top molds.
Although I would be tempted to call the top three molds, 'old-school molds', if I did, I would immediately get corrected by someone who has been playing disc golf from its beginning, who would remember when the Leopard, Firebird, and Teebird were the newest kid on the block. Those three molds were released in 1999, 2000, and 1999 respectively. They started selling when there were far fewer choices than we have now, at a time when 'e-commerce' wasn't the popular way to shop for disc golf discs. Although that might have been a giant assist in getting the molds off the ground, they have since proven themselves as useful discs in our sport.
Innova Leopard – The flight of this popular disc is such that it can be used by a wide variety of arm speeds. The Leopard is a commonly found in starter sets because it can be thrown rather easily by someone who lacks the proper form for throwing faster molds. It is also useful for people with more experience, who will gravitate to heavier discs and more stable plastics. The Innova Leopard looks like it will be a staple in disc golf for a long time.
Innova Firebird – Even for newer disc golfers, the overstability of the Firebird can be tamed enough to use this utility disc in a variety of situations. Excellent for flick shots and headwinds, it can be flexed with full confidence that it will come out of the anhyzer and finish strong. Need to throw an must-have hyzer? Count on the Firebird to deliver. Its lower speed and variety of plastics makes it easy to see why the Firebird is consistently among the top discs.
Innova Teebird – While more overstable and a little faster than the Leopard, the Teebird can still find a home in the bag of players at a variety of skill levels. It is commonly used to shape shots in tight fairways, and is a reliable disc in medium-range shots. Like the Leopard, it can also be seen in the hands of newer players, typically in DX plastic. Even at its low speed the Teebird can be thrown into the wind with confidence.
Fairway Drivers
Moving up in speed on our list of best discs of 2022 we find the fairway driver. The fairway driver, or 'control' driver, fills the gap between the versatile midrange and the higher speed distance driver. Fairway drivers are easier to throw than distance drivers for a couple of reasons. First, their lower speed means that you don't have to generate as much arm speed to be able to get the disc to fly like it should. That makes the disc more useful for newer disc golfers, as well as more experienced golfers that can shape the disc more than newer players. And second, their slightly smaller rim diameter means they are easier to throw for people with smaller hands. (The smaller rim, by definition, means that disc has a lower speed).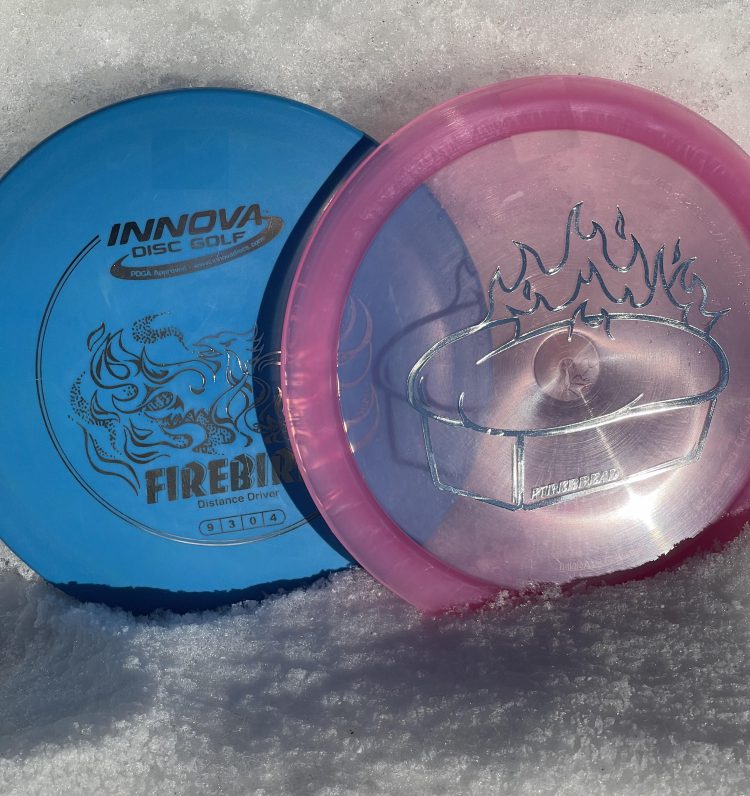 Using the common 4-number flight rating, the fairway drive has a speed rating that falls from speed 6 to 9. Some manufactures list speed 9 discs as distance or 'high-speed' drivers. But enough list speed 9 as fairway drivers, so that's what we will go with for this blog post.
Like any other disc type, fairway drivers come in a variety of stabilities, from very overstable discs to molds with a lot of turn. Checking out the molds in the top 20, below, reveals a wide variety of flight characteristics, giving us a ton of different flights within on disc type. Here are the top 20 discs based on sales:
| | | |
| --- | --- | --- |
| 2022 Sales rank | Disc Mold | Percent of Sales |
| 1 | Innova Firebird | 5.2% |
| 2 | Innova Teebird | 4.7% |
| 3 | Innova Leopard | 4.3% |
| 4 | Infinite Discs Exodus | 3.9% |
| 5 | Innova Valkyrie | 3.8% |
| 6 | Innova Thunderbird | 3.5% |
| 7 | Innova Leopard3 | 3.4% |
| 8 | Infinite Discs Sphinx | 3.1% |
| 9 | Infinite Discs Scepter | 3.1% |
| 10 | Thought Space Athletics Mantra | 3.1% |
| 11 | Discraft Undertaker | 2.9% |
| 12 | Innova Roadrunner | 2.5% |
| 13 | Discraft Heat | 2.4% |
| 14 | Infinite Discs Centurion | 2.2% |
| 15 | Discraft Raptor | 2.1% |
| 16 | Innova Sidewinder | 2.0% |
| 17 | Discraft Passion | 1.9% |
| 18 | Innova TeeBird3 | 1.8% |
| 19 | Thought Space Athletics Votum | 1.7% |
| 20 | Discraft Anax | 1.7% |
Best of the Best
Innova is the king of the top 20, holding nearly half of the top 20 spots, and a majority of all fairway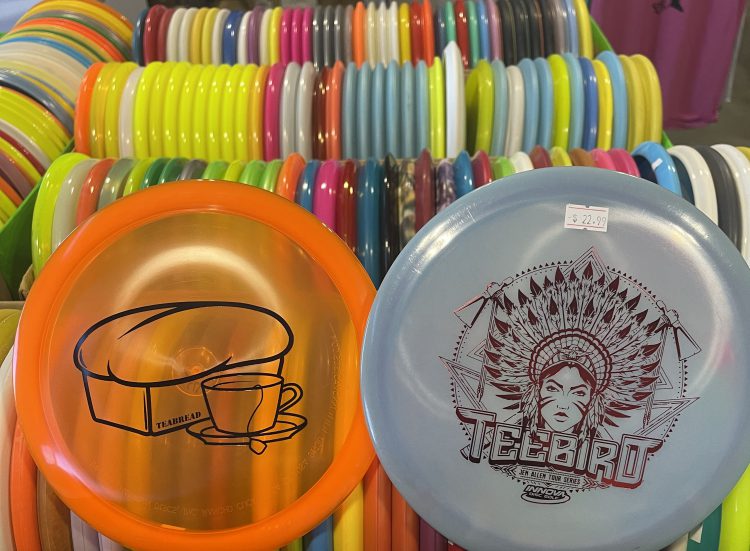 drivers sold. That's not surprising, given that Innova has been around for a long time and offers more fairway driver options than some smaller companies have molds in total. Discraft has a fourth of the top 20. Their chunk combined with Innova's heaping pile doesn't leave a lot of spots for other brands. Infinite Discs and Thought Space Athletics still managed to land in the top 20, with Infinite nearly matching Discraft with the number of molds represented. In fact, even though Infinite has one few mold, their total sales exceeds that of Discraft. Here is the percentage of sales of the top 20 molds: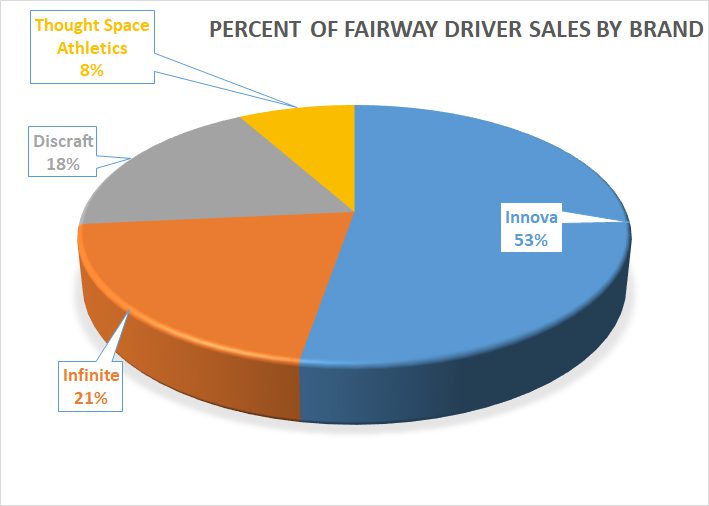 Most Molds Sold
Looking at how many fairway drivers each brand offers, we see several that offer quite a few molds, but still didn't end up in the top 20 for percentage of sales. That goes to show you how popular the top 20 brands really are. Here are the top 20 brands based on the number of different molds sold: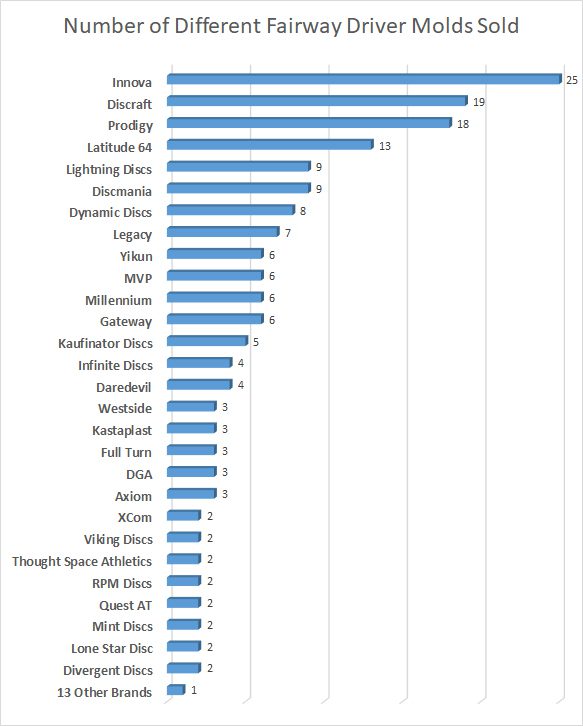 Best Rated Fairway Discs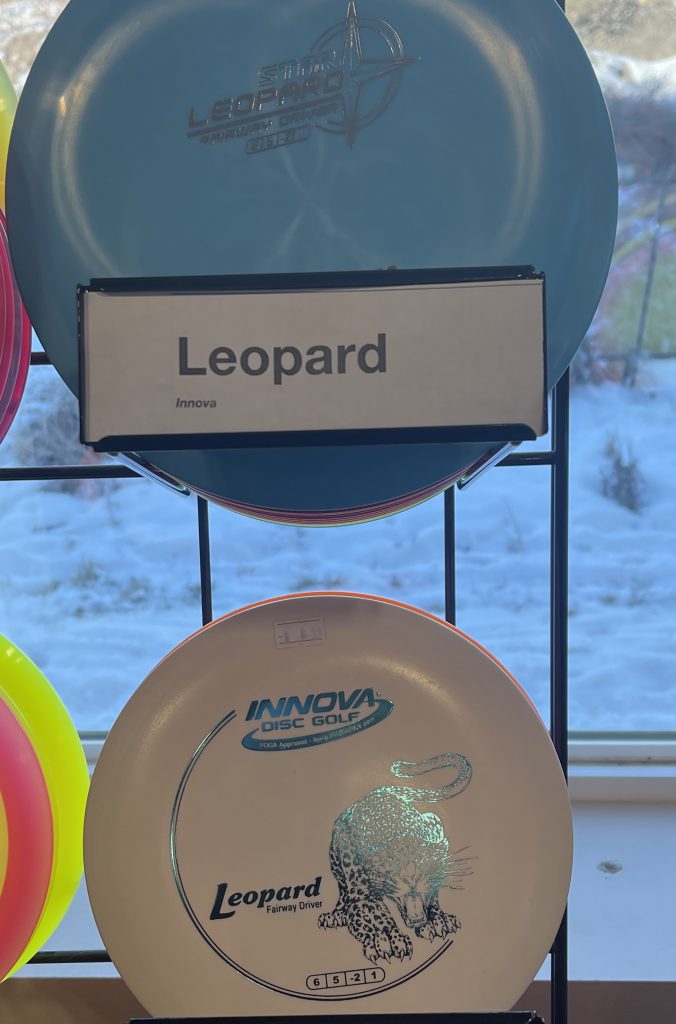 Turning our focus from the sales records, we look at how our customers feel about certain molds once they try them out and review them. We'll check out the top 20 molds in sales, and compare their customer rating. Topping the list are three molds from Infinite Discs. The Sphinx, Scepter, and Centurion hold the top three spots, and TSA's Mantra was the fourth-highest rated mold. Rounding out the list at number 20 is the relatively new fairway driver from Discraft, the Passion. Here are the top 20 molds and their average rating: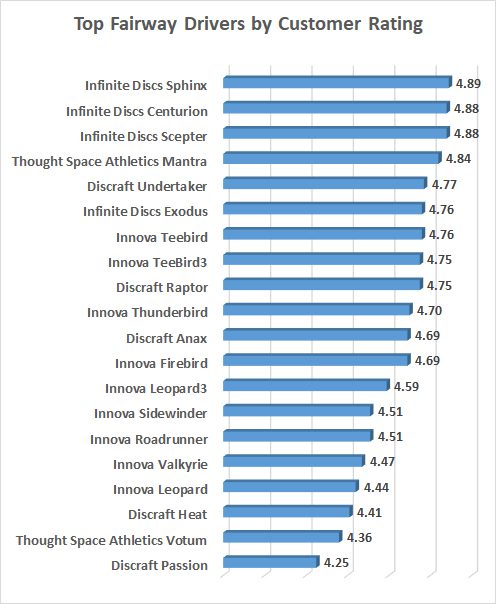 Fan Vote
We asked you to tell us about your favorite fairway driver. Below are the top 20. Innova certainly dominated the polls! Over half of the top 20 molds belonged to them. Infinite and Latitude 64 were tied in distant second with three molds. In addition to the top molds, there were a lot of discs that didn't make the cut, but still received some love from the fans. There were also votes for molds from Lone Star, Millennium, MVP, Gateway, Legacy, Streamline, and Axiom. Here's are examples of feedback about some of those mentioned:
Joshua – "I'd have to say the Lone Star Disc's Mad Cat! That thing is so reliable and glides a ton!"
Adam – "I love the Axiom Clash. It's a perfect straight flying control driver that has the stability to resist any power, but has a gentle reliable fade at the end. Great for both forehand and backhand, it is perfect for any skill level."
Here are the top 20:
| | |
| --- | --- |
| 1 | Innova Teebird |
| 2 | Innova Leopard |
| 3 | Innova Firebird |
| 4 | Latitude 64 River |
| 5 | Innova Thunderbird |
| 6 | Infinite Discs Centurion |
| 7 | Infinite Discs Sphinx |
| 8 | Latitude 64 Explorer |
| 9 | TSA Mantra |
| 10 | Infinite Discs Exodus |
| 11 | Innova Sidewinder |
| 12 | Innova Leopard3 |
| 13 | Innova TL3 |
| 14 | Innova Valkyrie |
| 15 | Latitude 64 Diamond |
| 16 | Innova Roadrunner |
| 17 | Innova Teebird3 |
| 18 | Discraft Undertaker |
| 19 | Discmania Essence |
| 20 | Innova Eagle |
We asked you to tell us about your favorite fairway drivers and you responded! We randomly selected one commenter to win a $50 gift card. And that winner is:
Brad H.  Congrats! The card will be added to your account.
We Still Want Your Feedback!
Post below and tell us about your go-to fairway driver. Is there one that you throw every round? Tell those looking for the best fairway driver why you like YOURS!