Axiom Vanish Announced! More Plasma, Special Stamp
MVP and Axiom fans rejoice!
Today MVP and Axiom Disc Sports announced some big upcoming discs to be released on Friday, April 29th. These releases include Plasma editions of the Axiom Theory and the Insanity, along with a new Axiom disc called the Vanish.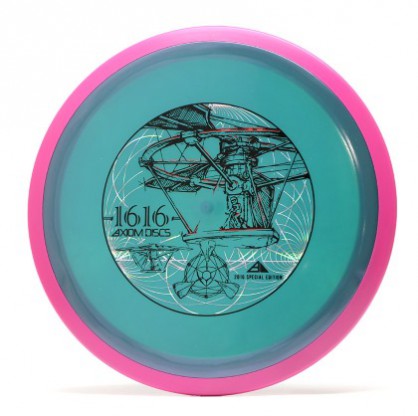 The Vanish has been much anticipated by the community since its appearance on the PDGA Approved Disc list a couple of weeks ago in early April, and after much speculation, the mystery is over. Axiom describes the disc as a middle ground between the MVP Wave and the Orbital. It will debut in Neutron plastic in both a regular stock fashion at our regular Neutron price of 15.95, as well as a special edition stamp described as the 1616 Special Edition Vanish. This disc will be higher speed and offer a straight to understable flight path depending on wind direction and thrower power. You can pre-order both editions at:
The manufacturers note that both of the new Plasma molds have a bit more of a shoulder, accompanied by a slight increase in dome and a subsequent boost to glide in flight. If you haven't had the chance to see the recent Axiom Plasma released and fully appreciate how sweet the metalic two-color Plasma GYRO™ build looks, head over to the site at:
Axiom Plasma Proxy
Axiom Plasma Crave
Axiom Plasma Envy
MVP also announced new Multicolor Tri-Lit LED Lights for night rounds. The new editions include the MVP Circuit logo so that you can add a bit of MVP brand to any of your discs for rounds when you don't want to lose any of your beloved plastic to the darkness.
So far the Axiom Plasma editions of the Envy, Proxy, and Crave have seen a lot of support! What other molds are you excited to be released in Plasma plastic?