Black Friday Sale 2021

If you are experiencing a lagging website or crash during the sale, it is because of the huge number of shoppers on the site. We strongly recommend trying again in a few hours when the website server has had a chance to reset.  More special discs will be added at later times, so you won't miss out. Sorry for the inconvenience.
BLACK FRIDAY 2021
For 2021 our Black Friday weekend sale had to be adapted to account for the supply chain struggles in the disc golf market. Because we are unable to get many of the popular disc models from top manufacturers it has become even more difficult to get anything "special" or "unique" to offer our loyal customers and holiday shoppers. But we still managed to pull together some fun stamps and special runs which also highlight some of the smaller brands with great products. Plus, we'll be putting a lot of those smaller brands on sale so that you can try them out at a discounted price.
DATES AND DISC DROPS
Our sale will kick off on Thanksgiving night, launching in full force on Black Friday (November 26th) and continuing through Cyber Monday (November 29th). Everything that is going to be discounted WILL BE DISCOUNTED ON ALL OF THOSE DAYS. Our Black Friday Ad will be a little bit different this year. Also, all of our special edition disc drops will be released in waves, with SOME OF EACH DISC DROPPING AT FOUR DIFFERENT TIMES during the weekend. That way, you will not need to feel pressure to be awake in the middle of the night or to watch for special dates and times for particular releases. You can pick a time to shop that works best for you. If you miss something on a morning drop, then try again on the next scheduled drop. We want it to be easy for you.
HERE IS WHAT WE HAVE LINED UP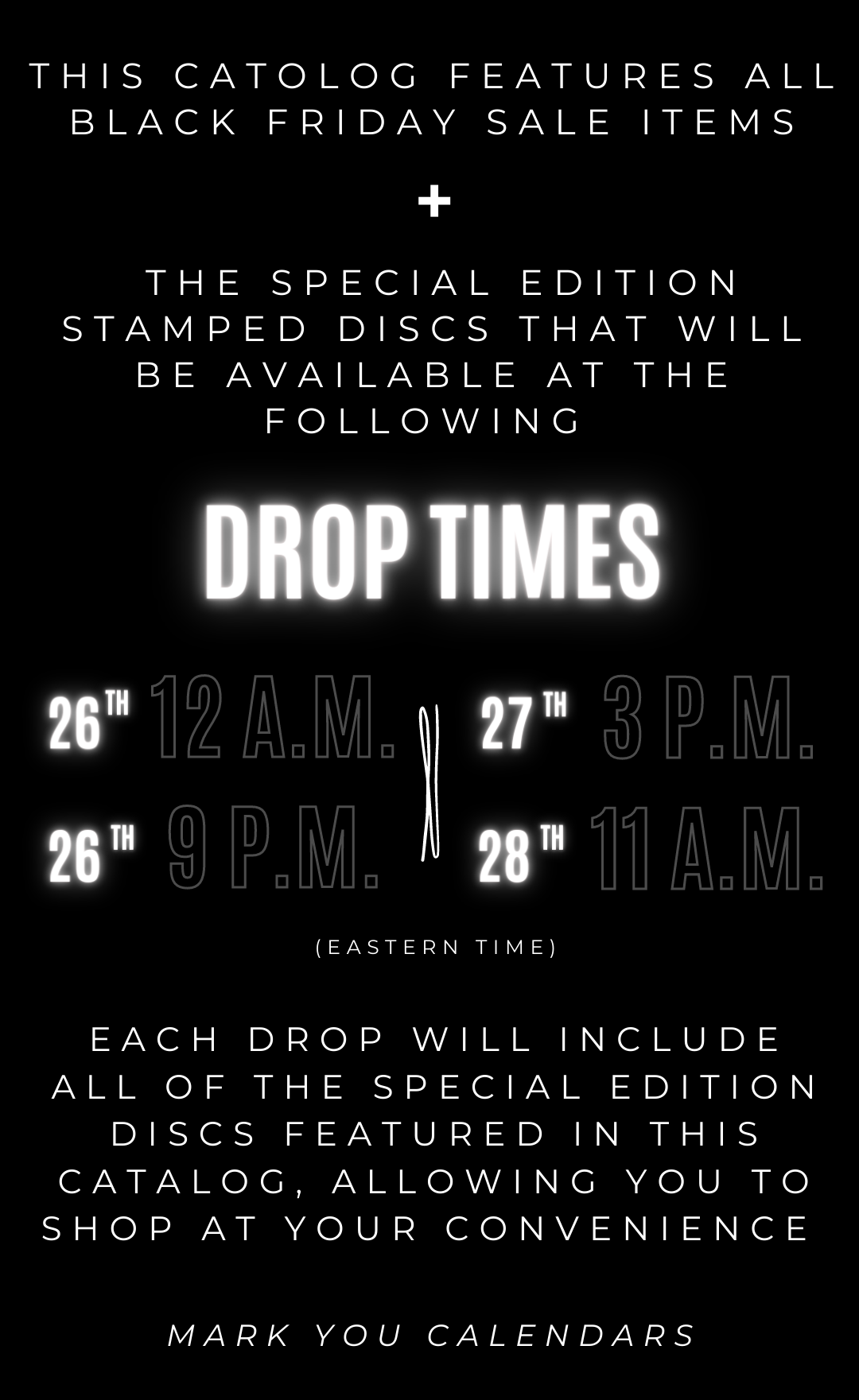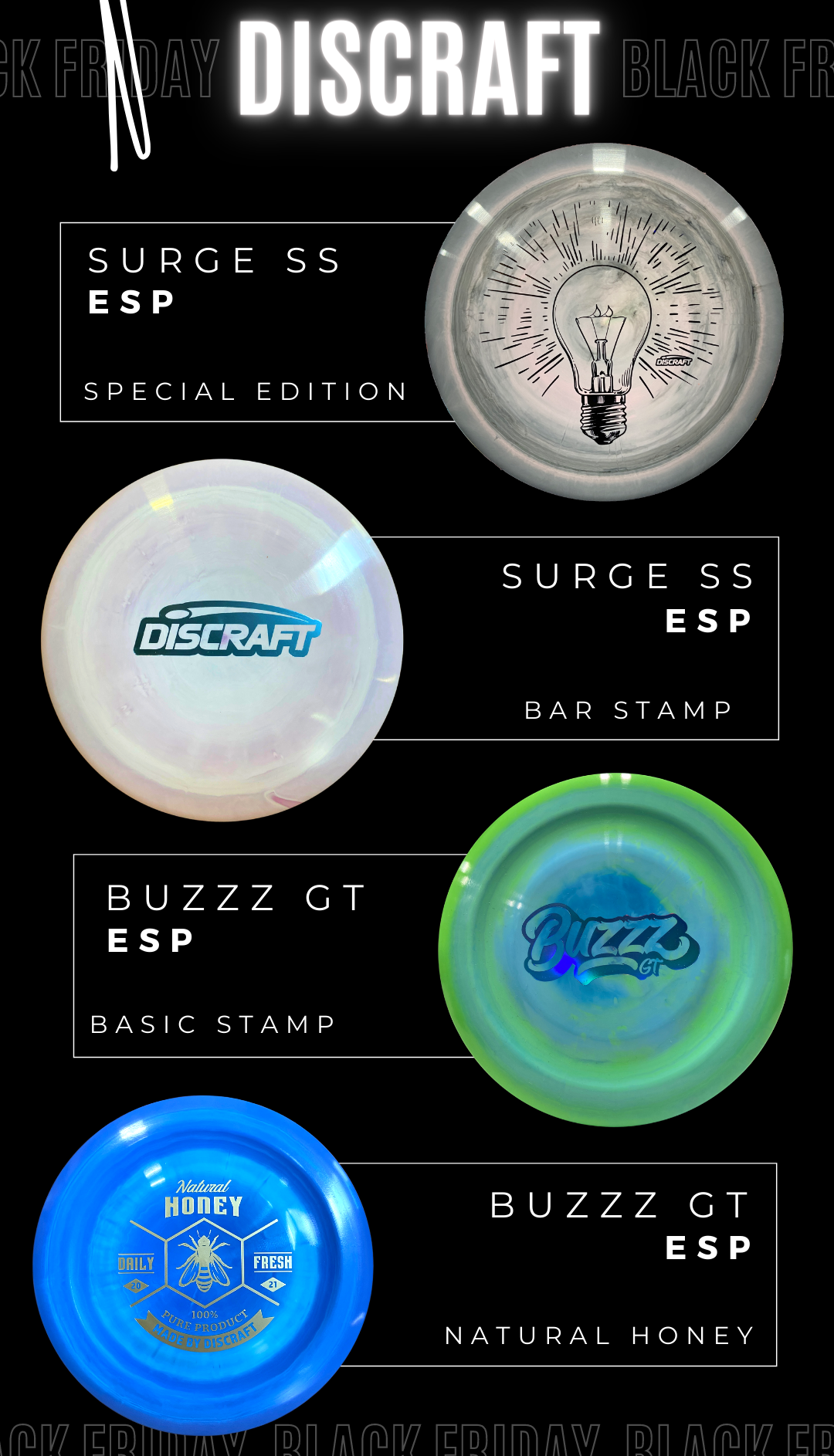 Buy these Black Friday Discraft Special Releases here:
This year for our Black Friday drop we have four limited edition discs from Discraft. These are all special run Discraft discs with a variety of unique stamps as well as the popular generic Discraft bar stamp.
Watch for additional special discs from Discraft throughout the weekend, plus select models will be on sale at the lowest prices of the year.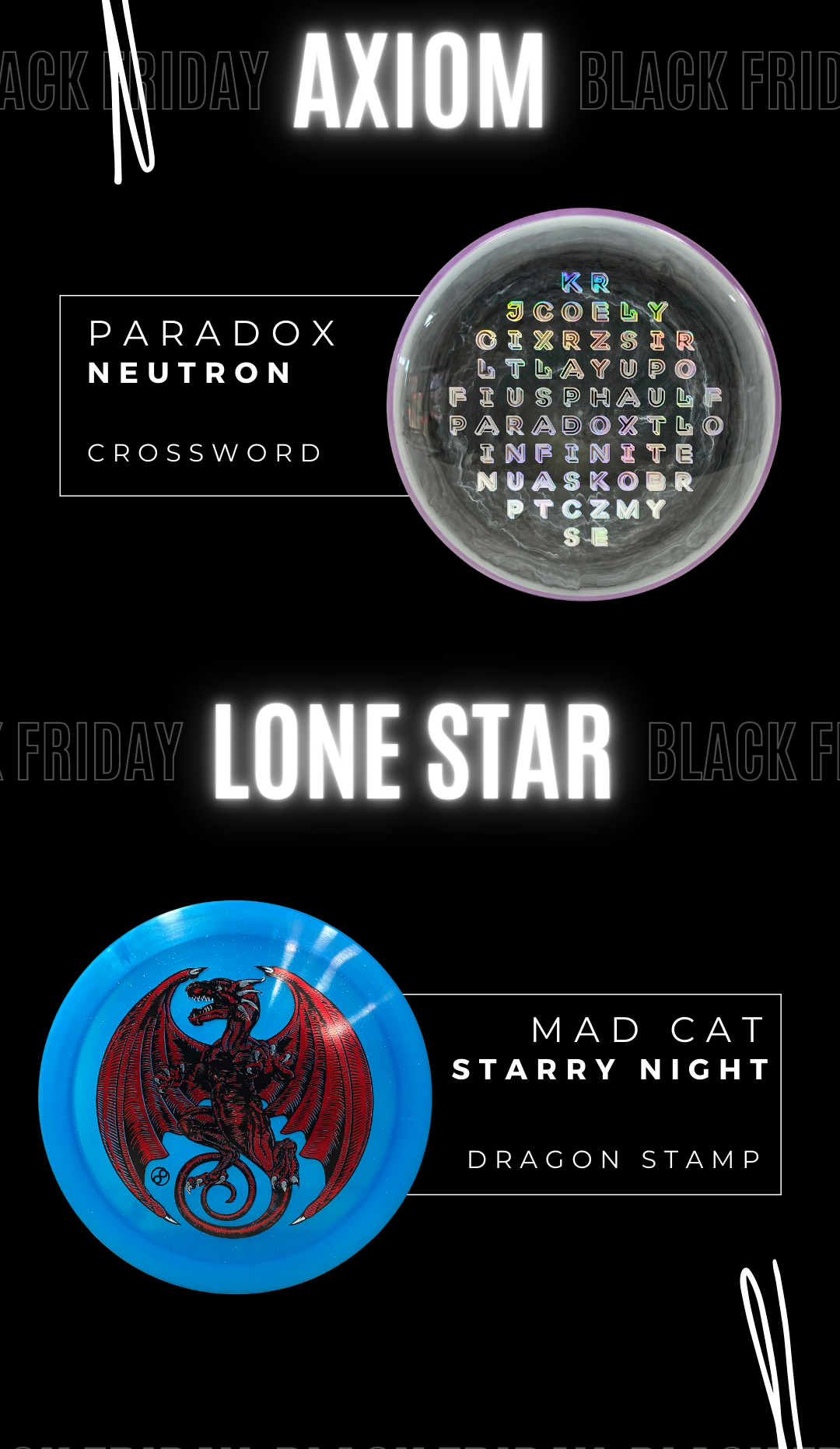 Special Black Friday Releases from Lonestar and MVP
Our special black Friday drops this year include a limited run of crossword puzzle MVP Paradox. How many different disc golf words can you find?
Enjoy this beautiful three foil dragon stamp while saving money on the Lone Star discs Mad Cat.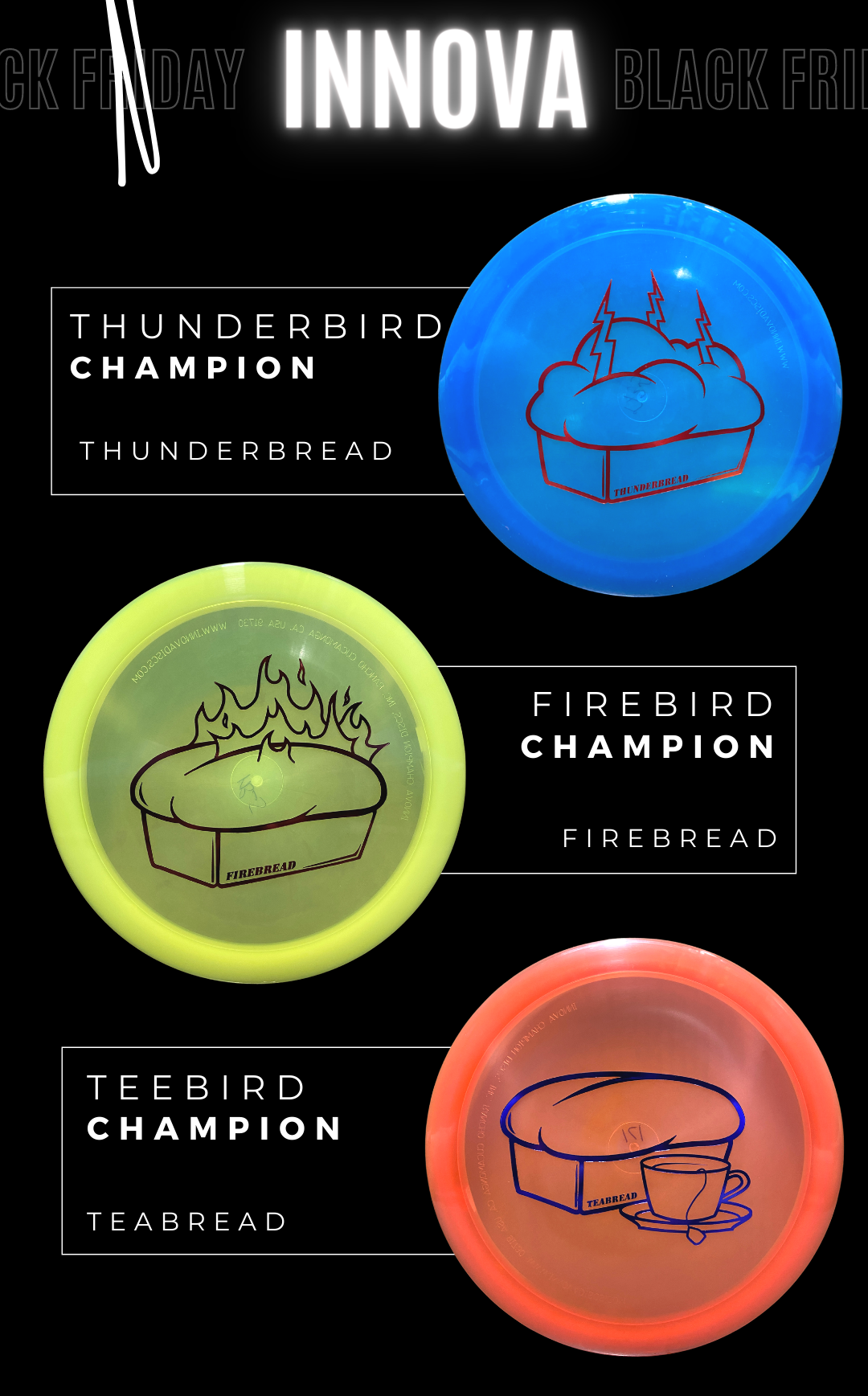 Innova Stamps on Classic Best Sellers
Our popular "bread" stamps are back on some of the top selling Innova Champion Discs. While birds are popular, sometimes you just want some bread. Shop the bread series stamps from Black Friday through Cyber Monday using these links: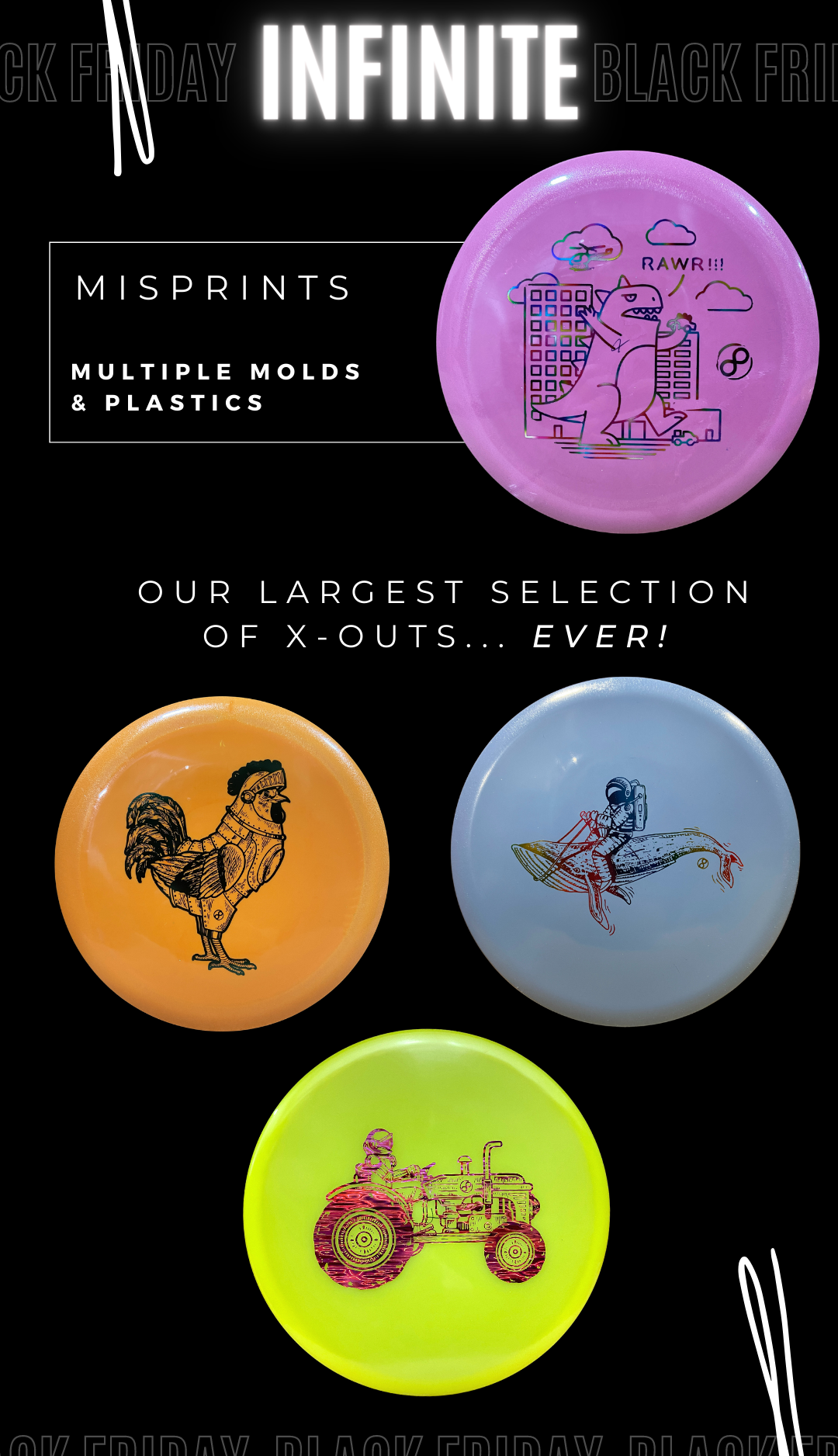 Infinite Discs Savings & Special Releases
Your best way to save money, and get great exclusive stamps this year is within the Infinite Discs line. Every disc in the Infinite Line will be ON SALE!
Not only do we have some incredible limited release triple foil stamps including the Red Sea Exodus, Lady Scepter, and Alien Ruin, but we have a huge selection of misprints and X-Outs. Factory seconds are always a great way to save money on disc golf discs, but for this week they will also be on sale. These misprints and X-outs are some of the best deals available in 2021. If you're looking for cheap discs, this is where you're going to want to start your Black Friday disc golf shopping.
For Infinite Discs Misprints and X-outs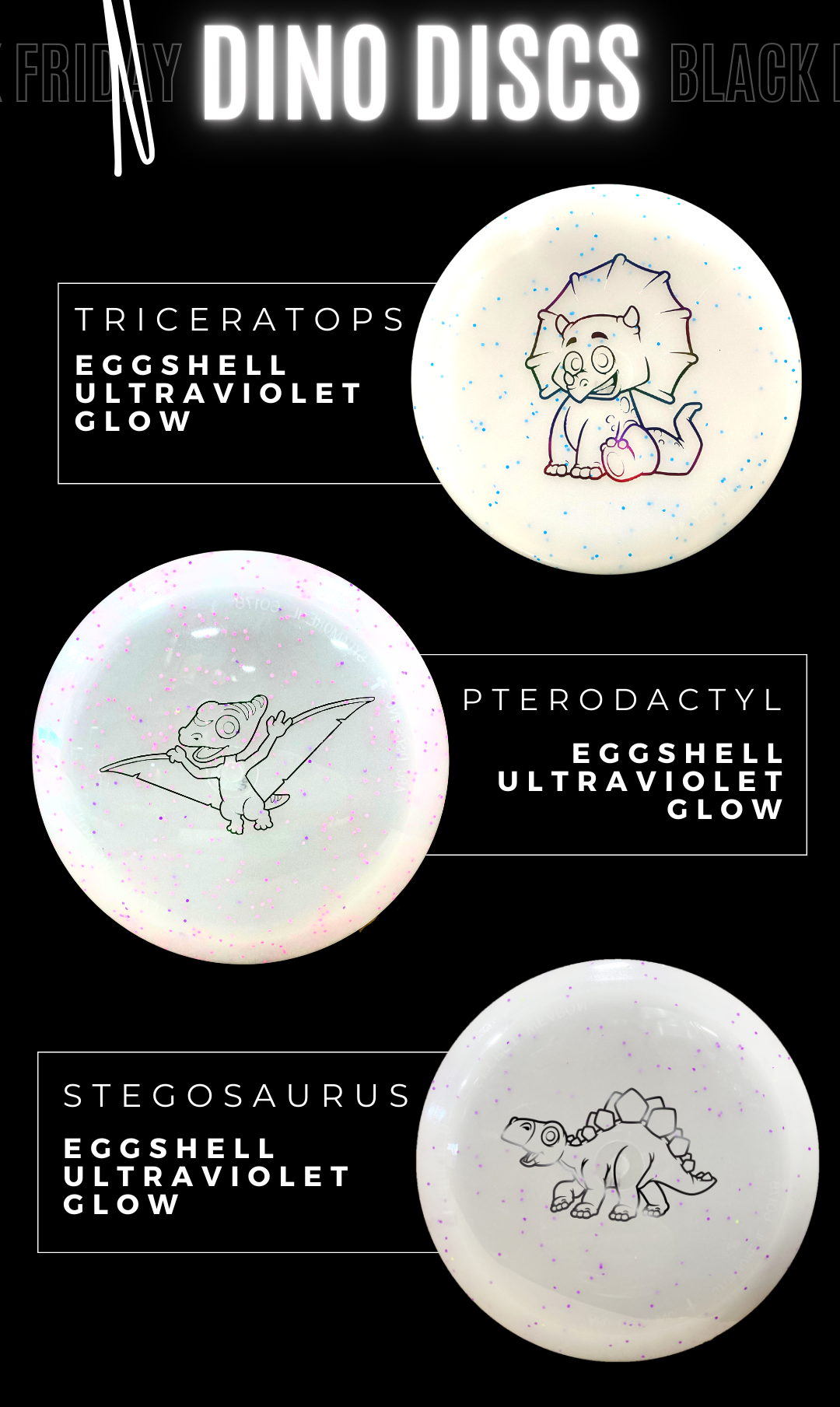 Special Plastic and Stamp Dino Discs!
If you're doing Christmas shopping for a young child, there is no better disc golf present than this edition of Dino Discs. The Eggshell Ultraviolet glow plastic both glows in the dark, and changes color in the sun! Even if your kid doesn't like disc golf, they will like playing with these discs.
Remember… Dino Discs are Special, Ultra-Lightweight Discs for young players!
LINKS: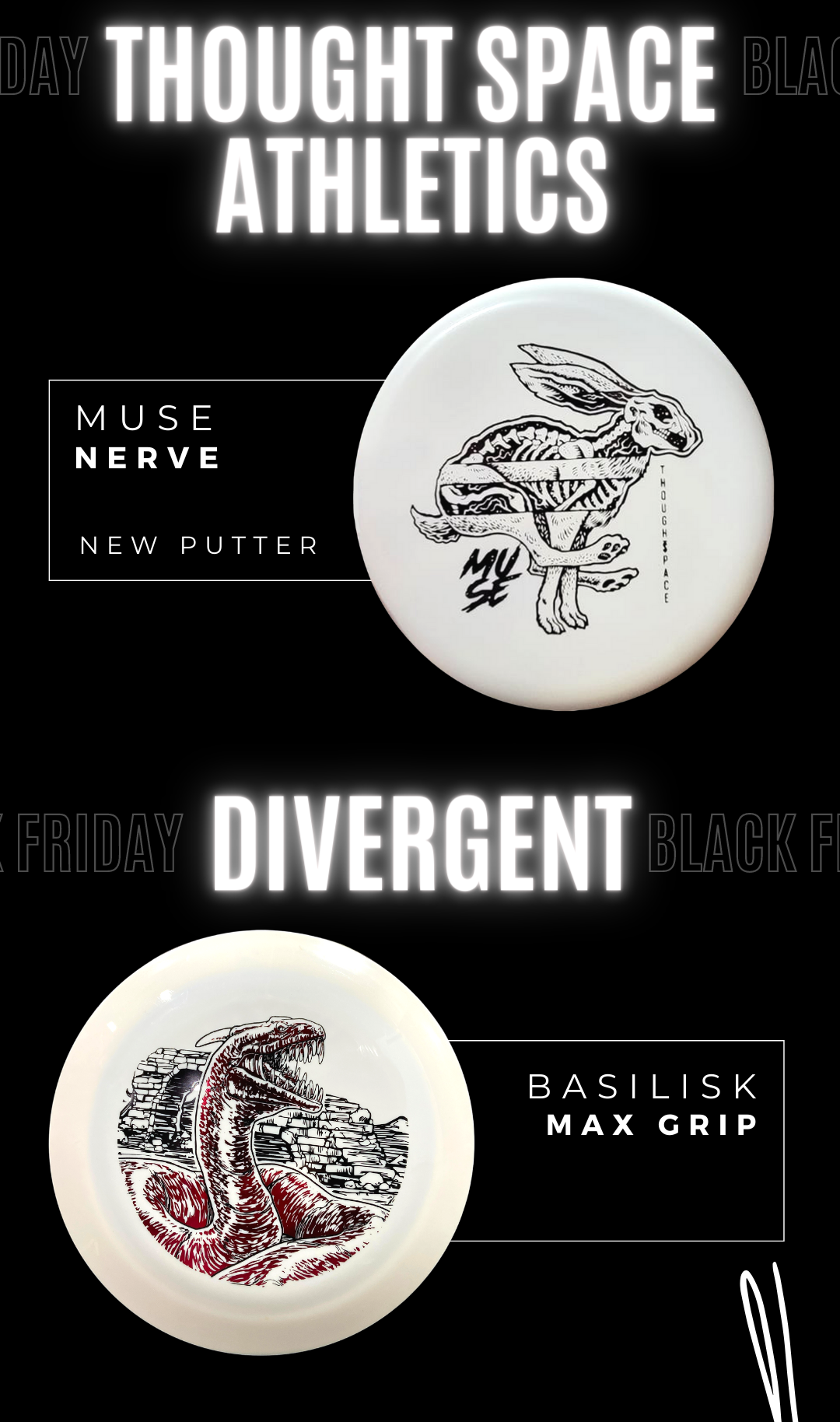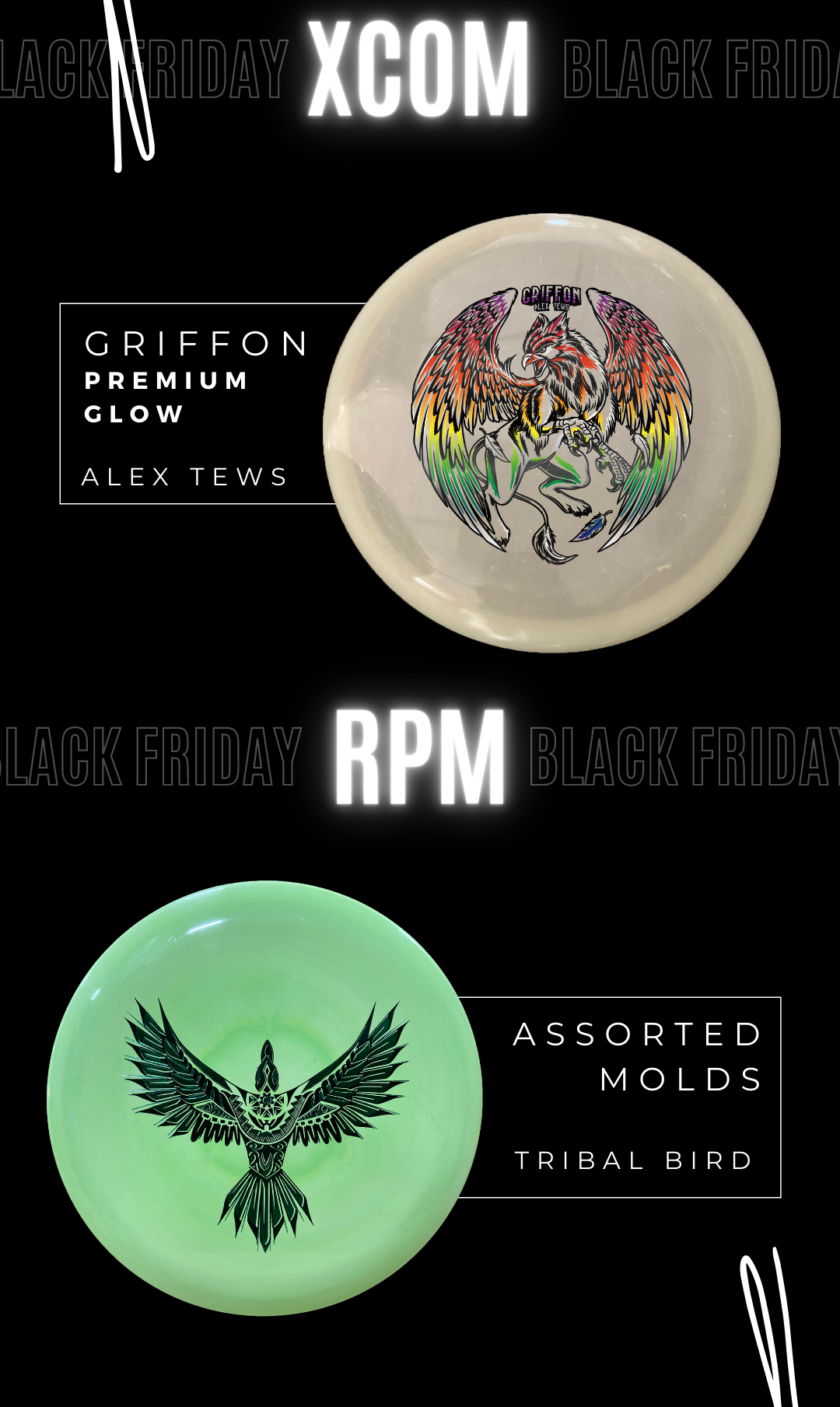 Super Sweet Discs and Super Cheap Prices:
Thought Space Athletics is one of the hottest new disc golf brands of 2021. Their brand new disc and first putting putter is being released for Black Friday. Be one of the first owners of this great putter.
If you're looking for inexpensive discs that just look great, the Divergent Discs Basilisk, X-Com Griffon, and RPM Tribal bird are perfect gift choices for your disc golfer. The Basilisk is a unique distance driver designed specifically for beginners. The Griffon is an amazing straight flying midrange that players of all skill level can use. RPM Discs manufactures some of the best looking and best feeling plastic in all of disc golf.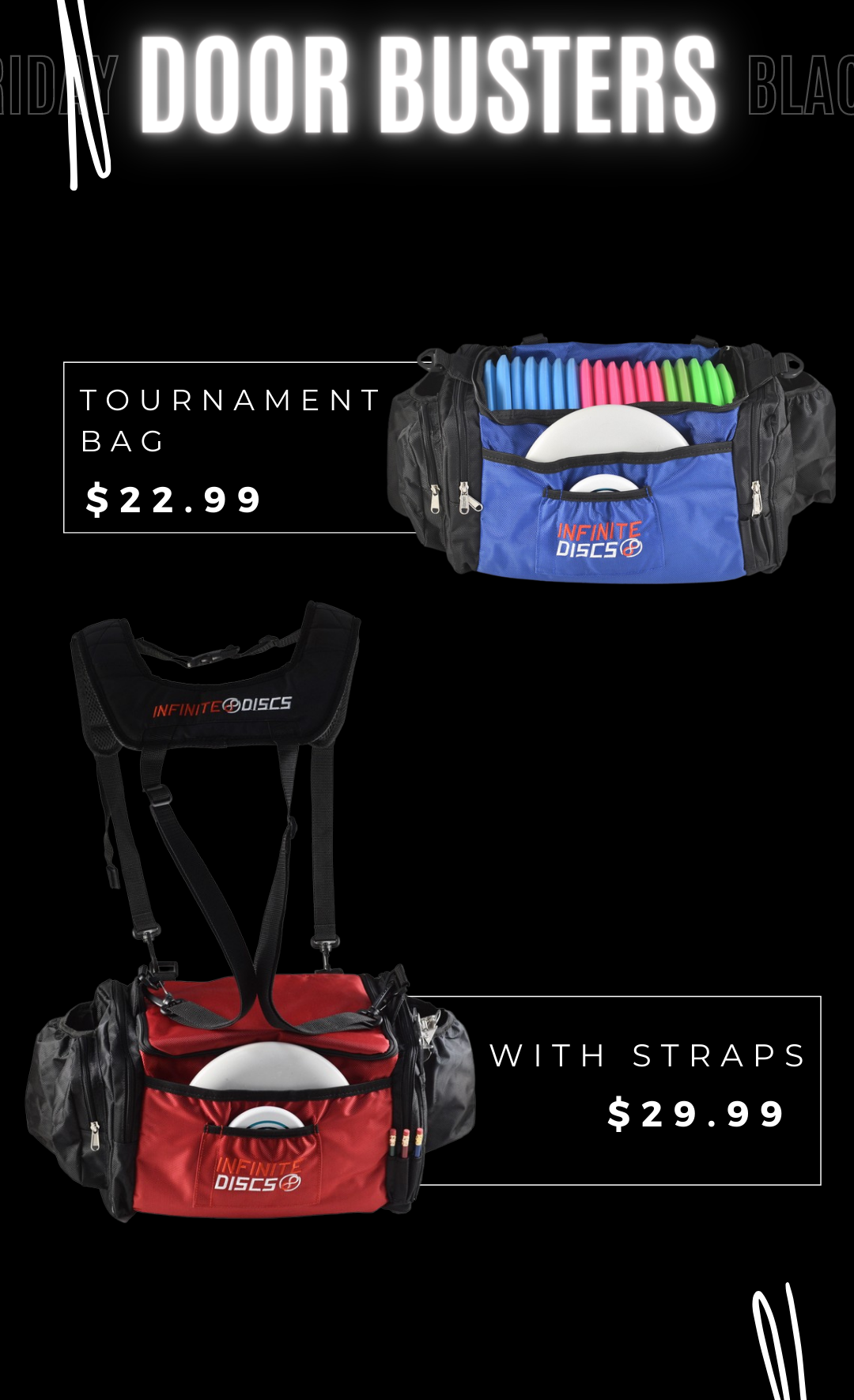 Ridiculously Cheap Disc Golf Products
Are you looking for ridiculously cheap disc golf products? You need to check out our doorbuster deals!
Whether you're looking for a gift for the disc golfer who has everything or just need an inexpensive bag to hold your ever growing collection of golf discs, our doorbusters are sure to prove exceptional value for you. Links to these closeout prices are listed below. Products at these prices are only available during Black Friday week while supplies last.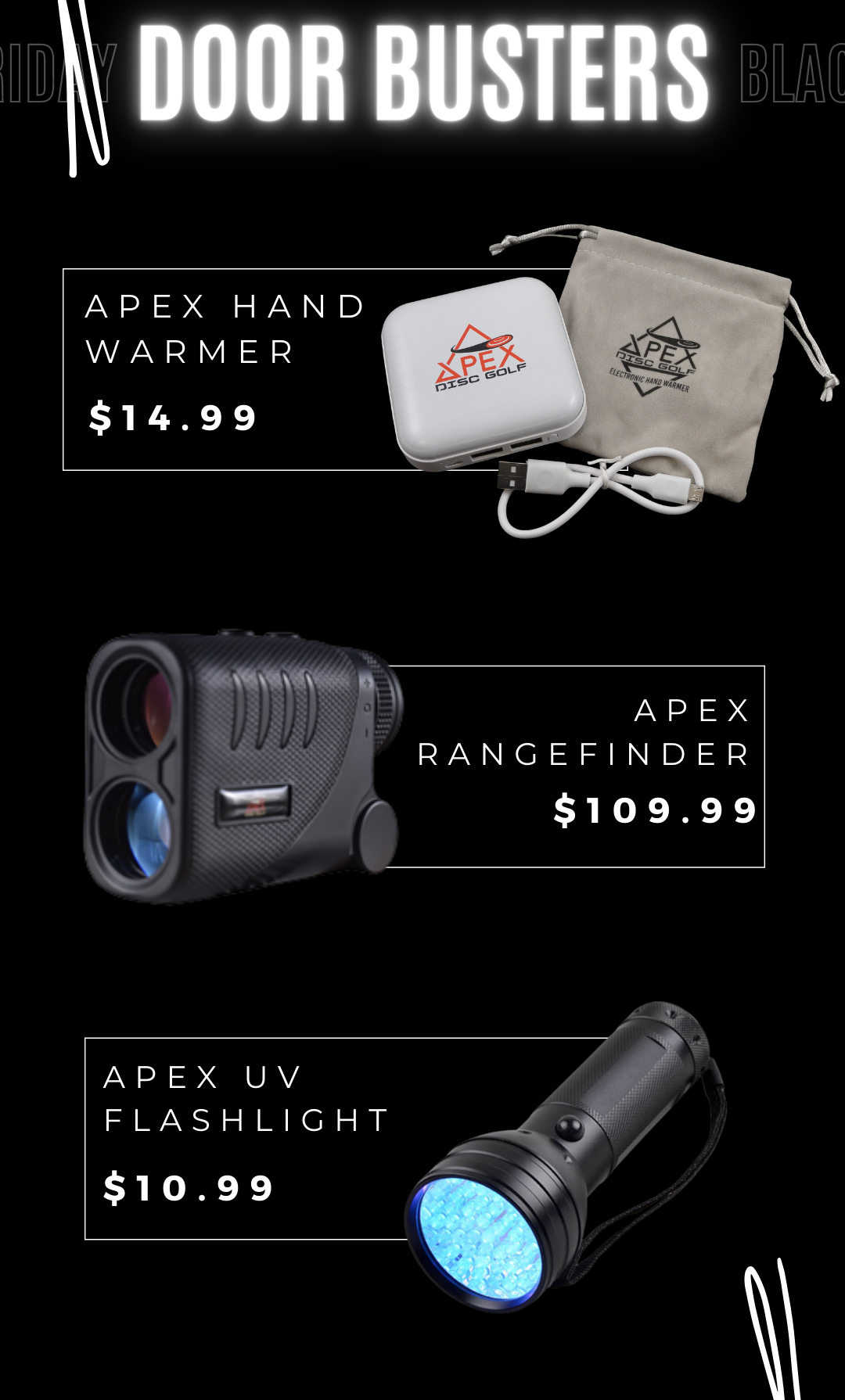 Stocking Stuffers and Premium Gifts
What do you get the serious disc golfer? Consider one of these on sale products from Apex Disc Golf. Play disc golf all winter long with a glow disc charger for those dark evenings and a hand warmer for those cold winter days.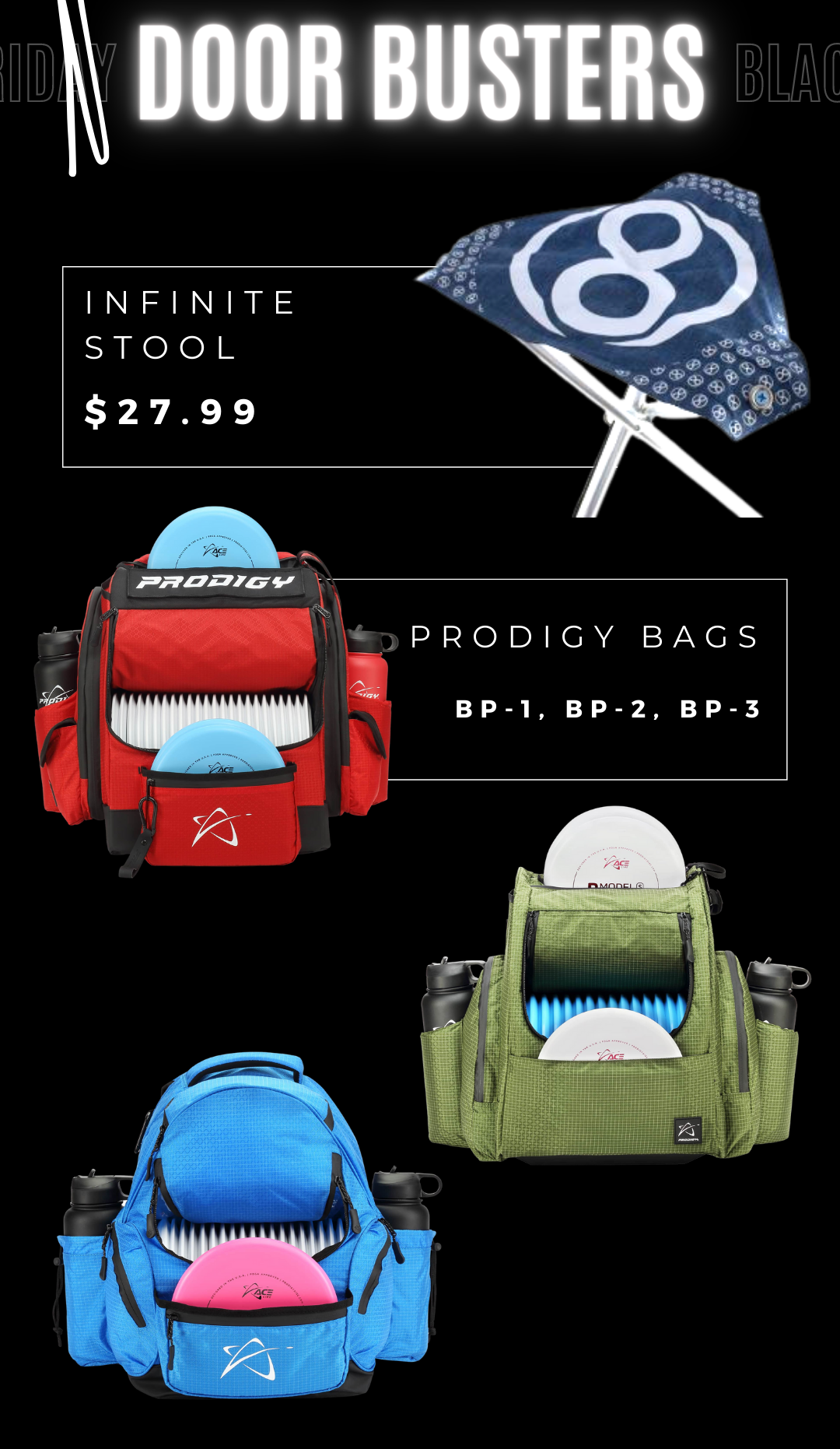 Black Friday Deals to Get Ready for Tournament Season
Do you or your disc golfer plan to play in disc golf tournaments next year? Help get prepared for the 2022 disc golf tournament season with these great products at Black Friday prices. Disc Golf Bags and 3 Leg Stools at closeout prices.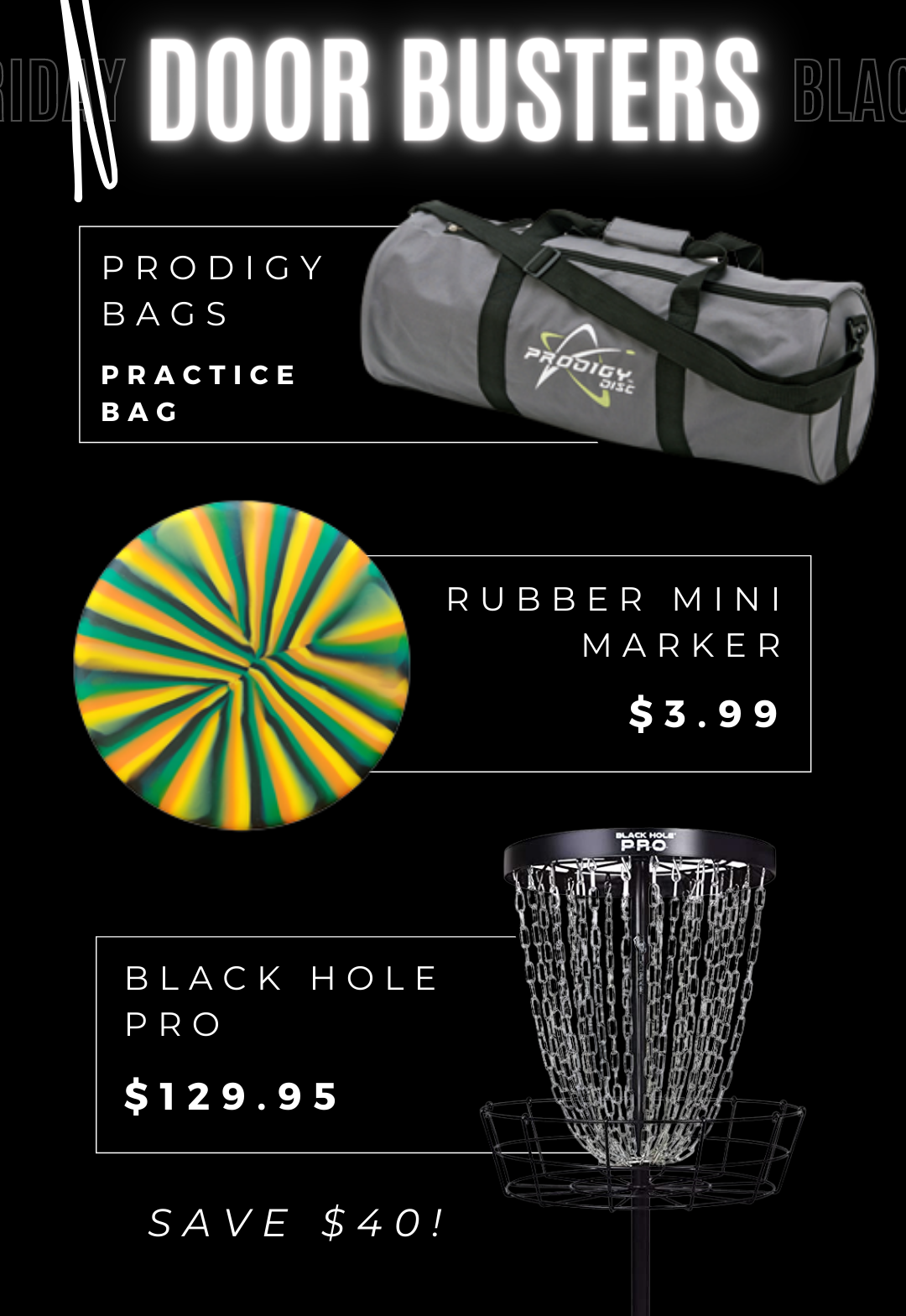 More Black Friday Doorbuster Deals:
What would disc golf black friday be like without storage bags, mini markers, and disc golf baskets. These items will also be available at the lowest prices of the year during Black Friday Deals week only.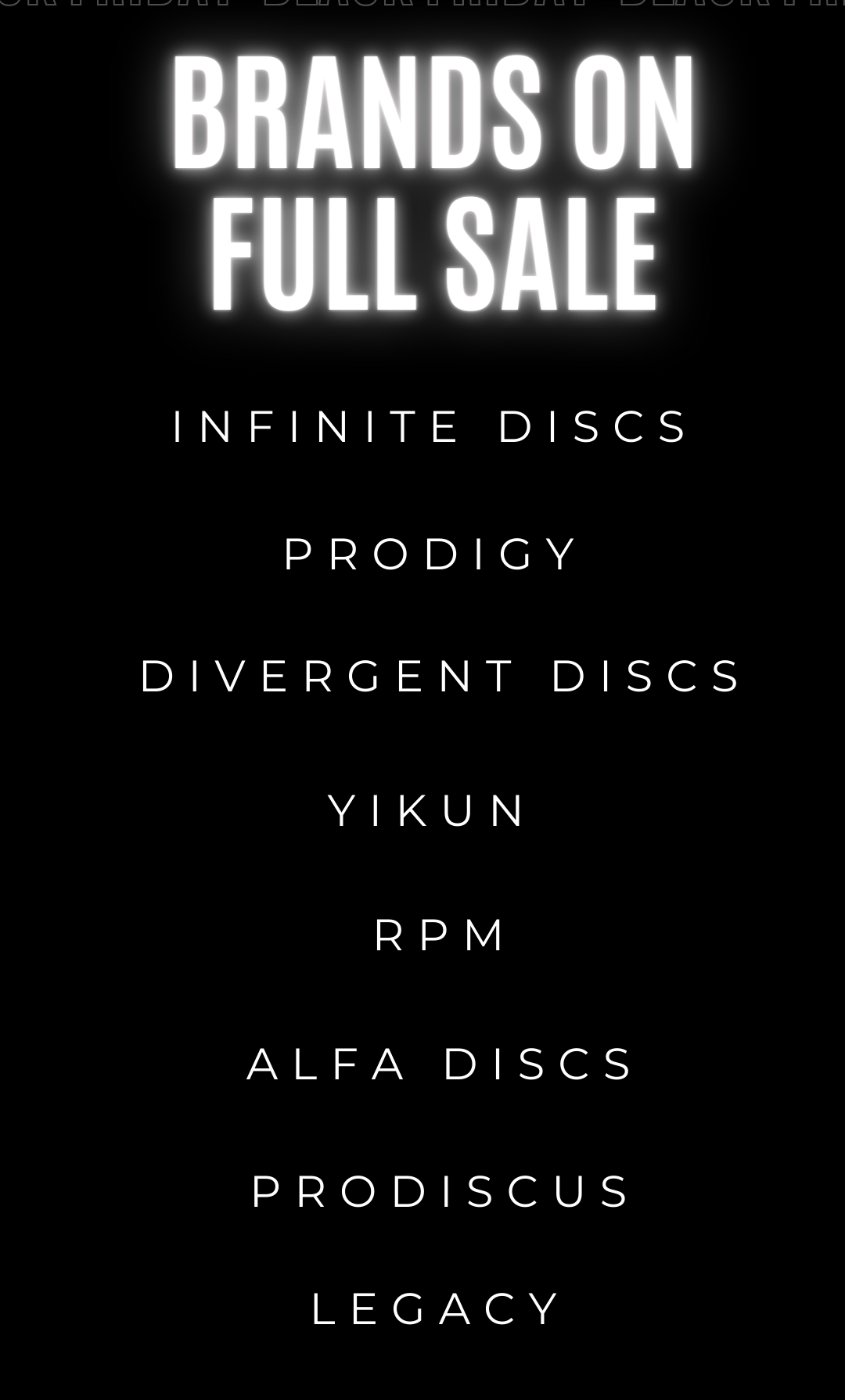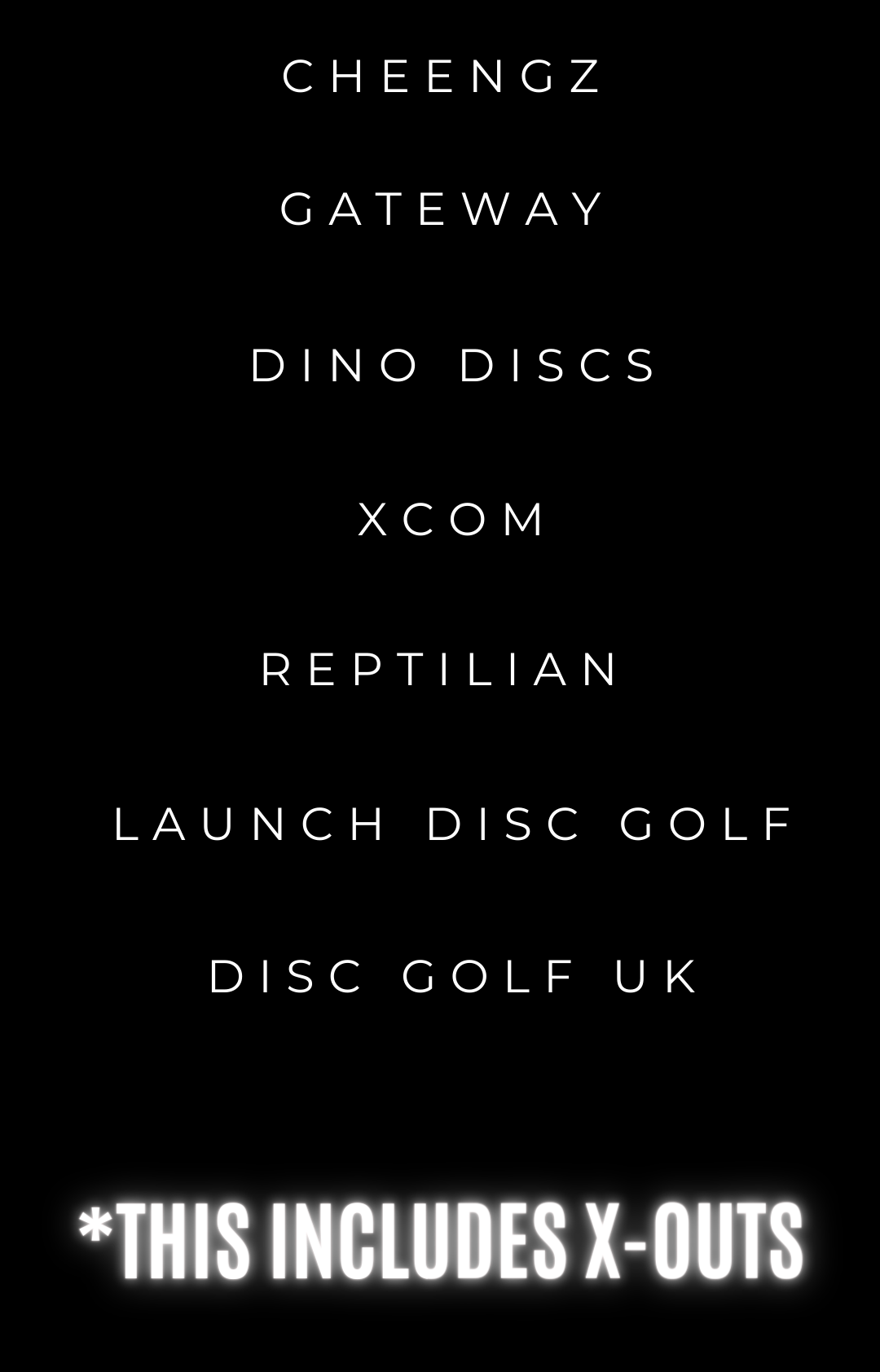 General Savings All Around
All Brands listed below will have discs automatically on sale all week long. Save especially big Black Friday Week by shopping from these brands, CLICK HERE AND BROWSE
Or Jump to the Brands:
Disc Golf Black Friday
Black Friday is our busiest week of the year at Infinite Discs. Before the actual sales week, we spend months planning and working with different disc golf artists and manufacturers to provide you with savings, unique items, limited runs and a fun disc golf shopping experience.
Discount Prices on Major Disc Golf Brands
With the unique disc golf supply chain situation, discount prices on many of the major brands is not possible this year. If you are a regular disc golf shopper, you've probably noticed that most disc molds in brands like Innova, Discraft, Dynamic Discs, Latitude 64, Westside and MVP have not been regularly in stock. We cannot keep these these discs in stock during regular times and sales prices on these items would further strain the problem. We have done our best to provide some special releases from these brands and for Black Friday week and have the most inventory we've had on hand since the pandemic began.
With major inflation in plastic prices and shipping costs, all of the major manufacturers have had to raise the price of their products twice during the last year. The most recent price increase from Dynamic Discs was just announced yesterday. The MSRP of some plastic types raised by as much as $3. We wish this wasn't the case, but expect higher disc prices to be the norm for the foreseeable future.  For Black Friday week, all Trilogy discs will remain at their pre price hike rate.
While we have severe supply shortage from the major brands, we have been able to work out deals with many of the small brands where we are able to work out ultra low sale prices for the entire sales week.
Shipping During Black Friday Week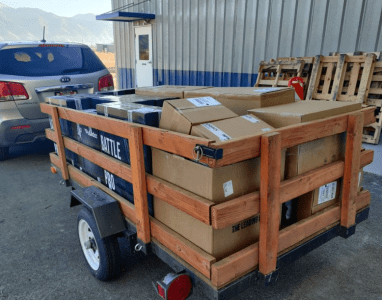 Our sales volume during Black Friday week is more than the rest of November combined. This is a big strain on our shipping capacity and work force. Be assured that we are doing all we can to get your package shipped out as fast as possible. For this weekend only we have crews working night shifts around the clock.
Not only is the Black Friday – Cyber Monday weekend our busiest shipping week of the year, but it is also the biggest shipping time for UPS, FedEx and the US Postal Service. These companies are doing the best they can, but some packages are slower than normal due to the sheer volume increase. We have additional Saturday pickups arranged with the major shipping couriers and when our receiving dock gets too full we will take extra loads to UPS ourselves.
Please be patient if your order does not arrive as fast as it normally does. You can always view your shipment status by logging into your Infinite account and clicking my orders to track your order.
Please Be Patient with our Website and Server
Our website was developed nearly a decade ago and expanded piece by piece as we've added new elements and made improvements. It's current capacity was not designed for our current traffic, especially the demand we see during shopping on Black Friday sales week. We currently have more than 70,000 individually photographed discs available for you to shop. The unique combination of so many individual products can easily strain the database and server.
When too much traffic hits the website at once our website often gets very slow and occasionally crashes completely. If this happens while you are shopping, please be patient and come back to the website and try again at a later time.
We have a new website in the works that will perform better and have many new and exciting features. Unfortunately, it is not yet ready so we will have to continue to use the old one for Black Friday 2021.