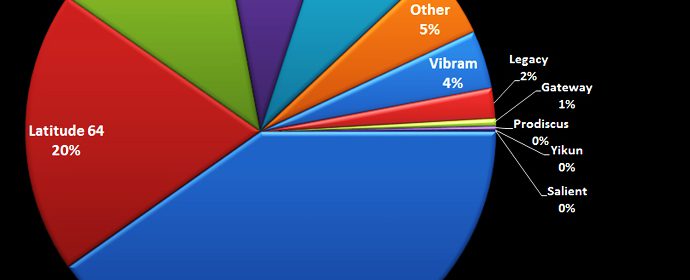 The State of Disc Golf 2014: Leading Manufacturers
This is part 5 of a seven part editorial series of the 1,422 responses from the survey "The State of Disc Golf: 2014"
---
Note 1: This article takes real data from real survey results, and then they are published with educated opinion. You may not agree with everything you read, and that's completely ok. Please leave any of your thoughts or comments below. Rude, belligerent, or otherwise inappropriate comments will not be published.
---
Note 2: We acknowledge and emphasize to you that the results here directly reflect the disc golf community who is in some way, shape, or form, involved with disc golf online. We therefore recognize that it would be inaccurate for us to claim that this survey is a proper reflection of the entire disc golf community. The results portray disc golfers who found this survey via Facebook, Twitter, Reddit, Google+, forums, E-mail, and other means. With over 1,400 respondents the statistical accuracy is high.
Manufacturers & Brands

While there are several brands, some manufacturers actually produce products for other brands.

To best illustrate this we'll use the MVP as our example. In January 2014 MVP launched a new brand called Axiom. MVP discs & Axiom discs are both produced by MVP Disc Sports, however Axiom is its own product lineup and brand.
Q: Which manufacturer is the leader in disc golf today?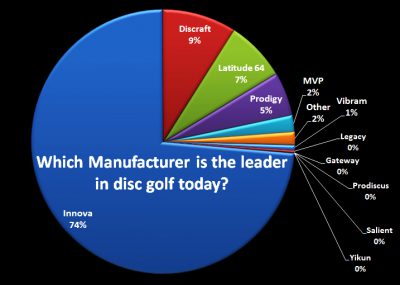 Which manufacturer disc golfers believed was the leader in disc golf today? The answer wasn't even close. Innova took it by the largest margin of any other question in the survey. In contrast to the data in the last survey "Which brand is your favorite?" is what makes the results here more intriguing. While bias likely works into the answers for many when taking a survey such as this, it shows bias was largely set aside. 38% of people responded that Innova was their favorite brand, but 74% responded that Innova is todays leading manufacturer. 3 in 4 disc golfers voted that Innova is the top manufacturer today, even if Innova wasn't their choice of disc.
Q: Which manufacturer are you looking forward to new releases from the most?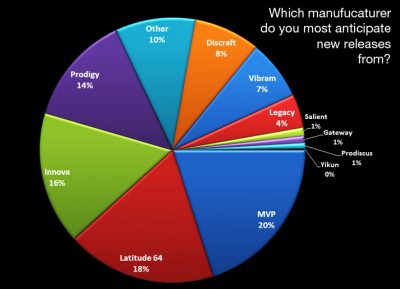 This question had a very nice spread when compared to the landslide of the last question. MVP is impressive here not only because they placed first With 20% of disc golfers most excited for releases from MVP, but also because this is a small company which currently has a very small market share. MVP has created hype around each release, and their distance driver lineup which is coming out this spring is the most anticipated release that we can remember. In addition, from our point of view MVP also lives up to the hype that they create with each release – consistency and quality is a staple when working with MVP.
The next three are Latitude 64, Innova, and Prodigy with 18%, 16% and 14% of the votes respectively. From our view Latitude 64 is establishing itself as a major player in the industry and has a strong following which faithfully buy whatever the product. Innova has also produced a handful of top selling discs the last two years with Krait, Tern, and now their overmold plastic options with the Atlas and Nova has also turned heads. Finally Prodigy, who according to their number system has released a majority of the discs which will be released, how will they adapt in 2014? More signature series?
Q: Which manufacturer has the best public reputation?
Innova takes first place again at 50%. Second place is Discraft with 16%, Latitude 64 with 11%, MVP with 7%, and everybody from there has just a small share.
Innova's dominance in this category was honestly a surprise. While we are not questioning Innova having a solid reputation, I (the author) feel that many brands are also deserving of the top vote for many. Perhaps next time, this question will be rephrased to ask "On a scale of 1-10, how would you rate the reputation of such and such company." That question will give us a better thermometer reading of how different manufacturers are doing for the disc golf world.
Kudos to Innova for doing an overall fantastic job! The results don't lie!
Q: Which manufacturer is the most Innovative?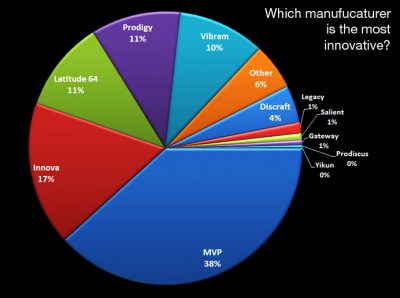 And we're back to MVP, except MVP now takes it by a larger margin. MVP certainly has a unique way of doing things, and it's catchy… and according to respondents, it's Innovative.
In second place is Innova, with less than half the votes of MVP. Innova is large, and continues to adapt. For example, noting the success of MVP, Innova developed their own overmold style. Innova has a steady stream of discs annually which frequently seems to fill a void in what seems to be a very well built lineup.
Latitude 64, Prodigy, and Vibram round out the next three – each with unique aspects they bring to the game!
Q: If you could have discs made by only one manufacturer, which would it be?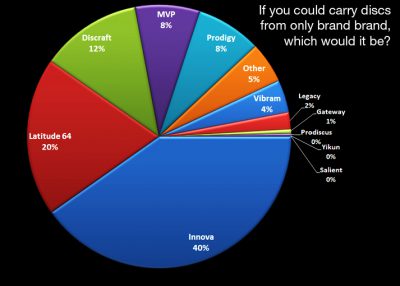 Innova strikes again. Most disc golfers would choose Innova if they could throw with only one brand, and it's not hard to see why. Innova has something for just about everybody.
At the same time, it's not hard to see why many of the other brands are chosen. The reality is, you don't always need a disc for every possible situation, you need discs only for the scenarios which you play one. Many players choose only a handful of discs because they are versatile and they simply love them, so it's easy to see where fan bias plays into this question more.
Latitude 64 takes second place with Discraft not far behind.
Q: Which manufacturer made the largest impact to disc golf in 2013?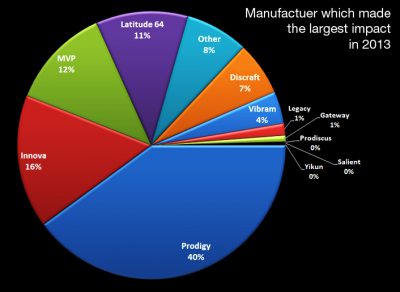 First place goes to Prodigy who garnered 40% of the votes here, and again, it's not hard to see why. January 1, 2013 was the first day most of the disc golf world ever heard the name Prodigy, and it is now common to nearly all disc golfers. In fact, in the next article we'll focus on brand awareness, but to give a sneak peak, over 73% of respondents said they are familiar with the brand Prodigy. Only 8% said that are not familiar at all. That is an amazing feat in one year of business by nearly all standards. Be it the D1, or PA-1, it's hard to play disc golf with a league or club where somebody does not regularly use a Prodigy disc.
Innova, MVP, and Latitude 64 were others who gathered a reasonable amount of votes. Each had a number of very popular releases which, like Prodigy, are hard not to find in a nearby players bag.
Q: Which manufacturer made the largest impact to disc golf in 2014?
People still expect big things from Prodigy in 2014, who gathered 18% of the votes for this question. However, first place goes to (you guessed it) MVP who gathered 19% of the votes.
There are many ways which a disc golf company can make an impact – PDGA National Tour tournaments, or grass-roots efforts like the Vibram Birdie Bash and Discraft Ace Race. To date, MVP has not done any of these things, but they have created a new brand, they're releasing new discs – so 2014 has not disappointed yet.
Our Overall Impression:
Even though they're small, MVP has made a splash! They're tenacious and Is the best still to come from company which has already amazed in so many ways in 2014?
Near the top of the pack each time was Latitude 64, the manufacturer for Westside and Dynamic Discs. The Scandinavian-made plastic (aka, Trilogy), has earned a solid reputation as a fair sized contingent of the disc golf industry trades out their old plastic for any one of these brands. It is my speculation that given the current course of Latitude 64 they will be rivaling Innova for the top spot in the disc golf market.
Innova is #1. When you're the largest disc golf manufacturer in the world, it is inevitable that complaints will be voiced. Innova has already been through the growing pains which others are currently experiencing, and they're in a stride. They are still most respected as #1 and have set a high mark for others to rise to. Innova will be hard to catch as their current pace will not be shrinking. Instead, the way to catch up with Innova will be to continue to grow the overall disc golf scene (which companies such as Dynamic Discs have been doing a remarkable job) and to create brand loyal fans.