It's Not Too Late for Disc Golf Gift Certificates
Looking for a gift for someone who loves disc golf but don't know exactly what to give them? With thousands of different disc models, plastic types, styles, bags, and accessories, how do you choose?
A gift certificate to disc golfs largest online retailer is the perfect solution. With a selection of 35,000 discs from 42 different brands, as well as all the most popular accessories, apparel, bags and carts — your disc golfer will be sure to get exactly what they want. We not only offer incredible prices and fast shipping, but we also take individual pictures of every disc we have in stock.
At Infinite Discs, we have two different kinds of disc golf gift cards:
Electronic Gift Card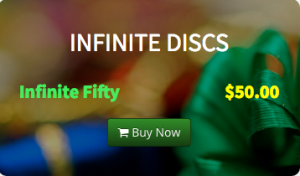 With the time it takes for shipping, it's likely too late to get a physical package by Christmas. It's never too late to give an instant E-Gift card.
The Infinite Discs electronic gift card is easy to send and will arrive in a matter of seconds. We offer e-gift certificates from $10 – $300. A fourteen digit gift certificate code with your selected dollar value will be instantly emailed.
When filling out our E-Gift card order form you have two recipient options:

1. Have the electronic gift card emailed directly to the recipient. With this option, the gift card code will go directly to the "receiver" email address at the time your payment goes through. This means that if you don't want the recipient to receive the gift card yet, you will probably want to use option 2.
2. Email the gift card to yourself.  By entering your email address in the "receiver email" field, the e-card code will go directly to your email inbox where you can print it up, decorate it, laminate it, frame it, or do whatever you want to best present your gift.
Physical Gift Card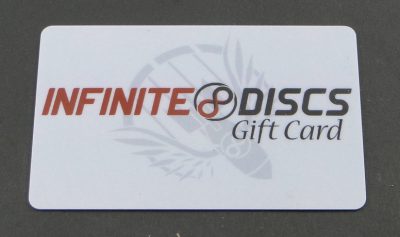 For those who are looking for something physical to present, we also offer a physical gift card that will be mailed through the USPS. Physical gift cards are currently available in $20, $25, $50, $100, and $250 values. Redemption of physical gift cards works exactly like an e-card. Each physical card includes a unique 14 digit code that is entered as payment method during check out. Because these are physically mailed, allow up to a week for delivery.
Redeeming Infinite Gift Cards
To redeem an Infinite Gift card you simply enter the gift card code at checkout. Please note that this is NOT a discount code. Discount codes are promotional codes that give a discount on an individual order. If you're now intrigued by discount codes, the best way to be alerted of discount codes is to subscribe to our newsletter.
Gift cards are a form of payment. Gift card codes are entered as a payment method by selecting the second "Gift Card" tab on the order summary screen: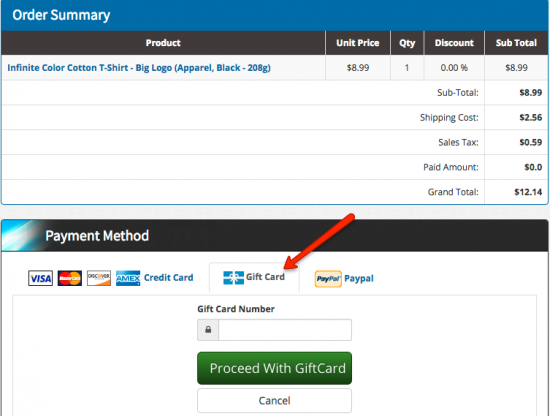 Customers can save up and enter any number of gift card codes for redemption. The Infinite gift card balance never expires so your recipient can stock up or save gift certificates until there is something that they really want or need.