First NT with My New Bag! – Dave Feldberg Blog Post #4

After really not playing in over a month we had planned to go to Delaware to play the national tour. I had picked this stop to play as Synthya's family is from Delaware and I love the
Ironhill Course
. It would be our first real road trip as a family and we were excited. We took our time getting there and even stopped to play a new disc off course in
Halifax County North Carolina
. It was a brand new course it was almost 100° and we were the only people on the property. We made it about 5-6 holes and the heat was too much for our baby and for me the bigger baby. It looked like it was going to be a nice course, maybe we will stop and play it again someday in the future.
Once we got to Delaware we stopped and I got to practice Ironhill and see all the new changes and then we headed to Synthya's grandma's house for dinner. Man can her grandma cook some good food. One thing interesting that we did while we were there visiting was that Synthya's best friend also has young children and they took us to one of their weekly BMX competitions. We got to watch a bunch of kids ride around a dirt track do jumps, etc. it was pretty cool. We never had anything that cool to ride our bike on when I was a kid we were just happy to ride around the neighborhood, man how times have changed.
Delaware Disc Golf Challenge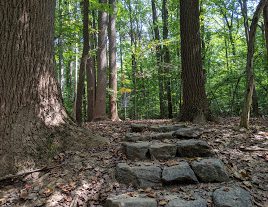 The tournament started and it was pouring down rain but on the bright side I was on the
featured card
and it looked to clear up some point during our round which it did about the fifth or sixth hole in. So in my opinion two feature cards and anybody else that started late really had an advantage for the first day. It was hard to score and I was like a roller coaster going birdie bogey birdie bogey. I kind a got going and by the 11th hole I was one stroke off the lead and tied for the lead in the group. Then I threw a pretty good drive on hole 12 that went right down the center but too far. It hit a tree and kicked 40 feet to the right over the only OB line on the property. I bounced back with a birdie but then managed to double bogey the next par three. My roller coaster round ended up being a -3 which had me in a tie for fifth and if I just made one more shot I would have got to play on a lead card. It is a tough course to say the least. It was fun being on
Jomez productions
and I really enjoyed the crush boys commentary.
Day two I was on the chase card filmed by
Gatekeeper Media
and I just didn't have the feel. I wasn't shanking or anything I just didn't make any jump putts and didn't make very many birdies. I struggled my way to another -3 which dropped me into a tie for ninth place for the final round. Which would mean my last round won't be on video but I had a killer group and it was supposed to be 80 and sunny.
The final day I felt a little better and I came out really slow with five consecutive pars I started to worry as those were some of the scoring holes for me in the previous rounds and the players I were playing with were also scoring well on those holes. I figured if I wasn't going to get those birdies and I was shooting over par on the back the first two rounds, it was going be a long day. But then my putter got kind of warm and I started making a few 50 foot birdie putt's and battled all the way up to a seven under which surprisingly moved me into a tie for fourth place. So in the end it was pretty nice finishing top-five at my first NT this year, but I look back at the tournament only losing by four strokes and think wow I wasn't so rusty I probably could've contended for the title. That's why I play in the long wooded big events because I think it provides the toughest and closest competitions and they require the most skill of throwing the disc.
I wanna thank my caddy Kevin, all the players I played with were quite enjoyable to play with. Also I want to thank Jimmy Mac who claims this is his last year as TD after a full decade of giving to the Delaware Disc Golf area. He did win the Innova stewardship award for his efforts. I want to thank my sponsor Infinite Discs and Next Generation tour and of course my lovely wife and son who came all the way to Delaware just to let me play, we did get to spend time with our family which is always good.
Then on Monday I jumped in the car and had to drive 14 hours straight back home to get ready to run an A-Tier NG Premier event at
IDGC
. It was a great event and everything went smooth. Then after running the event, putting everything away, cleaning up packing taking care of our dog, etc. I jumped back in the car and drove 18 1/2 hours straight to the US Masters championship at Maple Hill in Leicester Massachusetts, because Labor Day traffic meeting up with hurricane evacuation traffic makes for unbelievable traffic.
Tim Selinski US Masters
One of my goals is to be the world and US master champion in the same year. So I was hoping to play well, but the thing is with the Maple Hill course and the other ones around the area if you're just slightly off, you're going to have no shot to win. With the extreme traffic I arrived Tuesday morning at 5 am after literally 18 1/2 hours stopping only for gas three times, took a nap and headed to the course. I practiced all four courses in two days and with the drive, I was still really tired. They had many elevation changes. The day before the event I managed to play both Maple Hill layouts and 501 disc golf again for a second round. I really hate just getting one practice round in on each course. I didn't get the second round in at Newton Hill which proved to be my downfall.
I played well the first round at 501 and literally got a bad break which I got good ones earlier in the round, but nevertheless it was a bad break at the end of my round or I would have broke the record and shot a 52. I did card a 54 which was good for share of the lead with Johansen. After the round the threat of the hurricane was still following me and the weather was turning for the worse. Everyone was getting prepared for war with nature, but it hit during the night and by morning had blown through.
I received a random call at 5:30 am and when I silenced it I guess I silenced my alarm and it did not go off at 6:30. I woke up at 7:15 and almost panicked as I have never been late for a PDGA round, especially a major. I raced there and made it by 7:40 (shotgun start at 8am), but once I got dressed and such I barely got to warm-up at all and I was discombobulated to say the least. I even lost the scorecard and the lug-nut to my cart. Tough start to a long day. I played OK just couldn't putt, which is understandable since I have had a routine of warming up for 20 years and today I missed it. With 3 holes to go I was winning the card and then I went par, bogey, par, when the others went birdie, birdie, birdie. Now I was all of a sudden last on the card and off the lead card. I was unprepared on the only course I was prepared to play.
The third round I was just not focused, we only got like 45 minutes including the drive back to the course. My caddy and I left right after the round hit a drive thru with only one car in front of us and we only made it there with 15 minutes to spare. So after changing my clothes and such I again did not have the time to practice my putt and work out whatever was going on. So I missed a lot of putts and threw some lazy drives. I missed 11 in the circle on Saturday and I would spend the last round on chase card.
After the day I was basically assaulted by a couple locals because I said without raising my voice to the course TD that Newton Hill was a disgrace to a major championship play and then I left calmly. He told everyone I said it was a disgrace to the sport as a whole. It had no restroom, water, tee pads, course map, tee signs, etc. not to mention the longest hole was 420 feet. Besides attacking me all over FB, They literally assaulted my phone, and messed with the RV I was staying in. People are out of control. Since when does blasting people on social media more acceptable than telling it directly to the TD? Man I must be really old.
All this drama lowered my spirits and the messing with the trailer cost me sleep. I had zero focus and I played poorly. I have not felt that out of it on the course in many years. Then on the 6th hole we are told the payout, and that even third place is under $800 bucks. After that I felt like I was playing for nothing, couldn't win and couldn't make money. It felt like casual play. I finished 6th and shot below 1000 rated round. I want to thank all the guys in the area that were so kind to take things to that level and act on their emotions rather than logic.
Overall it was a disappointing weekend of play and experience because of the harassment. There are always bright spots. I want to thank JJ from
501
, which course I liked, for caddying on Friday and Sunday. Also thanks to Dave Jenkins for the two rounds on Saturday. Without them I probably wouldn't have cashed at all. Also I need to thank Don Boutin for hosting my boy Brian Mad Dog McCree for setting me up with those nice caddies. Also thanks to Steve Dodge for letting me shower at his place and Charlie Cavalier and Kevin Jones for allowing me to stay in their trailer all week.
I did get to talk to a lot of nice people during the week and I hope someday someone will again put effort into running the Masters division events. After the event I practiced a little at
West Thompson
and then taught a quick lesson to a young ambitious pro from Minnesota's named Adam. Now I get to go pick up my beautiful wife and amazing son in Delaware, and take them home, but not without a night at Rehoboth Beach with my family. Then we have to get ready for a NG Premier in Alabama, the USDGC, and the National Tour final in Georgia. Until then I'll see you in the fairway!!