Focus Friday – Legacy Recluse
Happy Friday! I'm super stoked for this weekend, I'm not entirely sure as to why though. . . It's not that I have something epic planned. Hopefully, you do, or there is something that you're looking forward to this weekend.
This Focus Friday is quite unique, as there will be two codes that you may use to save you some money! Last week's code, FOCUSLEDGESTONE, is still active. This saves you 5% off all of Ledgestone wave 2 discs. Check out that article to see which molds those are by clicking here. This discount code will be active until March 12, 2022.
Today's code is revolving around the Legacy Recluse! So use the promo code: FOCUSRECLUSE to save 20% off all Legacy Recluses! This discount code is active until Monday. In addition to providing this discount code, we are also adding some uniquely stamped Recluses online. So, go and check these out and grab yourself one today.
Legacy's Recluse
The Recluse is an overstable midrange disc. This thing is on par with the Justice in the amount of beef it provides. When compared to other similar discs, the Recluse stands out in its amount of glide. People enjoy this disc over others as it is reliably overstable, but it will fly a little bit better before it begins to fade. Instead of dumping out of the sky, this will push straight for just a tad longer then fade into its finish.
Overall, I'm impressed with this mold. It's a well designed disc. And of the people who have left a review, they all love it. In addition to this 20% off code, we are adding some specially stamped Recluses as well! These are pretty sweet, as no other Recluse has this stamp on it.
Save a couple bucks this weekend by using the provided promo code. And you get to try out a new disc mold. Or simply increase your spare discs, so that you'll always have this trusty disc no matter what.
The Discount Code
You can select your disc by clicking here. Simply add as many Recluse Molds to your shopping cart as you want, then BEFORE you click to checkout, look below the shopping cart. Right below the shopping cart is a box for Discount Codes. Click there and paste the code, FOCUSRECLUSE, into the box. Then proceed to checkout and you'll get the discount.
Here is a screenshot to help you out, though it doesn't necessarily show a Recluse in the cart – it's just a generic visual to help you find the discount code box: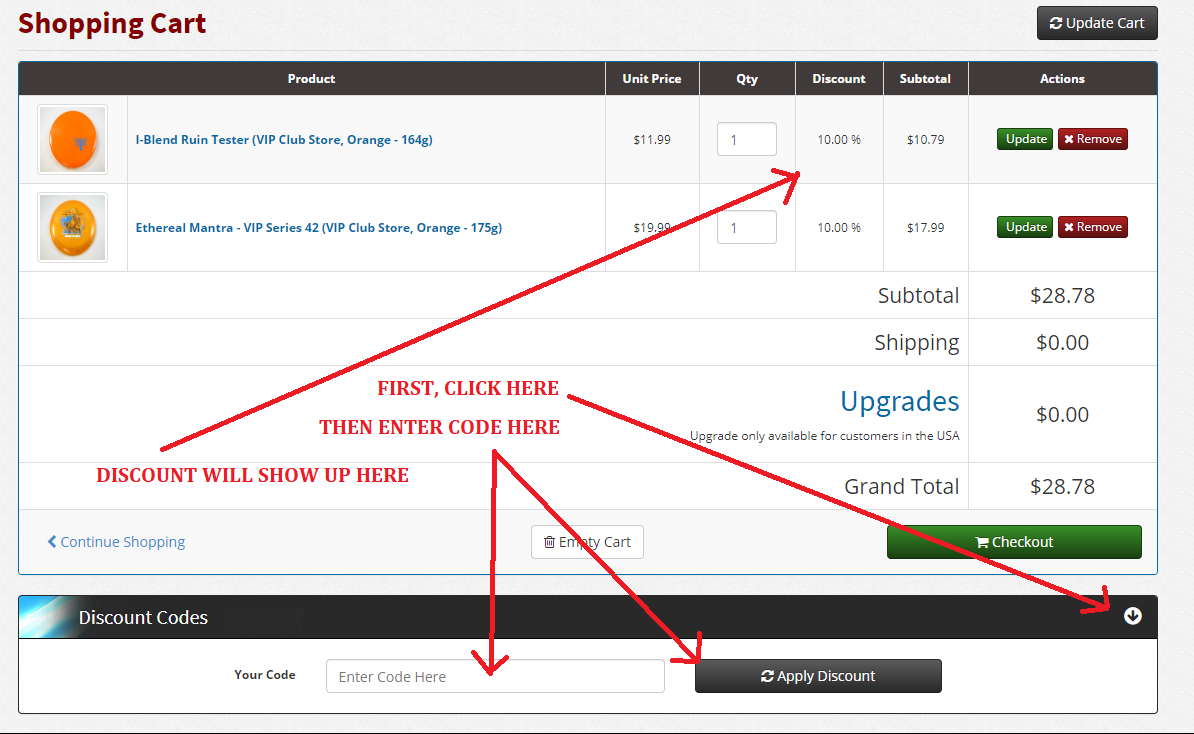 We hope that you love throwing the Recluse. If you've thrown the disc, feel free to share what you think of this midrange.
On a side note
The Recluse (talking about the actual spider now) is a genus of spider. These spiders have a venom that sometimes results in loxoscelism (don't click the link if you don't like gross skin images). This basically means that the venom causes premature cellular death. Which makes your skin look like it is actively decomposing, it can get pretty nasty looking. As I was reading about this I got real self-conscious about a hidden recluse lurking around waiting to pounce. Fortunately, these spiders are not aggressive.
STAY TUNED for our next Focus Friday for another chance to try a featured disc at a nice discounted price!