Great Disc Golf Gift Ideas for 2017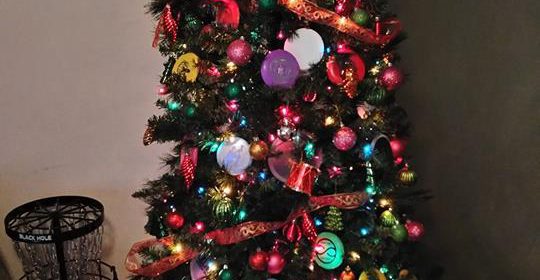 If you're looking for the perfect gift for a disc golfer, we're here to help you out! There are a lot of great ideas that you may not have considered. But first, let's talk about the thing that disc golfers love the most… DISCS!
NEW AND SPECIAL EDITION DISCS
Here are some of the new discs for the 2017 year which have stood out as popular sellers and could make the perfect gift.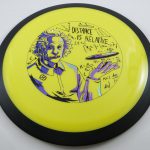 MVP RELATIVITY – This is a great choice for players who love to test their long distance throwing abilities. It is the most understable of MVP's highest-speed disc class. That means that it can be a fun disc to push the distance limits even for relatively new players. But if you're looking for a distance bomber that requires serious power, better for a very experienced player, you could go for maximum overstability with the MVP LIMIT instead, or choose the middle ground with the excellent distance driver, the MVP TELEPORT. All of these were new, maximum speed drivers released in 2017.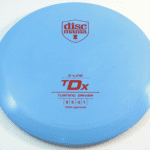 DISCMANIA TDX – Discmania continues to grow their brand with excellent discs for a variety of players. The TDX is a new understable driver that works great for players at all levels. For newer players, it will help increase distance. For experienced players, it is a great utility disc for anhyzer lines and lower-speed control shots that can hold a straight line. Also check out the new CD3 power driver for more experienced players, mixing control with distance. Or consider the new the P3X as a nice driving putter. All of these were released by Discmania in 2017.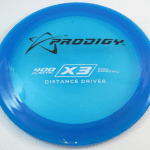 PRODIGY X3 – Prodigy increased their line of power distance drivers in 2017. The standard edition for experienced players would be the X3. For newer or intermediate players, the X4 or the X5 would be better choices, being more understable. For those players who throw with a lot of power, go to the X2. As a little reminder, the Prodigy discs are numbered from low which are overstable, to higher numbers which are more understable (easier to throw). So, X1 would be the most overstable (experienced) to X5 being the most understable (easier to throw).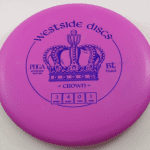 WESTSIDE CROWN – Perhaps you are looking for a good, general purpose putter that will feel instantly comfortable and will fly right for almost all players. The Crown was one of the more popular new putters of 2017. It is beaded and similar to other popular putters like the Dynamic Discs Judge or the Gateway Wizard. All of those are good, beaded putters if you want to give a gift of putting consistency. Give them a try.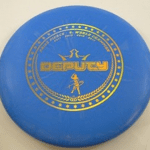 DYNAMIC DISCS DEPUTY – Another one of the hot, new putters of 2017 was the Deputy which was introduced as the putter for the Trilogy Challenge recreational tournaments. With the signature backing of professional player, Paige Pierce, this putter got a lot of momentum right away. It is a slightly understable, straight-flying putter that will work for players at all levels, but will likely be a gentle, accurate putter for beginning players.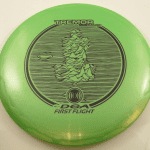 DGA TREMOR – The Tremor by DGA was the next in a line of excellent discs that DGA has released lately. The Tremor is an easy-throw mid-range for great control shots. It will work as a go-to disc for new players who are concerned more with accuracy than with huge distance. It will also work wonderfully for controlled anhyzer shots for experienced players. It is one of the stand-out midrange disc releases of 2017. If you want a more overstable mid-range with predictable and accurate fade, then go to the other new release from DGA, the Quake. Both are excellent and actually compliment one another very well in any bag.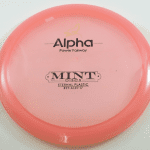 MINT DISCS ALPHA – Mint Discs launched as a disc brand in 2017 and the Alpha was their flagship disc. It is a power driver – a hybrid between a distance driver and a control driver. As far as introductory discs go, this one was a real winner. For intermediate and experienced players it can quickly become a go-to disc for many situations. It can be thrown for great distance, but can also be used for shorter control shots that need dependable and predictable fade. Some players have claimed that they were able to handle almost all of their driver needs with a handful of Alpha's in their bag. It makes an excellent give idea, since it is a disc that many players have yet to try, but will most likely impress.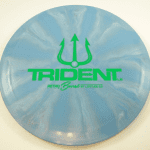 LATITUDE 64 TRIDENT – This disc makes a great gift idea because it is a model that was announced to be discontinued by Latitude 64. Though they aren't making stock editions of the Trident at this time, they did make a special run of Gold Line Burst, Retro Burst and Moonshine (Glow) Tridents for the 2017 holiday season, and they are pretty! They look good, and they'll be hard to find later, so it's a great gift idea.
AFFORDABLE DISC GOLF BACKPACKS
Another gift idea that is more of a possibility this year than ever before is an affordable disc golf backpacks. For several years, all of the major backpacks on the market were very pricey, ranging from $100 to $200 or more. That made the backpack more of a luxury item. But several bags have become available in 2017 which have dropped the price for simple, yet functional backpacks. Check these out as possible gifts!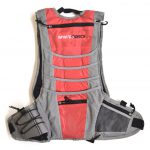 INFINITE DISCS STEALTH BAG $29.99 – At just about thirty dollars, the new STEALTH BAG is a unique, comfortable, and fun bag for any disc golf who wants to grab a few discs and go for a quick round of disc golf. It is light-weight, has several pockets, holds a water bottle, and fits 4-10 discs. It is a great backpack for rugged courses where players would not want to lug around heavy backpacks with many discs. A 2-liter water bladder can be purchased separately to add to the bag for a great water supply on hot days or rough courses. Or, the Stealth Bag can also be purchased with the 2-liter Bladder Included for $37.99 (only $8 more for this great added feature). There are four colors available: Red, Light Blue, Green, and Black, all with grey highlights.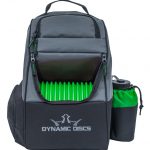 DYNAMIC DISCS TROOPER $39.99 – At just under $40, the Trooper is a solid, affordable backpack that first 18+ discs in its main pocket, plus additional putters in the top pocket. It comes with a side pocket and drink holder. It also features padded straps and back panel for comfort. It is a great backpack with all the added features for the price. It comes generally in grey/black but with three versions featuring different colored highlights: Red, Green, and Blue.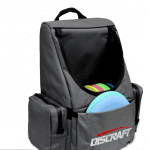 DISCRAFT TOURNAMENT BACKPACK BAG $79.99 – At a higher pricetag than the other economy bags, it the Discraft Tournament Backpack still falls under the $100 price range and is a high-quality bag for frequent use. It is durable, comfortable, and carries 18-22 discs inside a water-resistant, sturdy structure with reinforced stitching. It has extra pockets and a front putter pouch. If you want to spend a little more for a quality backpack, but don't have a large budget this one makes an excellent choice.
INFINITE DISCS VIP CLUB
If you really want to spoil a disc golfer this year, sign them up for the Infinite Discs VIP Club. This is a very special subscription club that sends out unique, collectible, limited edition discs every month! You can subscribe yourself or another player up for month-to-month service until you decide to leave the VIP Club, or you can subscribe for an entire year at one price so you don't have to worry about monthly payments. You can also sign up for multiple discs per month in case you want one for yourself, and one to give away…or one to throw, and one to collect. There are many options for this top-tier disc club. Plus, all subscribing members have exclusive access to the VIP Club Store where other collectible discs can be purchased, and will receive discounts on the Infinite Discs website on regular disc purchases. It's the ultimate gift for disc enthusiasts!
A LOT OF DISCS FOR ONE LOW PRICE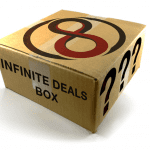 The INFINITE DEALS BOX is one of the most popular gift items on the entire Infinite Discs website. It is a fun way for players to explore several discs that may or may not be familiar to them. The box includes seven discs, including at least one putter, one or two mid-range discs, and a variety of overstable and understable drivers. There are at least three brands represented in each box. The box may include some mis-prints or tournament stamps, but also includes stock stamps and some limited edition stamps. All of the discs are premium plastic. There are no guarantees of what brands, disc models, or weights and colors, but for the adventurous disc golfer, the surprise is worth it! And if you think about it, at only $67.88 it comes to less than $10 per disc for premium plastic discs.
MYSTERY DISCS AND MYSTERY SWAG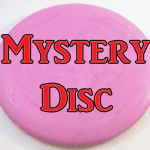 Maybe you aren't interested in picking up a box of seven mystery discs in a Deals Box, but you DO want to include at least a taste of unpredictable mystery in your order. Infinite Discs now allows you to add a MYSTERY DISC or MYSTERY SWAG to every order during checkout. Watch your shopping cart for the easy click-to-add features. For only $12 you can receive a premium plastic mystery disc in your order (will NOT be a misprint or x-out). Or for only $8 you can add mystery swag which could include fun items like t-shirts, towels, keychains, beanies, etc.  The Mystery Disc and Mystery Swag can be purchased independently on the website, or simply as an add-on during checkout.
COOL ACCESSORIES AND "STOCKING STUFFERS"
When it comes to disc golf, there are a lot of little extras that can be added to any order for potential gifts. Check out the ACCESSORIES PAGE or the APPAREL PAGE for a lot of options at all price levels. Here are a few fun ideas for your consideration.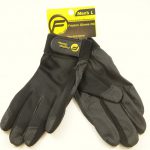 FRICTION GLOVES – These gloves are specially designed for players who want to play disc golf in adverse conditions, where hands could be cold, or grip could be an issue. These gloves help keep a hold of the disc and throw accurately, even if the weather is cold and snowy.
Friction gloves are available as a pair, or they can be purchased individually if the player only wants one glove for their throwing hand. Check the sizes and make sure you get the left or right hand if you buy them as singles.
POCKET DISCS – This fun, woven discs are not necessarily for disc golf, but for disc fans, they're a blast to throw around. You can play catch, or throw them at targets, or even toss them around the house, since they are soft and less likely to hurt people or damage property. You can go for the fun, smaller size Indoor Pocket Disc or the larger, heavier El Grande if you want to go for distance. Plus, click the "Select Yours" button to browse through all the fun designs and patterns!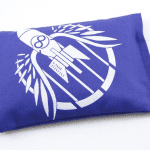 SPORTSACKS – There are a lot of different varieties of grip enhancing sacks around. One of the most popular styles is the Sportsack, and you can get them with logos from several disc brands. Of course, we prefer the Infinite Discs Sportsack. They can increase your grip before you throw on those hot summer days when your palms and fingers are getting sweaty and slippery.
Other styles on the Accessories page can be found that are filled with everything from sand, to dirt, to chalk. One of the most popular is the WHALE SAC because of the "tail" on the whale that can be tied onto a cart or backpack frame.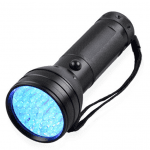 UV FLASHLIGHT GLOW DISC CHARGER – One fun aspect of night disc golf is using glow-in-the-dark discs or glow tape. That usually requires carrying around a flashlight. But if you haven't tried a UV Flashlight before, you're in for a treat! This handy flashlight lights up glow-in-the-dark discs in mere seconds. Plus it can help to spot those discs out on the fairway without casting a lot of white light around. It adds a whole new level of fun to your glow disc golf experience.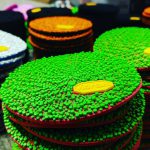 MINI DISCS GALORE! – It goes without saying that Mini Discs / Mini Markers are a huge part of the disc golf experience, especially when involved in tournament play. But recently they've become even more fun with a large selection of larger mini's that can be thrown for respectable distances. Check out the huge selection of mini discs available. Some of the most fun ones we've seen lately are actually minis and coasters, from VIBRAM. Click to "Select Yours" and look at the fun designs!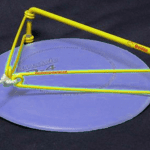 DISC RETRIEVERS – Every disc golfer knows that they loose discs in hard-to-reach places sometimes. Water hazards can especially be a pain. That is when disc retrievers come in very hand. These make great gifts because they are items that every disc golfer wishes they had at certain moments, but rarely think to buy. The DISC GATOR is an extendable pole with a trap that grabs discs, while the DISCDIVER GOLDEN RETRIEVER and DISC CLAW are worked with a string and a trap that are tossed out into water and dragged along the ground to "fish" for the lost disc.
MINI BASKETS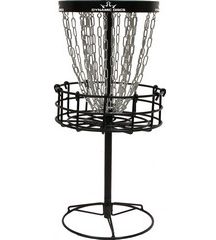 One of the fun developments in the disc golf scene is the revolution for mini discs and mini baskets. You can now get small baskets that will catch mini markers, macro (flying) mini discs, as well as tiny, primarily decorative baskets to put on your desk at work or in your living room to show you passion for the sport. The smallest is the BLACK HOLE MICRO which is only 6 1/2 inches tall. The next size up, while still being a small basket, is the MICRO RECRUIT standing at 13 inches tall with a diameter of 6 inches (this one perhaps is the best as a decorative basket in a room).
If you want baskets that catch your mini markers, then go for the BLACK HOLE MINI or the MINI RECRUIT. Innova also entered the mini basket market this year with the DISCatcher Mini.
DREAM GIFTS – CARTS AND BASKETS
Of course, there are those big, extra special gifts that fall into the more pricey category, but that really makes a disc golfer feel important. There are Portable Baskets which allow every player to set up their own practice rounds or putting practices. Or there are DISC GOLF CARTS which allow players to push around large numbers of discs in tournaments with the luxury of a portable seat and lots of run for their other accessories.
One of the new 2017 baskets on the scene is the DISCRAFT CHAINSTAR LITE. Or consider one of our long-time best-selling baskets for portability is the DGA MACH LITE which is a sturdy basket that is functional as well as easy to fold up and carry around in the accompanying pouch. You can throw it in the backseat or trunk and take it wherever you'd like for a new disc golf adventure. Or, you can try the brand new 2017 release, a DGA MACH SHIFT which can be configured into three different sizes, all in one basket.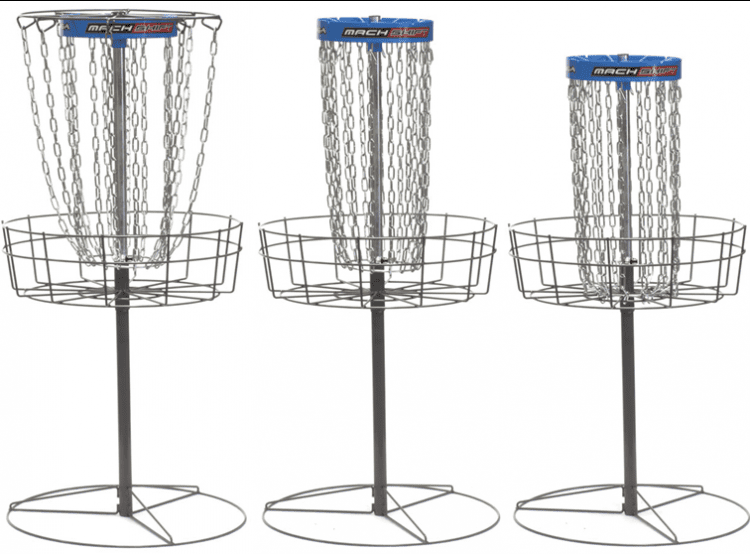 CHECK OUT LAST YEAR's 2016 GIFT IDEA LIST