Handeye Supply Bags

Handey Supply Co Civilian Backpack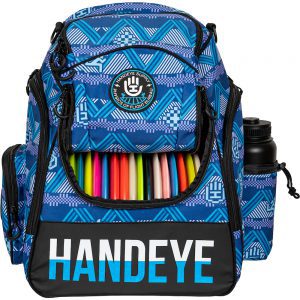 The Handeye Supply Civilian backpack is a great functional disc golf bag. This is designed to carry your needed disc golf gear all the while providing a compact bag. The patterns and colors were inspired from southwest region of the United States. This bag is sure to help you have a fun time out on the course.
Handeye Supply states that this ". . . is a fully FUNctional backpack and after testing it out all summer, we are very proud of the final product. The patterns and colorways were inspired by a trip last year that took me through the American Southwest. These bags are dedicated to my father-in-law Richard Thomas Schwam and all the kind people I encountered throughout Arizona, New Mexico, and Colorado while on that hard journey. With the help of my friend, Kris Edson, I feel we have created a beautiful product for the ever growing and diverse population of disc golfers. Roomy, yet compact, allowing you to carry all the gear you would need whether it be a big tourney event or a fun casual round with friends at your local course. I've even used it as a carry-on while traveling and as a day bag when going to the beach. This bag wants to help you have FUN and I can't wait for them to get out there and start doing their job!"
This bag comes in four different patters; Elevado, Inverse, Winslow, and Yuma. You can check out the patterns and reviews here. You can purchase this bag for $69.99
Handeye Supply Co Bindle Bag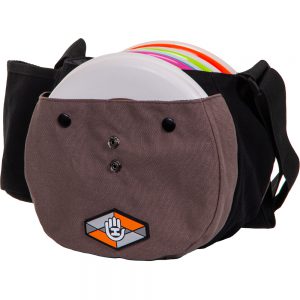 The Handeye Supply Co Bindle Bag is a great bag where space is limited. It will hold 12 discs; 10 in the main compartment and 2 putters in the front accessible pouch. There is a zippered pocket that can hold your valuables. While this is made out of a 16 oz. canvas, providing a long lasting bag.
As an additional feature, this bag has two loops  that allow you to wear that bag on your belt. Making it for a great no-hands bag.
This Bindle bag is available for 24.99 and comes in a black/heathered maroon and blue/light blue color combination. Check out the bag and read reviews at Infinite Discs site here.
These bags are available now on InfiniteDiscs.com now. You can check them out online along with all of your other disc golf needs.