Upper Park has been around since 2011. Since then they have focused on disc golf bags and accessories with unique styles, innovative designs, and excellent comfort. They employ cutting edge design with the use of durable, outdoor materials with a lifetime guarantee, so you can focus on throwing those perfect shots!
They're in the business to make the game better for all. They do this through partnering with their sponsored team and helping them grow their brands, by donating to great charities like UPlay Disc Golf, by maintaining a 98% customer satisfaction rating, and by living our core values:
Play different ® – Fuel growth through experience and innovation.
Create legendary relationships – Turn suppliers, vendors, team members, and customers into raving fans.
Be a good human – Treat all people equally. Celebrate diversity. Be genuine and kind.
Enjoy the ride – Be grateful and celebrate the journey we share.
So when you buy from Upper Park Disc Golf know you're buying from a company that loves the game as much as you do.
These are the bags that are now available on Infinite Discs Website!
The Trainer
The Trainer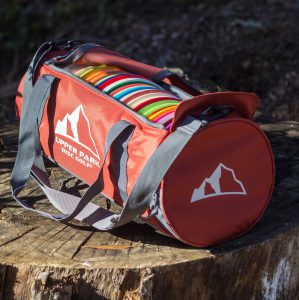 is an excellent tool to use for storage or for fieldwork. It is on the more expensive side, however, Upper Park has done a good job to make it worth it. The quality of this bag is solid. It provides a good durable fabric, many pockets, and confidence that this bag will last. Its available on our website for $59.99.
The Upper Park Disc Golf Trainer is the ideal storage solution or for the fieldwork days. This has the capacity to hold up to 40 discs, and some additional needed items; like a water bottle, a towel a wallet, keys, a phone. This makes for an excellent bag to take out on the field and do some practice, or to simply store your discs and clean up your space.
The Draw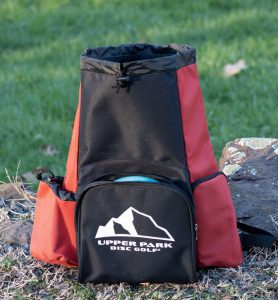 The Draw is a nifty little bag. Its like the beloved drawstring bag, but better. As it provides a drawstring main compartment for your discs, extra zippered pouches for other items, and shoulder straps that are not a part of the drawstring. Allowing you to have the bag open or close and still comfortably wear the bag. All in all this is a sweet little tiny bag. Its now available on Infinite Discs website for $19.99
The Draw is an entry-level disc golf backpack. This backpack is excellent for the beginner, for the traveler, for the casual thrower, and the penny pincher. Upper Parks customized the drawstring design by separating the string opening from the shoulder straps. The player can leave the bag open, transforming this from a standard gym bag to a workable disc golf bag.
The Pinch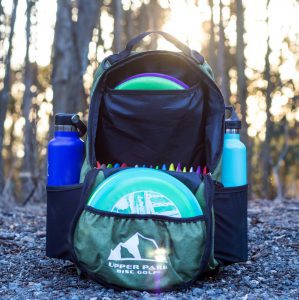 The Pinch is a well thought out medium sized bag. This bag exhibits an urban style, and it looks good. It works very well in a pinch, as it looks good to take to around and not look so out of place with a more typical looking disc golf bag. It offers good disc storage as well. It'll hold 17-20 discs in this, which is sufficient to hold most needed discs if not all. Check this bag out, its only $69.99.
The Pinch an urban style backpack that adds a disc golfing functionality, and meets the demands of the day.  Whether you're going into the office or the gym, heading on a weekend hike, exploring another country, or playing at your favorite local disc golf course, the Pinch works to meet the situation and does it with ease.
The Shift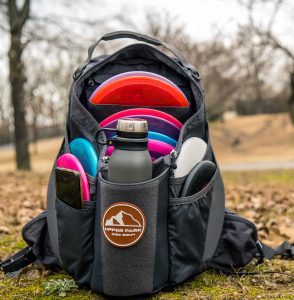 The Shift is a very comfortable bag. It provides a bag that distributes the load evenly across your back. Its quite remarkable the thought put into this bag. The design is quite incredible as it still offers great storage capacity. Overall this is a good bag that disperse the load evenly and carries what you need out on the course. Check this one out on our website, it is available for $164.99.
This is the new 2022 Shift. It has upgraded ergonomic design to increase your comfort. Because of its lightweight ergonomic design it'll feel like it was built just for you. Due to this design, it'll decrease the amount of energy used to just carry the bag. Allowing you to enjoy a full round with more energy than before, even while carrying 18 discs!

With The Shift, you'll enjoy all-day playing performance with a disc golf bag that is designed to meet the needs of serious disc golfers while still providing the versatility for intermediate and casual players alike.

The Shift provides ample space for storage. It has the capacity to hold discs, gear, snacks, and more. Additionally there are D-Rings for rags and towels and waist stash pockets, too.

This is an excellent bag for any weather. It features a 40 oz insulated water bottle holder and a ventilated back panel for those hot days. It has a waterproof base and included flap-access rain fly. And don't be afraid to get a little dirty with the 4 individual feet and an abrasion resistant, waterproof base that will keep your bag upright and your discs at the ready.
The Rebel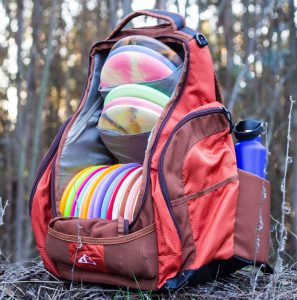 The Rebel is Upper Parks flagship backpack. This is a comfortable bag that holds a lot of things. Making it an excellent daily, tournament, or fieldwork bag. For me, this carries more items than what I typically want to carry with me. This is a great bag for those who love to carry 30+ discs, its comfortable and stores things nicely. You can get this bag off of our website for $239.99.
The Rebel is the bag to hold all of your disc golf discs and gear. Whether you're a touring professional or a recreational disc golfer; this bag will provide a spacious and durable disc golf backpack. The Rebel has a 30+ disc capacity, all the while providing a comfortable disc golf backpack.
Be sure to check these bags out on our website and any other disc golf need you may have. Here at Infinite Discs we work hard to provide you the needed items so that you can enjoy the wonderful game of disc golf.
View all our top selling disc golf bags here: