Infinite Discs Top 100 – 2019
The Top 100 Selling Discs of 2019
It is now 2020 and the number disc golf molds continues to increase every year. In this post we will take a look at the top disc golf discs based on annual sales data from 2019.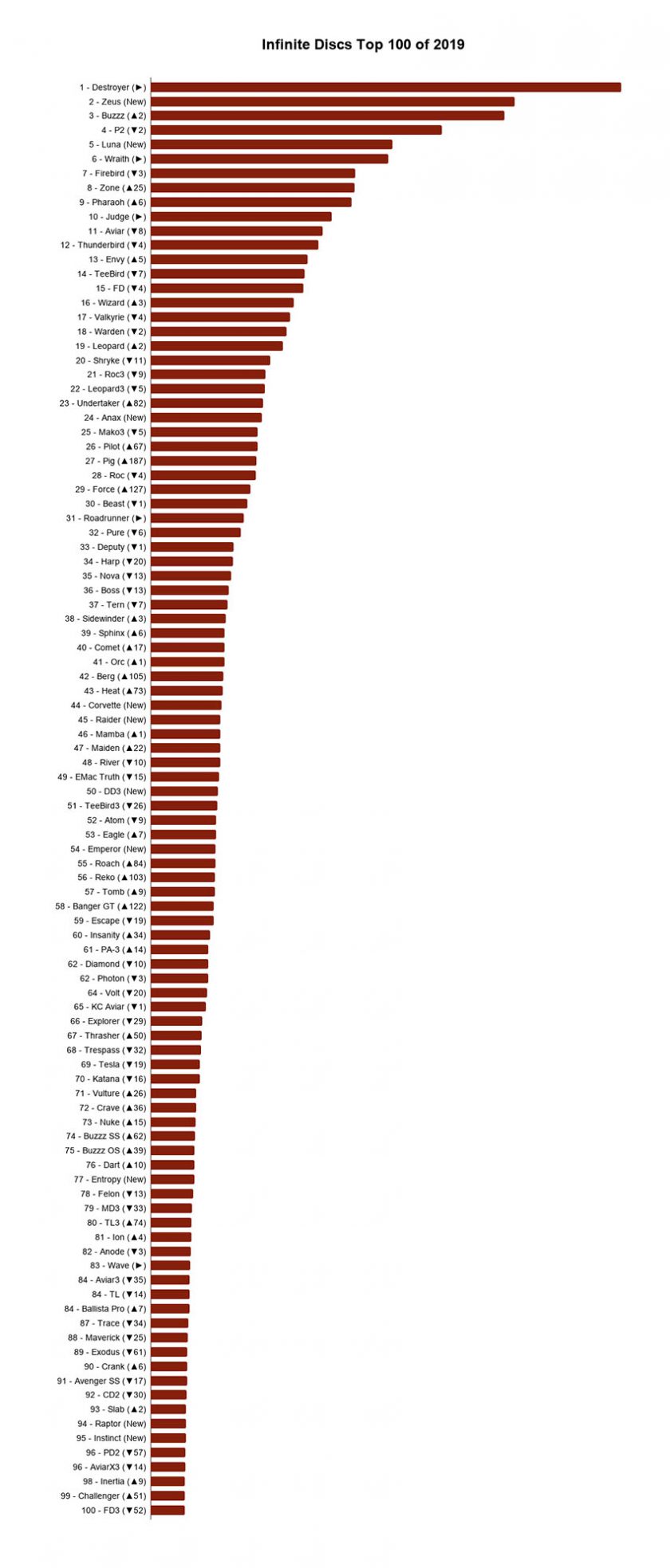 There they are, the Top 100 selling discs of 2019! With each disc, there is an arrow and a number. This represents how many places up or down the disc moved from 2018. For example, the #12 Thunderbird is down 4 places from 2018's results, meaning in 2018 the Thunderbird was in the #8 spot for the year. We added this so that you can see if the disc is trending up or down, and by how far.
The Destroyer takes the #1 spot again, like it has for many years now. The Zeus was the closest competitor, taking the #2 spot. These are two very similar discs, is the Destroyer actually the best, or is it all about marketing? Do you think the Zeus will overtake the Destroyer in 2020 to become the top disc golf disc?
The Pig had the biggest movement up. It now holds the #27 spot for all of 2019. That's up 187 spots from 2018. The #42 Berg and the #56 Reko also made giant leaps this year.
There were also several discs that were in the Top 100 of 2018, but did not make the chart here.  Sadly, some of the most noticeable falls were:
Rat (▼108)
P1x (▼102)
Myth (▼94)
MD4 (▼83)
Sonic (▼83)
PD (▼74)
Dagger (▼67)
---
Top Disc Golf Discs by Brand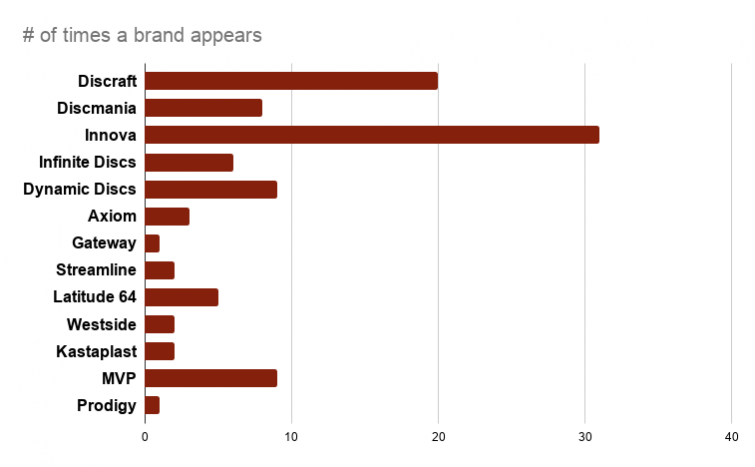 This is how many times a particular brand/manufacturer had a disc on the chart. Innova took the lead with 31 discs. Discraft took second with 20 discs. MVP & Dynamic Discs tied for third place with 9 discs each. Based on the number of discs per brand that made the top 100, Innova is the top disc golf brand of 2019.
Now we'll take a look at the types of disc golf discs that made the Top 100 chart in 2019.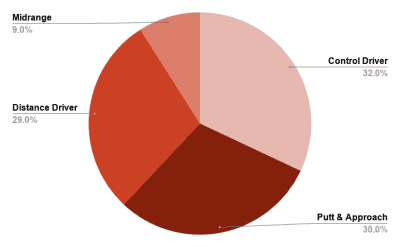 Control Drivers took the first spot, then Putt & Approach discs, then Distance Drivers, and finally, in a distance fourth- Midrange discs.
Typically, we see that distance drivers sell best, and while 4 of the top ten were distance drivers, there were more fairway and putter molds in the top 100 than distance drivers.
---
Top 5 Selling Discs Each Month
Finally, let's take a look at the top five discs of each month throughout the year!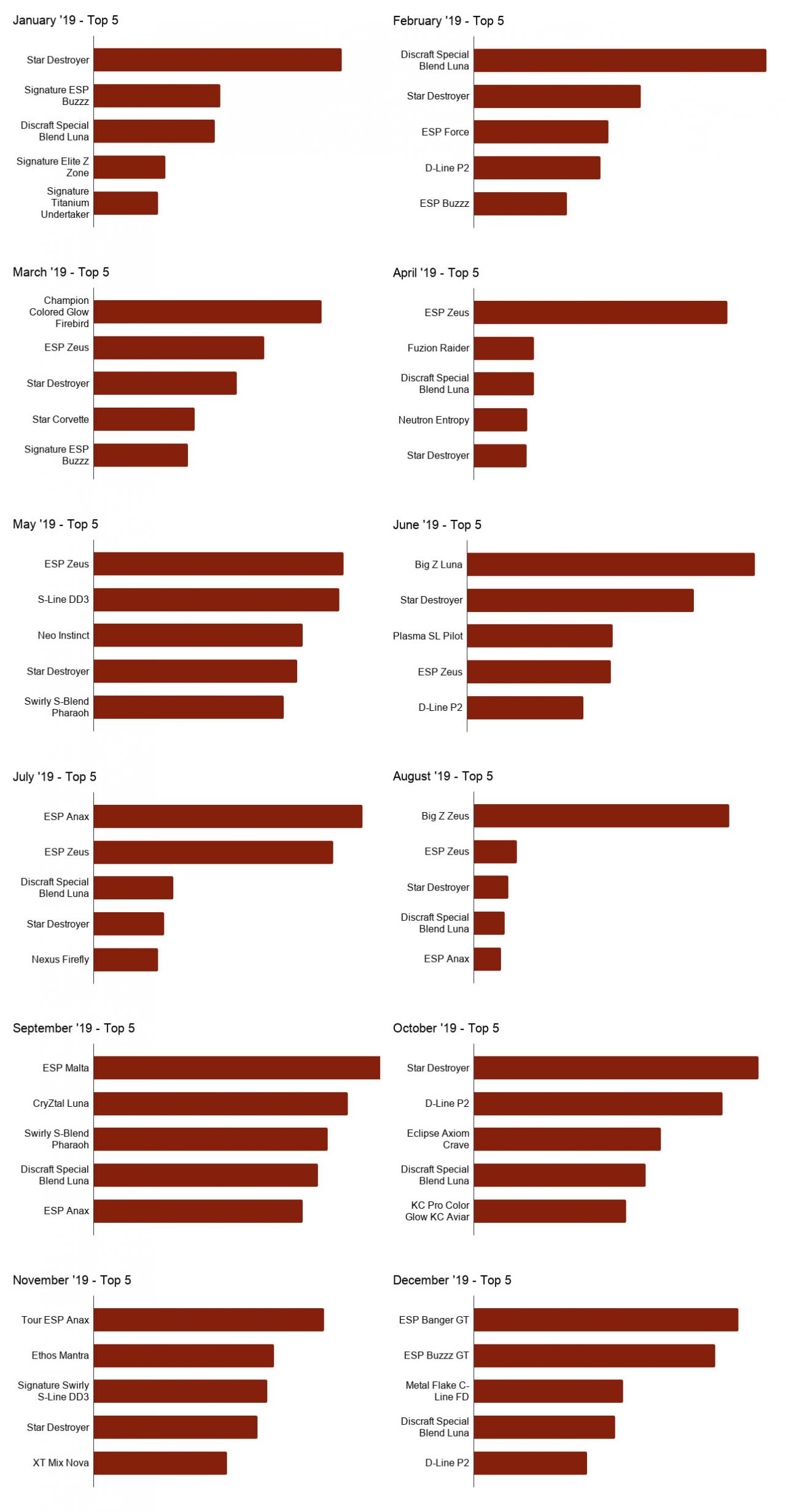 For Destroyer taking the #1 spot for the year, it only was the #1 disc for two months out of the year! Slow and steady wins the race! What trends do you see? What disc did you like the most in 2019? Let us know!