Introducing Allison Haggett of the Signature Team
Welcome Allison Haggett to the Infinite Discs Signature Team! Allison is from Bowdoin, Maine and competes in the FPO division. This is her first year on the Signature Team, and we were fortunate enough to get to learn a bit more about her!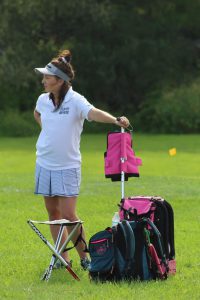 How did you get started in disc golf?
When I met my husband in 2014 he played disc golf almost daily.  I didn't tag along much as I didn't like playing with men who could outdrive me constantly.  I felt like I was a burden.  Flash forward to 2016, I went and watched the United States Women's Disc Golf Championships that was held here in Maine and I was hooked!  I jumped in full force in 2017 and started playing and competing in the FA1 division.  I have always been a competitive person so having a sport that I could compete in as an adult was fascinating to me.  I've never looked back!
Is there anyone in particular you look up to or admire in the game?
When I started playing I was star-struck by Paige Pierce and her determination and skills in the sport.  I was always watching FPO coverage and trying to learn the ins and outs of the sport.  I will always look up to Paige and her domination in this sport, but I also look up to Jessica Weese, Kona Panis and Des Reading for all they do to grow the sport and their amazing talents on the course.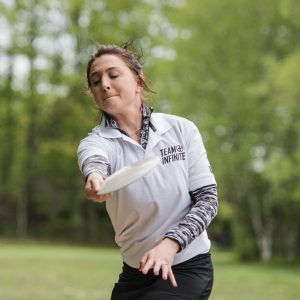 What is your favorite type of shot to throw?
I love throwing a flippy driver through a wooded fairway and watching it carve through the trees.  We have a lot of wooded golf here in New England so those shots are a must have in the bag.  I also love throwing putters off the tee, I think it's such a smooth clean shot.  
Which of your disc golf achievements are you most proud of?
Having my own signature disc and making the Infinite Signature team!  This was a dream of mine when I started out and it's now a reality! Before this achievement I was proud of my AM world showing.  I qualified for AM worlds my first season competing and went down to Charlotte in 2018 to compete in it! I placed 6th behind some pretty big names in the game, which was a huge accomplishment for me.  My goal was to place in the top half and I exceeded that along with making some great connections with some amazing ladies.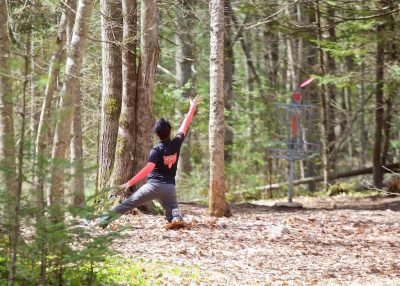 If you could play a round with only three discs, which would they be?
That's easy! I would use a Pharaoh, Inca and a Cohort! 
Other than disc golf, what else do you enjoy doing?
I am a big outdoorsy girl, when I am not playing disc golf you can usually find me fishing! I enjoy fishing all year round, bike riding, four wheeling, camping, kayaking, etc. 
What tips do you have for newer players or players looking to improve their game?
Don't be intimidated, we all start somewhere! Ask questions about things you are unsure of, it's better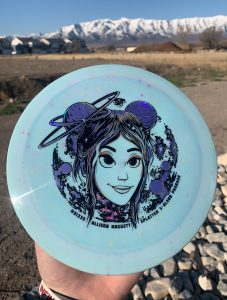 to ask then to keep wondering.  Start with putters to learn control and to work on your form before trying out high speed drivers.  Go to leagues and meet new people! You'd be surprised how much you learn at weekly league nights! 
If people want to follow along on your journey, where can they best follow you?
Allison's Signature Splatter S-Blend Pharaoh is now available, so be sure to get on while you can. Welcome to the Signature Team, Allison! Good luck this season!