Introducing Wild Discs
Infinite Discs carries a large selection of brands and we want to introduce you to some of the brands and molds that you might not be as familiar with. Each week we will spotlight a different company and tell you a little more about them. Because of Covid shutdowns, our supply of discs was severely affected. Therefore, we may not have all of the molds from all of the brands we will talk about. But, it might put a few more molds on your radar for the future. We are back in the US this week and we're featuring Buffalo, New York manufacturer, Wild Discs.
Wild in Buffalo
Buffalo, New York, sits next to Lake Erie in the western part of the state. It is just across the Niagara River from Canada.  It is home to the Buffalo Bills, and Wild Discs.
Wild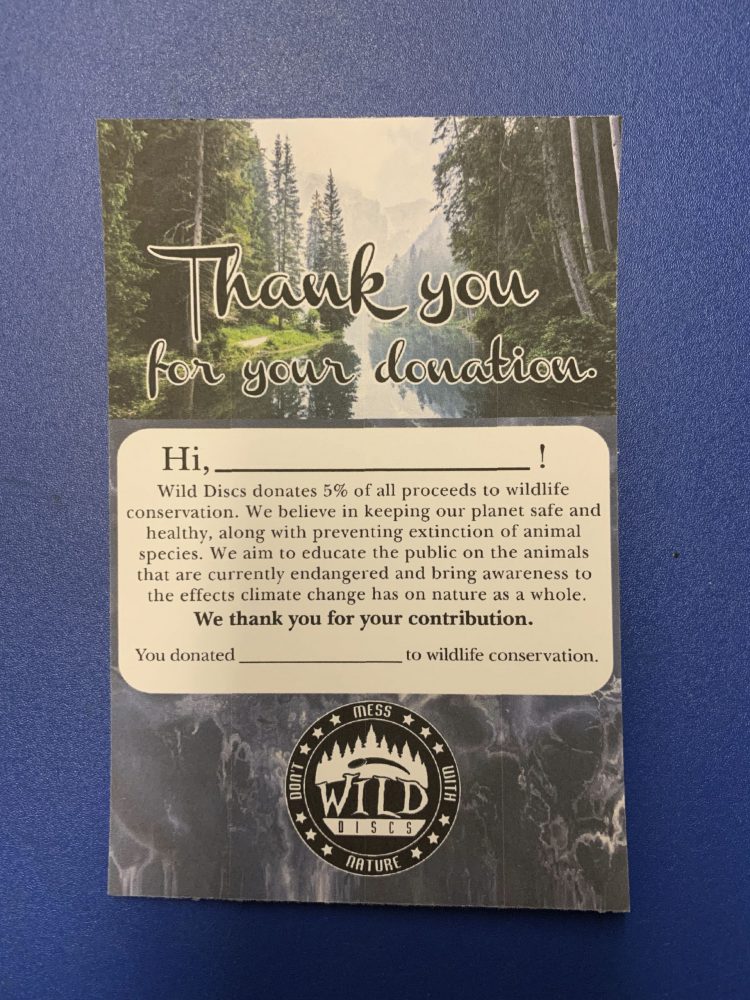 Discs was started in June, 2020, by Kyle Knab and Becky Fix. It was created out of a two-pronged desire: first, to grow the sport of disc golf by providing quality discs and accessories. And second, to give back to the world by committing 5% of all proceeds to wildlife conservation. The founders love disc golf, love animals, and love to spend time outdoors enjoying the wilderness. Wild Discs is a combination of their passions.
First Molds
The first disc approved by the PDGA for Wild Discs is the Hummingbird putter. The mold has a small, smooth bead and a straight flight with a lot of glide. It was approved at the end of 2020, and since then two other molds have been approved and released: the Orca and the Addax. The Orca is a high-speed driver whose flight is similar to an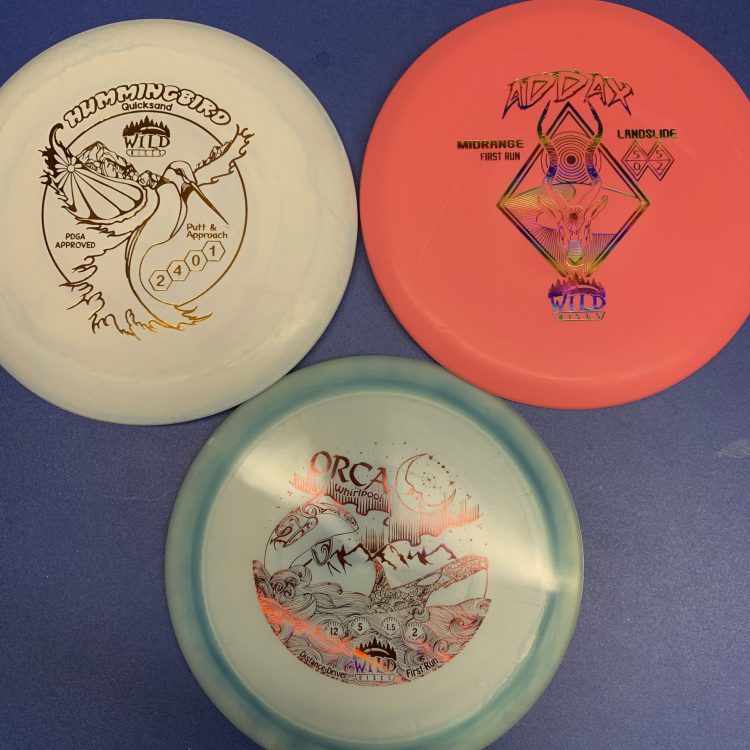 Innova Tern. The Addax is their midrange with a straight flight and solid fade. The stamps for all of their discs are created by Co-founder, Becky Fix.
What's An Addax?
Although most people are familiar with orcas and hummingbirds (the animals), the Addax might not be as familiar. You have probably seen a picture of one, without knowing its name. It is an African animal whose body shape is similar to an antelope, but with long, spiral horns. The animal is nearly extinct in the wild. Details about each the animals featured on their molds are found on Wild Discs' website.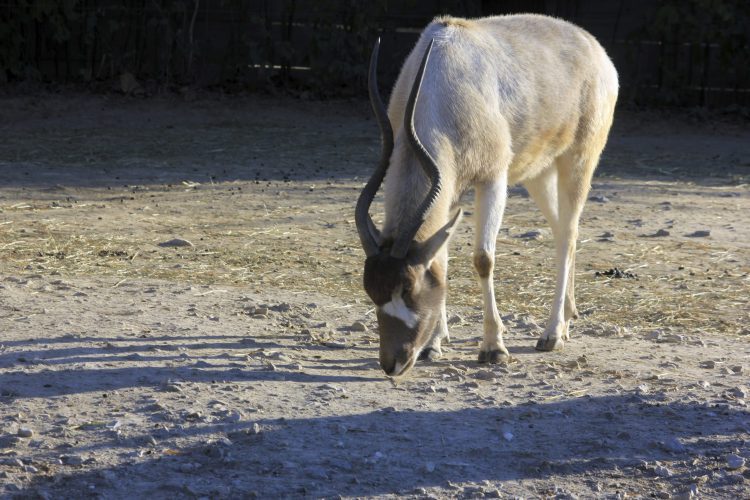 Wild Discs currently offers three plastic types for their discs. However, the have several more plastic types that they are experimenting with. Currently, the company lists Landslide, Quicksand, and Whirlpool as their available plastics. Landslide is a durable plastic that is firm, but still has good grip. Whirlpool plastic has even more durability than Landslide, and with a little more grip. Quicksand is a nylon based plastic mixed with some Landslide plastic, with a ton of grip – the most of all their plastics. It also has a soft flex and is very durable.
Coming to Wild Discs…
As mentioned above, Wild Discs has several new plastic types they are experimenting with. They are also working on expanding both their disc and product lines. What will the future hold? Coming out in a couple of months will be a fairway driver and a mid/approach disc. Even before those hit the market Wild will be releasing a new bag that, according to founder Kyle Knab, will be "the most eye-catching bag on the market" whose functionality is "next level". Stay tuned to Wild Discs for their new releases! Here is a sneak peak of the bag.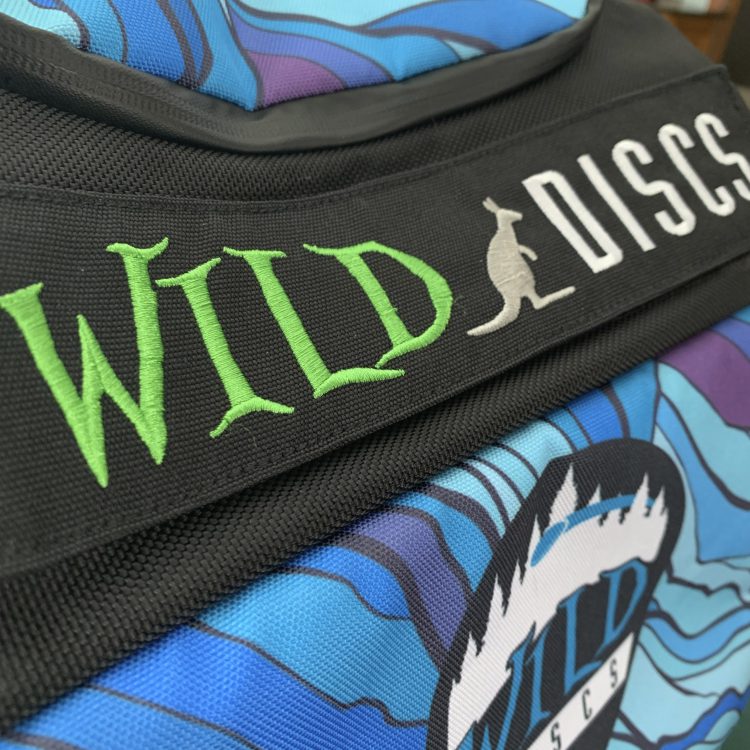 Although Wild Discs is a new company, selling their first discs in October 2020, they are already looking forward to the future. One avenue of growth that Wild uses is supporting an ambassador team. Anyone can apply to be on the team. Details can be found on their website.
Growing And Supporting Conservation
In addition to adding more molds and products to their brand, they are excited about the growth of the sport. They are looking forward to getting more women and youth involved in disc golf and are glad to be in a position to make a difference. Even in the short time they've been a business, they have received a lot of support, kind words, and positive feedback from the disc golf community. They have already raised over $1,000 that will go toward wildlife conservation.
Wild Discs will continue to support conservation efforts, and that commitment is one of the unique aspects of their company. They will continue to contribute 5% of proceeds toward conservation efforts. Plus, they will be holding charity events and tournaments to further support the cause. Wild Discs' commitment to animals is apparent in their mold names, stamp designs, and even their company name. Check out Wild Discs today! Then see below how you can win a Wild Discs mold.
Check out Infinite's selection of Wild Discs molds here:
https://infinitediscs.com/category/Wild-Discs
Check out the Wild Discs website (and their awesome hoodies!) here:
See how you can support conservation efforts here:
Comment About Wild Discs !
Do you throw Wild Discs? Tell us which mold is your favorite.
Never tried them? Tell us which mold you would like to try.
Last Week: Disctroyer
Last week we looked at Disctroyer. We selected three random people who commented on that blog. Here are the winners:
Colby S
Brian F
Harry S
Congrats! We'll get your disc shipped out shortly.