New Disc Golf Disc Releases

Disc Golf is an enjoyable sport that is always offering new equipment to try out. It seems that there almost every week there are new molds approved for tournament play by the PDGA. The disc golf disc approved list is ever growing, and it is exciting!
There are a handful of these new molds that we've received and we're excited to get them to you. Some of the molds in this post have release dates in the near future, while others will release as soon as we get them online.
In addition to these new molds, there are a few signature discs that are coming out as well. Read on below to see what is in the pipeline.
Releasing Now
This list of discs is a little bit smaller than what is to come. These discs don't have a specific release date attached to them. Which gives us the liberty of releasing them as soon as we get them online. In fact we have our team working to get them online right now. So within the next few hours, or day or so, you should see these molds available for purchase!
Uplay Disc Golf's Zeal
For those who are unfamiliar, Uplay is a foundation that is ran by Zoe Andyke. This foundation has the goal to teach and inform children in schools and physical education programs about disc golf. They do a lot to grow the sport.
The Zeal is beadless putter that is quite stiff. The plastic is a base plastic, that offers good grip. With a well rounded shoulder, it is comfortable to grip. This disc is really easy to throw. I found it easy to get some turnover approach shots, and incredibly easy to throw for push putts. Anyone could find room in your bag regardless of skill level. The Zeal makes a great utility putter, driving putter, or putting putter.
At the moment it is only available in firm plastic, however, there are plans to release it in a soft plastic. You can pick this disc up for $7.99.
The ZEAL is a putter released by Uplay Disc Golf Foundation to be an easy-to-throw, comfortable putter for players of all levels and abilities. It is a beadless putter with a rounded rim for maximum comfort when using it to throw on approach or as a putter. Its understable flight helps it to hold a very straight flight path, resisting an unwanted fade whether thrown long or short.

Every Uplay disc sold, including the ZEAL putter, helps to raise funds for the Uplay Disc Golf Foundation's mission of growing the sport of disc golf in communities. They teach instructors and students in physical education programs, in elementary schools, middle schools, and high schools everywhere.
Lone Star Discs Armadillo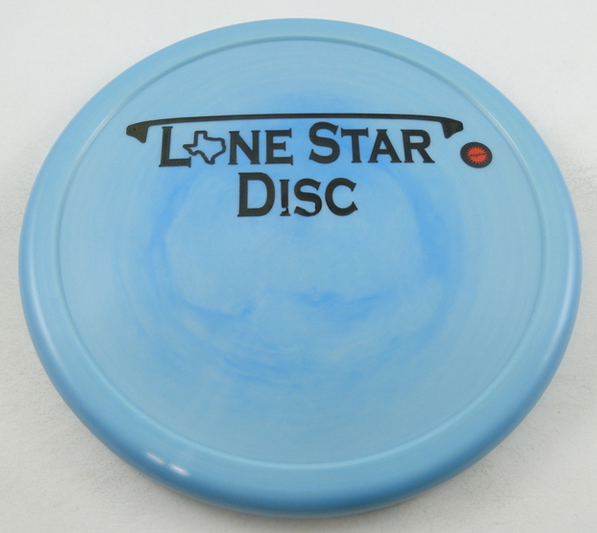 The first time I picked up the Armadillo I thought, "This is a Burg/Rhyno disc." Looking at the flight numbers of the Burg and the Rhyno the Armadillo is a mix of the two. It really flies quite similar to the two as well. This is a pretty reliable approach disc, almost always flies the same regardless of the what the weather is doing. It flies very straight with a gentle fade at the end. Because of these attributes, this is a good disc and reliable approach disc. This disc starts at $17.99.
The Armadillo is a low speed and low glide disc. This disc is meant to be accurate and offer great control It has a thumbtrack on the disc for comfort. It is an easy disc to control, and will fly consistently to provide good accuracy. Lone Star says, "Our newest Putt and Approach disc holds true to its namesake with its Blunt Nosed Rim and Thumbtracked Shoulder that forces this disc to fly straight as an arrow with a reliable fade to its intended target."
Eric Oakley's Lucid Justice
The Justice is such a classic beefy midrange. I remember when I first started playing that I thought this disc was too much. Why would you need a disc that doesn't fly? Now that I am much more experienced, this is almost a must have. The ability to resist wind, always fade, and just so consistent is incredible. Because of this, the Justice has saved me from so many bad lies and has been able to hit so many different lines, that its worth is immeasurable! I love the Justice.
I think it is pretty awesome that Dynamic and Eric worked together to make this signature disc a possibility. This signature disc is available now.
Strong winds will make the most experienced player look like a novice. They have forced us back into the laboratory to solve the midrange question. Our tests have led us here. The Justice is served. The Justice by Dynamic Discs is going to become your new utility disc.  It will not turn over. Throw the Justice one time and you will not need to reach for anything else for a short distance, over-stable answer. No longer will you throw a good shot into a headwind only to see your disc flip over. Let the Justice get you what you deserve.

NOTE: Since the initial release, Dynamic Discs has changed the stamp on the disc to indicate "Glide 1" though the mold itself has not changed.
Lone Star Discs Jack Rabbit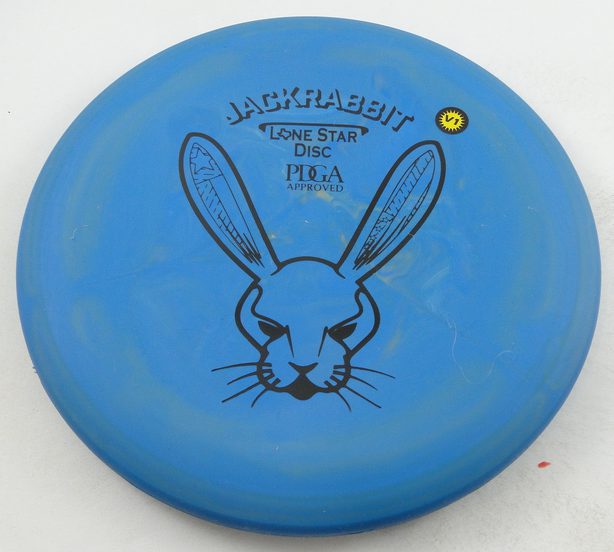 The Jack Rabbit is a utility approach disc. It is not quite as beefy as I had anticipated.  The flight numbers indicate that it should fly like a zone, but I found that it is not as stable. Overall, it provides some good lines, and is quite reliable in its ability to fly and fade as expected. I enjoy the lines that this disc provides.
The Jack Rabbit is a comfortable disc to grip. The bead is a medium sized bead, it isn't obtrusive nor unnoticeable. And with the rounded rim/shoulder, I think it is more comfortable in a backhand grip than a forehand though. Overall, its a comfortable disc to grip. You'll be able to grab yourself one for $16.99.
The Jack Rabbit from Lone Star Discs is a putter with a wide bead, flat top, and a well rounded rim. This is a stable to overstable putt & approach disc. This disc will work well has a headwind putter or a driving putter. It can handle power. This will provide good hyzer lines, spike hyzers, and even some good flex lines.
Releasing in the Future
Elevation Disc Golf Binx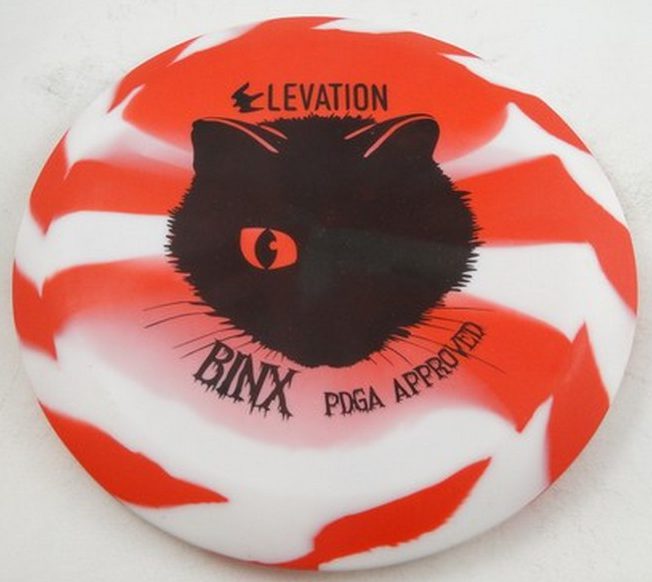 This new fairway driver from Elevation Disc golf surprised me. I'm not a huge fan of the Elevation rubber, as it is too floppy for my comfort, and I feel like it inhibits its flight consistency. However, the rubber feels a little different this time around. Maybe its because the rim is thicker than a midrange or putter?
Throwing the Binx, I found that it is pretty accurate to the flight numbers provided. It is a do-it all kind of disc. Which makes it quite usable, especially in this floppy rubber blend. I found that it worked well on anhyzers, hyzers, and flat shots. It was pretty easy to throw, and a little more reliable. I didn't feel like the disc wouldn't catch air and just fly into the sky like the other molds. However, I do find that it is still the Elevation Rubber, and that the characteristics are still there. Despite that, the Binx is still a pretty good fairway driver, and the no-ground-play is incredible! This disc is set to release March 3, at 9-o-clock MST, you'll be able to snag one for yourself for $19.99.
The Elevation Disc Golf Binx is a straight flying fairway driver that is useful for everyone. Its flight characteristics allow for easy control and consistent flight paths. The Binx can hold most any line you need, proving to be a good go-to driver.

The unique rubber blend is designed to limit ground play when the disc lands. Ensuring accuracy and consistency on those upshots that have OB or other hazards around the landing zone.
Eric Oakley's P-Blend Glow Alpaca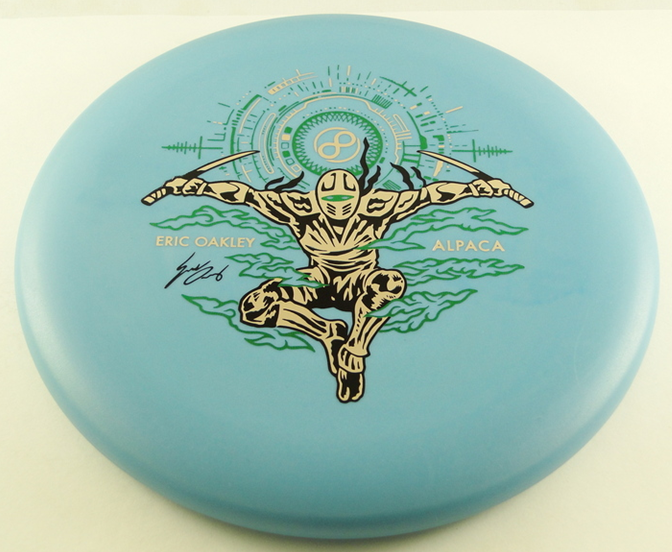 The Alpaca is a well loved putter, and for good reason. This mold is versatile, working well as a driver, approach disc, or putter. The stability provides enough beef that it gives a consistent fade. In softer plastics, this can be beaten into submission. Allowing for straight flights and some shot shaping. Eric Oakley really enjoys using the Alpaca for these reasons among many. As one of his signature discs we are releasing the Alpaca in a P-Blend Glow plastic. This plastic offers some good grip and a little more longevity than the D-Blend. Keep your eye out of this release on March 10, 2022, you can grab yours for $15.49.
The Alpaca is the quintessential beadless putter. While the Infinite Discs Cohort has a somewhat low profile rim, the Alpaca presents a deeper rim for more of a traditional putter feel. Whether thrown at the basket or lofted high for approaches and drives, the Alpaca will carry your workload with ease.
Divergent Discs Golem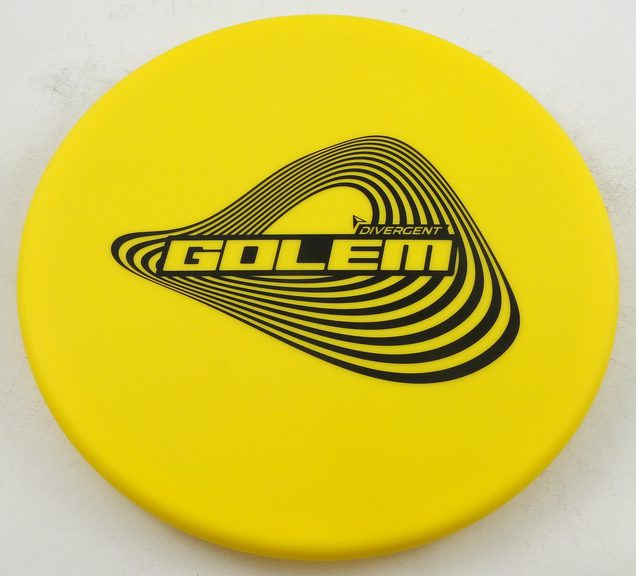 Divergent Discs is working hard to provide discs for all of the amateurs. The Golem is within their StayPut rubber blend. Designed to hit the ground and and stick, limiting the ground play. This disc is overstable, it is very much in the same playing field as a Zone, Harp, or Pig. And it really does limit the ground play, it hits and stops. Its a pretty cool disc. On March 10, 2022 this disc will release and be available for purchase. This will be available for $16.99.
The Golem is an overstable putt & approach disc. It has a flat top and a comfortable grip for both backhand and forehand throws. As an overstable putter it will provide a straight flight with no turn and a consistent fade. The Golem can also handle most windy conditions without drastically changing its flight path.
Thought Space Athletics' Synapse
The TSA Synapse is a solid distance driver. The rim is on the large side, for me. It doesn't feel all that much different from a 12 speed disc. My first throw surprised me with how easy the disc felt to throw. I found that I got a little bit of turn before it faded. So to me, I think there is a little less turn than what was advertised. Regardless of this though, I was still pleased with the flight path and the distance achieved upon throwing this new disc. The Thought Space Athletics Synapse will release on March 11, 2022.
The Thought Space Athletics Synapse is a professional level distance driver for maximum distance and performance.

Striking a harmonious balance between distance and accuracy, the Synapse is the flagship entry into the true "pro" distance driver slot for Thought Space Athletics. It is stable enough to handle big arm speed or a stiff headwind, with just a hint of high-speed turn. The Synapse finds its equilibrium as the reliably stable long-bomber in your bag.
Finish Line's Era
Drew Gibson tore it up last weekend at Las Vegas Challenge. Gannon Buhr definitely tore it up as well, it was such a good competition to watch. If you were watching carefully, you would have noticed that Drew threw this disc on a few holes. I'm fairly certain that LVC was the first tournament that the Era was thrown in. Which makes it a great debut to the world.
The Era is a stable, 10-speed distance driver. And it is a comfortable disc to throw, and achieve good distance. Its stability makes it more available to people to throw and achieve good distance. All the while providing a disc that is controllable for a lot of different throws.
Infinite Discs is still accepting pre-orders for this mold. Though they are much more limited than before. Rumor has it that the pre-orders will start to ship out soon, and that the stock release is close behind that as well. It seems that they're targeting a release for the end of March.
The Era is the first disc in Drew Gibson's Finish Line. This disc is designed to be the all purpose control driver for players of all skill level.

With a flat top and neutral flight path the Era works well for both backhand and forehand throws. It is understable enough to work for newer players, but has enough stability that it can handle the power of Drew Gibson. The Era has enough speed and glide to go as far as many distance drivers, but has minimal fade for the straight flight of a fairway.

Finish Line Discs are designed and manufactured in the USA.
Wing It Disc Golf's Stratosphere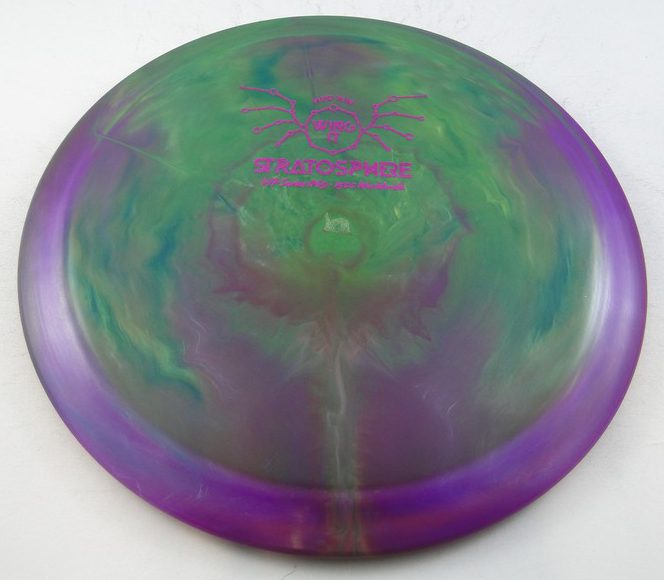 Wing It Disc Golf is a new manufacturer who looks to be using a new manufacturer (new to Disc Golf that is). As such, this company is working entirely from scratch, and it is cool to see the journey that they're taking. If you would like, check out their website to see their experience in creating a disc. On the website they've detailed the entire process in a blog, which is entertaining to read.
The Stratosphere is their first mold, and Infinite Discs VIP members got to try out the first run of these discs. They are incredibly pretty discs, with such a variety of swirls. And, the disc is rather enjoyable to throw as well. Additionally, it provides a consistent flight, and is a stable disc. This fairway driver can make for a great staple in anyone's bag. At the moment, Run 2 of the Stratosphere is scheduled to release to the public in Spring 2022.
Other Ways to See New Discs
As always, every day we are adding new discs online. It can be fun to watch the "Newly Added Discs" page on our site. It is a great way to see what is new for the day. And sometimes you'll see some sweet gems. However, we do sometimes turn this page off on big releases though, this is to provide a quick web page load time for you.
As always, thanks for reading, and I hope that you're as excited for these new releases as we are!