New Golf Discs for 2018

***Post Updated August 27,2018***
This post will help keep you up to date with all the latest discs that have been, or will soon be introduced in 2018.
Axiom
Axiom is releasing their first ultra wide rimmed drivers the Excite and Tantrum. The disc Tantrum was made  available on March 23rd while the Excite will be released on April 20th.
Discmania
Discmania hasn't yet released any new discs in 2018, but there are a few known discs we are expecting. The PDGA has approved a retool of the FD2 and the MD5 was PDGA approved at the end of march.:
Discraft
Discraft released the Vulture as part of player packs for the 2018 Memorial Challenge. The 2017 Ace Race disc has also been given a name as the Sting. These will be released to retailers sometime in the near future.
DGA
DGA recently had an overstable fairway driver, the Banzai PDGA approved.
Dynamic Discs
Dynamic Discs has at least four discs in the works. The Maverick, Getaway, and Captain will all be available in early Spring. The Patrol will initially be released as part of the Trilogy Challenge. The Dynamic Discs Maverik and Captain have a scheduled release date of March 30th.
New 2018 Dynamic Discs:
Full Turn
Full turn has two new drivers the Cruise and the Voyage.
Gateway
Gateway has already released a new midrange, the Prophecy. As always, they continue to release the popular Wizard putter in new exciting plastic blends.
Hyzerbomb
The Hyzerbomb Sabot is an overstable midrange very similar to the Infinite Discs Slab but with a more domey top.
Infinite Discs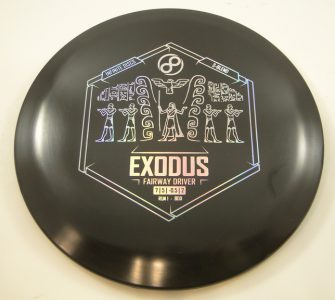 Well the big news for Infinite Discs in 2018 is that we've partnered with Innova to introduce our own disc line. This line consists of modified existing Innova molds, expired molds, and new plastic blends. We've wasted no time getting our brand of discs out there and currently have eight discs released or in production. All eight of our new molds should be available by the beginning of summer.
Innova
Innova has been pretty quiet about the new releases thus far this year. At the Las Vegas Challenge they released the Rat and from their product catalog we know a disc called the Caiman is in the works.
Latitude 64
Latitude 64 has already released a driver, midrange, and putter this year. They continue to pump out lots of new molds in Sweden and there will surely be many more to come in 2017.
Soon to Come:
Legacy
The crew at Legacy discs has come up with a very overstable midrange called the Pursuit. This mid will fight the wind and always finish with a dumping fade.
Soon to Come:
We aren't sure when they will actually come, but Legacy has had PDGA approved too other midrange discs; the Recluse (4/3/0/4) and the Vandal (4/5/0/2). These new mids may not actually be available until 2019.
MVP
As always, MVP is sure to have a large assortment of new plastic types and limited edition stamps to feed the collector frenzy. For actual new disc molds, the Deflector is currently the only disc we know of that is currently in the works.
Ozone
Ozone discs has a new distance driver, the Hyperion.
Prodigy
Prodigy is releasing new versions of their "H" series discs. They have already released their H3 V2 which has been very popular. Unlike the last H series, this version is supposed to be more traditional discs molds with rim widths between the F series and the X series. We expect to receive the new H5, an understable hybrid driver with a moderate rim. Look for special Utah Open additions of Toothese new Prodigy molds coming soon.
Streamline
Too much excitement, Streamline Discs has released two new affordable golf discs this year.
Vibram
While Vibram won't be making any new discs, they have made the disc golf news by declaring that they will cease disc golf operations in 2018. If you're a Vibram fan, let not your heart be troubled as we still have a healthy stock of all the most popular Vibram molds and will be getting a large shipment from their last run.
Viking Discs
Viking Discs has three new discs that will be in stock at Infinite by the end of March. They include:
Westside
Westside will soon release three new discs:
Yikun
Yikun has a new midrange the Kui, a Distance Driver the Lu, and a new triple mold disc the "Twin Swords". It looks like Yikun is taking a new approach to try and actually do something new.
Do you know of other new discs that aren't yet included in this post? Please let us know about them in the comment section below and we will add them to our list.