New Golf Discs for 2019
Throughout the year, we will try to keep this post up to date with all of the latest discs that have been or will soon be introduced in 2019.
Axiom
So far, we only know of one new disc that will for sure be released in 2019. In February the Axiom Pyro was PDGA approved. This new disc will also be released in a new plastic blend called Prism plastic.
Pyro – The Pyro is a straight to overstable midrange disc. The disc was released this summer, and is featured in Axiom's new Prism plastic blend. Prism plastic is an ultra-durable, and features "a beautiful array of multicolor translucent core and rim combinations." The flight numbers for the Pyro are 5/4/0/2.5.
Delirium – The Delirium was also released during summer. The Delirium is a very overstable distance driver with a thick 24.5mm rim. This is Axiom's thickest rim and most overstable driver in it's rim class.
Discmania
Discmania sent shock waves throughout the disc golf world on February 14. They announced a new manufacturing partnership with Latitude 64 and Yikun. Previously, Discmania's discs were exclusively manufactured by Innova. Innova will still manufacture discs for Discmania, but they won't be alone. So now, Discmania will have 3 seperate "series" of discs. All of their previous discs and new molds made by Innova will be considered Discmania Originals. The Discmania discs made by Latitude 64 are part of the Evolution series, and Yikun manufactured Discmania molds are part of the Active series.
DD3 – The Discmania DD3 was PDGA approved and released before the new partnerships were announced. The DD3 was initially released as a tour fundraiser disc for Eagle McMahon in Swirly S-Line with the nickname, "Cloud Breaker." The DD3 is a high speed driver that offers a long stable flight.
Instinct – The Discmania Instinct is the first disc to be released in the Discmania Evolution series. It is a straight/stable fairway driver that is sure to fit in the bags of many.
Method – The Method is the first mid-range in the Evolution series. It's a fairly overstable mid with flight numbers of 5/5/0/3.
Link – The Link is the first putter disc in the Evolution series, it was released in the summer. The Link is a neutral flying putter that is good for putting inside the circle and approach shots alike.
Enigma – The Enigma is the first distance driver in the Evolution lineup. It is now available, and those looking for big distance will love it. Flying similarly to the Destroyer, the Enigma will be a big hit for Discmania fans.
Sea Serpent – The Sea Serpent is the highest speed driver in the Yikun made Active Line. It's slightly understable, promising big distance to slower arm speeds.
Fox Spirit – The Fox Spirit is a great fairway driver in the Active Series. It's an all-purpose fairway that can handle some power and turn, but still finish with consistent fade.
Sun Crow – The Sun Crow is an awesome, understable driver for beginners. This disc is the perfect choice for new disc golfers. It's also a great disc for roller shots.
Spring Ox – The Spring Ox is a stable mid-range that is made for everybody. You'll find great reliability in the Spring Ox.
Tiger Warrior – The Tiger Warrior is a low speed, neutral flying, all purpose putter. This disc was in Eagle McMahons bag for some time!
Discraft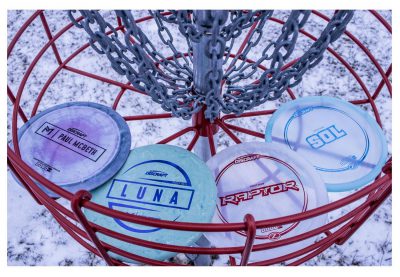 Discraft has also already made waves this year. Paul McBeth joined team Discraft this year, and we are already seeing new molds as a result of that move.
Luna – The Discraft Luna was first released as Paul McBeth's new prototype putter. It is a beadless and stable putter available in a tacky blend that is a little different than Discraft's standard Jawbreaker plastic blend.
Zeus– Formerly known as the Kong, the Discraft Zeus is a new Paul McBeth specialty disc. It is a high speed overstable driver, offering big distance to the intermediate/advanced players (and up). The Zeus flies similar to an Innova Destroyer, but seems a tad more understable.
Raptor – The Raptor is an overstable fairway/control driver. It has a flat top and a very reliable overstable flight. This disc is perfect for forehand and backhand alike.
Sol – The Discraft Sol is the stock run of the 2018 Ace Race disc. This disc was a popular midrange disc that is great for disc golfers of all skill levels.
Anax – The Anax is Paul McBeth's new signature fairway/power driver. The name is actually pronounced "Onyx". This speed 10 driver offers overstable flight with reliable fade. It can bring surprising distance to those with big arms.
Malta – The Malta is Paul McBeth's new mid-range. It offers what you'd imagine a Buzzz + a Zone would bring to the table: longer flight than a Zone and more overstability than a Buzzz.
DGA
DGA brought one new mold to the table so far in 2019!
Rift – The Rift was released during Pro Worlds as a fundraiser disc, then as a stock disc in September. The Rift is the perfect point-and-shoot midrange, offering a clean smooth flight in whatever direction you let it soar.
Dynamic Discs
So far, we only know about 3 new disc molds that are set to be released by Dynamic Discs.
Raider – The DD Raider is a new high speed distance driver that has recently been PDGA approved. It is rumored to be a little more overstable than the DD Sheriff.
Vandal – The DD Vandal will be the Dynamic Discs disc in the 2019 Trilogy Challenge, which means the stock release will not be available until at least this fall. The Vandal will be a fairway driver that is supposed to be great for all skill levels. It has been described as being a longer flying DD Maverick.
Guard – The new Dynamic Discs Guard is a deep dish putter. It has been described as being a beadless Lat 64 Dagger.
Gateway
Gateway seems determined to prove that they are more than just a putter manufacturer with two new control drivers recently PDGA approved.
Blade – The Gateway Blade is a new overstable fairway driver. Judging by the flight ratings it looks like it could be similar to an Innova Thunderbird.
Spear – The new Gateway spear is a straight flying fairway driver that offers more stability than the Blade.
Infinite Discs
Our big news last year was that we began a partnership with Innova to manufacture our own line of discs. In 2018 we released our 8 initial molds, and in 2019 we have at least 7 molds planned for release.
Emperor – The Emperor is our new high speed distance driver. We came out with an initial release in I-blend that was part of the Las Vegas Challenge player packs. Our stock release will come out in the coming weeks. The Emperor is designed to be similar to the Innova Destroyer, which adds a little more stability to our high speed driver line.
Ra – The Infinite Discs Ra is our new overstable midrange. It features a flat top and a beaded rim. It is a great choice for facing the wind and when you need an overstable fade.
Scepter – The Scepter is a flat-top, overstable fairway driver. It's very similar to a board flat Firebird, which has everyone here at Infinite Discs very excited about it!
Scarab – The Infinite Discs Scarab will be a new putter in our lineup. It is similar to the Infinite Discs Myth, but with a little more glide in the flight.
Cohort – The Cohort is a new putt & approach disc, similar to the Innova XD of old. This is a great, beadless, disc geared towards midrange approach shots, but can still be used as a putter.
Centurion – The Centurion is a very workable fairway driver. It holds any line you put it on, causing it to be called the faster/longer Anubis. So far, the Centurion is available in Splatter S-Blend.
Aztec – The Aztec is coming out later this fall. It's a speed 10, neutral distance driver. Depending on plastic the Aztec could be slightly overstable to slightly understable, making it a great choice for so many players. It will surprise you with how far it goes as a speed 10 disc.
Ruin – The Ruin is the pending name for a new overstable putt & approach disc. This disc will be the overstable putter that everybody throwing Innova has wanted. It will change the game for the Innova/Infinite throwers.
Innova
Innova already has a few new releases in the works for this year, including the new Lion Midrange which was available in a special Las Vegas Challenge edition during that event.
Latitude 64
Latitude 64 has already had a couple of new releases for 2019:
Recoil – The new Recoil is a 12 speed driver that features an overstable flight. Judging from the numbers, it looks like it is designed to be a slightly slower Ballista Pro.
Keystone – The Latitude 64 Keystone will be a beadless understable putt and approach disc. It sounds like it has been designed to be ideal for turnover driving putter shots. This disc will be included in the 2019 Trilogy Challenge
Catch – This one is a bit interesting. Latitude 64 recently announced a new Ultimate Disc called the Catch, but it was recently announced that the Catch was PDGA approved. We will watch for more info on this.
Legacy
Legacy Discs recently released their new disc the Recluse, but beyond that we are unaware of other discs that will be released in 2019.
Recluse – The long awaited Recluse from Legacy Discs was just released. The Recluse is a very overstable midrange that features a big bead. It is designed to fight the wind.
Mint Discs
Mint Discs has been a one disc show for a while now with their very popular fairway driver, the Alpha, but now they offer two new discs and one more on the way.
Bobcat – The new Mint Discs Bobcat will be a slightly overstable beadless midrange disc. We are excited to finally see the second disc in the Mint Discs lineup.
Profit – The Profit is Mint Discs new putter, it features great feeling "velvety" plastic. It has a beaded rim and is an awesome all-purpose putter.
Freetail – The Freetail has been approved, but not announced. It looks to be Mint's first bigger rim distance driver.
MVP
As always, MVP is sure to have a large assortment of new plastic types and limited edition stamps to feed the collector frenzy. The only new mold to come out this year, however, is the Entropy.
Entropy – The MVP Entropy has been in the rumor mill for a while, but it was recently PDGA approved. It is the long awaited overstable putter in the MVP line.
Prodigy
Last year Prodigy saw greate success releasing the "V2" series of their "H" series. It looks like they will take a similar approach in 2019, but this time they are updating their "D" series. Already they have had the D1 Max, D2 Max, D3 Max, D4 Max, and D5 Max PDGA approved. These are designed to add a little more distance to the original D Series.
D1 Max – The D1 Max is the first disc in the new Max lineup to be released. It features a slightly smaller rim than the D1 and a smooth profile.
D2 Max – The D2 Max has a slightly smaller rim than the original. If offers a flight similar to the D2, but perhaps a little longer.
D3 Max- We anticipate this one to be similar to the other Max discs–a slightly smaller rim of the original.
D4 Max- We anticipate this one to be similar to the other Max discs–a slightly smaller rim of the original.
D5 Max- We anticipate this one to be similar to the other Max discs–a slightly smaller rim of the original.
MX-3 – The MX-3 is an alternate edition to the M3. It offers a slightly overstable flight, designed for high level control and performance. It is a beaded mid that many disc golfers will love.
FX-2 – The FX-2 is a newly approved Prodigy mold. Not much is known about this mold, but we suspect it will be a modified version of the F2 and have a similar flight.
RPM Discs
Our friends from the Southern Hemisphere continue to produce great discs, and they have already added another disc to their lineup in 2019.
Huia – The new RPM Huia is a stable to overstable fairway driver. We at Infinite Discs were even lucky enough to get our hands on a few with Prototype stamps that are currently still available in Atomic plastic blend.
Westside
Westside continues to put out excellent discs in their lineup in fantastic trilogy plastic blends.
Gatekeeper– The Westside Gatekeeper will be the newest Midrange disc in the Westside lineup. It will be a straight to overstable midrange designed to hold whatever line you put it on. It will be included in the 2019 Trilogy Challenge.
Yikun
While Yikun may not be as well known as some other brands, they have some solid offerings. Last year they introduced their first "Double Overmold" disc, the Twin Swords. This year, they have released two new double overmold discs.
Tomahawk – The Tomahawk is a straight flying, deadly accurate midrange.
Meteor Hammer – The Meteor Hammer is the Tomahawk's little brother. It's a dead straight putter, perfect for putting and driving.