Preparing for Black Friday 2020

'Tis the season for all of the crazy sales, including Infinite Disc's big, week-long Black Friday sale! However, as we all know too well, 2020 has been a strange year. While the interest in disc golf has exploded, the supply of discs has become increasingly thin. That shortage in supply will change the way this year's Black Friday Sale will look, but you better believe we're still going to have it!
MULTIPLE DAYS FOR MULTIPLE BRANDS?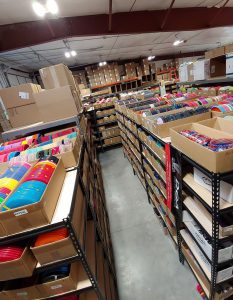 Yes– as usual, the Infinite Discs Black Friday sales will last for several days, and each day will have a particular brand focus. A couple of days will focus on a handful of brands. With that say, there may be a couple of popular brands that will not have their own "day" during the sale. The reason for that is simple– if we don't have discs available from that brand, it is kind of pointless to feature them. There are brands that are so behind with their manufacturing efforts or struggling with their supply chain that they don't have discs. We can't feature something that we don't have.
So, if you don't see a day when we feature your favorite brand, it is most likely because we did not have enough inventory on hand to justify any kind of feature. Or we were not able to get a special featured disc or stamp from the brand.
WILL THERE BE SPECIAL RELEASES?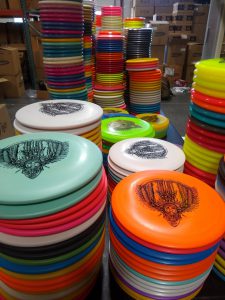 For the reasons mentioned above, our ability to get special releases for our annual Black Friday event has been a struggle. But most brands have done their best to get together some fun stuff for us. Rather than seeing a lot of special runs in unique plastics, the focus will be primarily on fun stamps. We've licensed and commissioned more stamp designs for our 2020 sale than any other sale we've had before! A few are designs you may have seen before, but on disc models that haven't featured those particular designs. But plenty of the designs are new, with a mix of both intense and humorous. We're having a lot of fun this year with the stamps!
Hopefully, among all of the stamp designs that Infinite Discs will feature that week, you'll find something that suits your taste perfectly.
And yet, there will be a couple of special runs in plastics that are not the usual stock.
HOW ABOUT BIG DISCOUNTS?
In the past, we've always discounted all the discs by the featured brands on each day. However, because inventory is so scarce, we'll have to be more selective on the discs that are discounted. We won't be able to do sweeping discounts on any inventory that we know we may not be able to restock. For example, if we can't keep BUZZZ discs in stock (which has been the issue for a few weeks), then we certainly won't be able to offer discounts. Chances are, any Buzzz we manage to get could be hard to keep in stock whether it is discounted or not. Plus, it's always frustrating when a customer wants to get a disc or product that is advertised as "on sale" but there are only a handful available. We'd rather discount something that will benefit MORE of our customers.
In short, there WILL be discounts, but they will be on specific disc models or products that we have an ample enough supply that a lot of people will be able to benefit from the discount.
WILL IT BE WORTH IT?
Yes! We've worked hard to make sure that the Infinite Discs Black Friday sale will be an adventure. Every day you'll see something unique and fun, with a variety of cool stamp designs. You may have fun exploring brands and disc models that you haven't tried before, and that's always fun!
THE FULL AD WILL BE COMING A FEW DAYS BEFORE THANKSGIVING!
STAY TUNED!