Rapid Surge of Disc Golf Manufacturing

There was a time a few years ago where I knew and tested every new disc golf disc from every disc golf brand.
Now I just don't even try anymore.
There are so many new disc golf molds and brands popping up that I'd pretty much have to test a new disc every day, and remember what that disc is and how it flew, just to keep up with all the new discs approved by the PDGA.
I ran some data from the PDGA approved discs to see exactly how rapid the pace of disc golf manufacturing has increased. As you can see from the curve, it's pretty much an exponential increase over the last two years.
There will be more new discs approved by the PDGA during 2023 than any other year. More discs molds have been created through the first eight months of this year than were during the 20 year period from 1983-2003!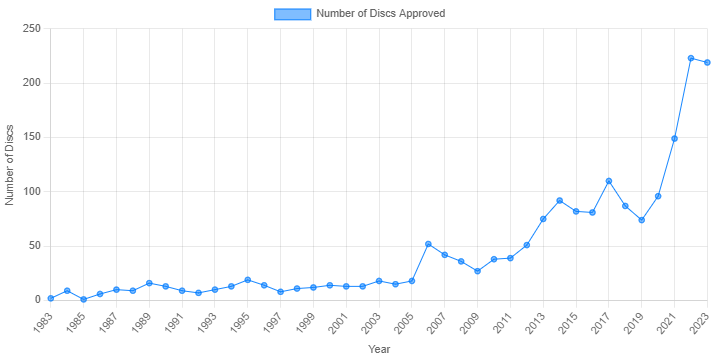 It's not just that the major brands are pumping out more new molds each year. The biggest contributor to the increased PDGA approval is the huge influx of new disc golf brands.
This graph shows the number of different brands with discs approved by year. 2023 has already had more discs approved by different brands than any other year with 70 different companies approving at least one disc mold.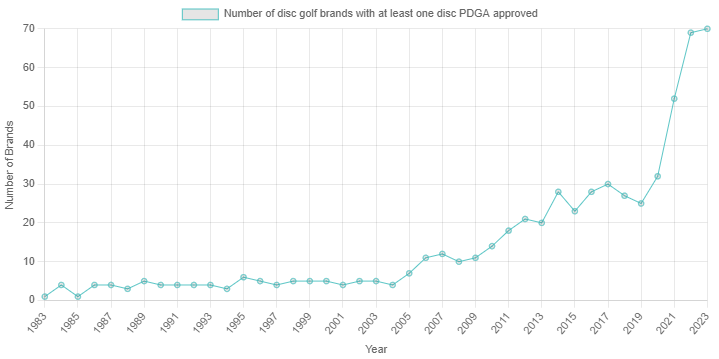 Number of PDGA Discs by Brand
Next we are going to take a look at the number of disc molds by each individual brand. Because there are so many disc golf brands that have been or are currently in existence, I had to divide these charts into four different categories just so we can read them.
Big Brands
We classified big brands as those with at least 30 different disc molds approved by the PDGA. Innova by far has the most different disc golf molds with Discraft and Prodigy coming in second and third.  Despite it's relative newness in the disc golf manufacturing world, Lone Star Discs made this top 15 list of "big brands".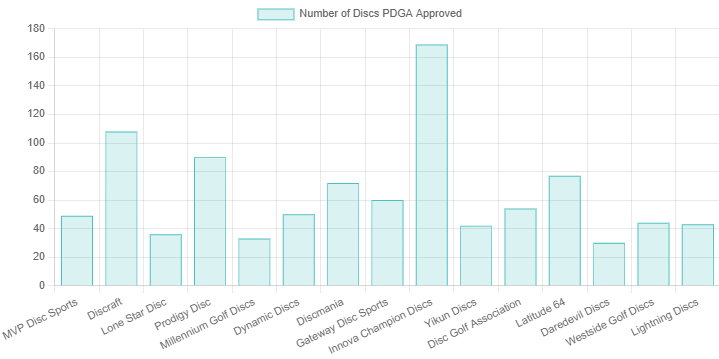 Medium Brands
The medium brands on this chart have between 10 and 30 different disc molds approved by the PDGA. Axiom Discs nearly broke into the big brand barrier with 28 discs, and to my surprise, the Canadian manufacturer Daredevil disc is also right there at 29.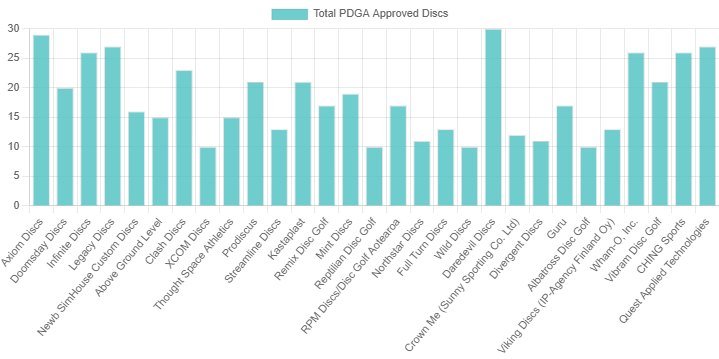 Small Brands
Small brands are those with between 5 and 9 disc molds approved by the PDGA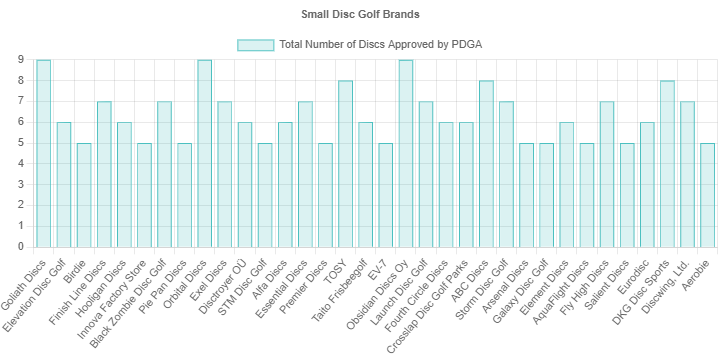 Extra Small Brands with less than 5 molds approved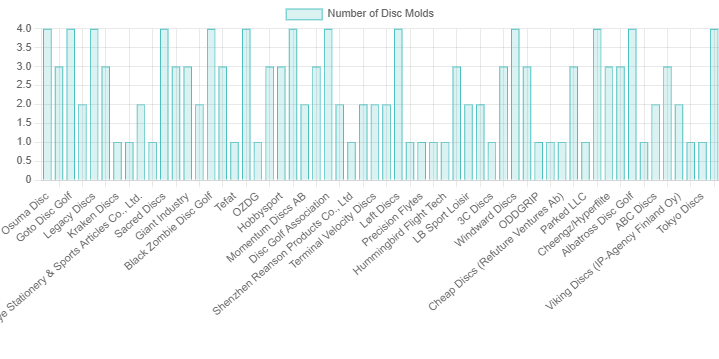 Growing Brands
Much of the PDGA approval list is because of the rapid growth of many of the new disc golf brands. These are the companies that are aggressively investing in new molds.
The below graph shows the number of discs PDGA approved in the last year. Remix Disc Golf dominates this list with 17 different disc molds approved. Clash Discs, Doomsday Discs, Orbital, and Yikun Discs are close behind.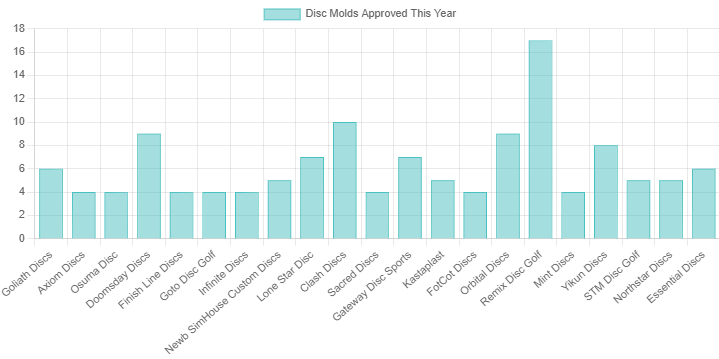 When I pull the date for the last two years, Lone Star Disc is the fastest growing brand with 28 new molds in this time period.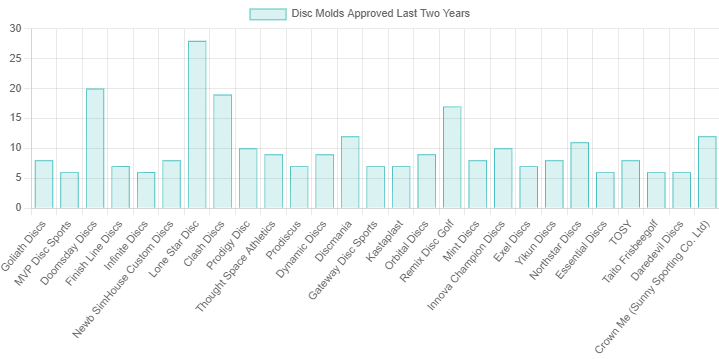 Who are these new disc golf brands?
I used to do regular posts that were updated with all of the new disc molds each year. Now I'll simply go over these rapidly growing disc golf brands. If you haven't heard of them, you're probably not alone.
Lone Star Disc
Lone Star Disc is a remarkable disc golf company with a unique origin story. Founded by a Texas-based plastic company that primarily manufactured parts for oil rigs, the company underwent a transformative journey during the pandemic. As the oil industry slowed down, their son proposed the idea of exploring the disc golf market, and it turned out to be a brilliant move.
Leveraging their expertise and resources, Lone Star Disc started producing their own molds and plastics in-house, capitalizing on their Texas roots, and quickly gained traction in the disc golf community. Their ability to quickly produce molds and manufacture locally allowed them to respond swiftly to customer demands and rapidly expand their product line when other manufacturers weren't able to keep up.
Lone Star Disc has invested heavily in marketing strategies by establishing both Professional and Amateur teams, further solidifying their presence as a major player in disc golf.  They have a full line of discs with some very unique molds like the oversized Super Dillo. With their unwavering dedication to quality and innovation, Lone Star Disc, and the "quality of their plastic" is undoubtedly making a significant impact in the disc golf world.

Clash Discs
Clash Discs is another brand that formed as result of the pandemic boom. Renowned for their commitment to quality, Clash Discs takes pride in producing discs with ultra-high-quality plastic and they have chosen Finland as their manufacturing hub. This strategic decision ensures that their discs are crafted with precision and durability, providing disc golfers with exceptional performance on the course. However, Clash Discs is not just about manufacturing exceptional discs; they also invest heavily in marketing strategies that set them apart from the competition. With disc names like Honey, Popcorn Peach, and Fudge, they embrace a fun and creative approach that appeals to disc golfers of all levels. Additionally, Clash Discs has built a formidable professional sponsored team, comprising top-tier athletes, which is a testament to their dedication and support for the sport. Despite being a relatively small company, Clash Discs continues to make waves with its innovative designs, passionate marketing approach, and strong commitment to professional partnerships.

Doomsday Discs
Doomsday Discs undoubtedly is one of the most unique and distinct brands in the disc golf. The brand prides itself on pushing boundaries and embracing an unconventional approach to disc design. With an emphasis on creating discs that challenge tradition and offer players a truly unique experience, Doomsday Discs has captured the attention of a significant fanbase of disc golf enthusiasts. Several of the Doomsday Disc molds like the WMD are deliberately not able to be approved by the PDGA. From their captivating disc artwork to their innovative and unconventional molds, Doomsday Discs are definitely unique.
The brand's commitment to uniqueness extends beyond aesthetics, as they continuously seek to allow team members to develop discs that offer a creative look feel and flight characteristics. In a sport filled with traditional standards, Doomsday Discs dares to be different, making it a must-have for players looking to add a distinct touch to their disc golf collection.
Remix Disc Golf
Remix is another unconventional disc golf company, and is a disc golf brand that we are not able to sell on Infinite Discs. The origins of this brand were unknown until Bodanza Disc golf discovered that the brand is owned by MVP disc sports for their Amazon.com sales. While several of their discs have been around for a while, they just decided to get them PDGA approved this year.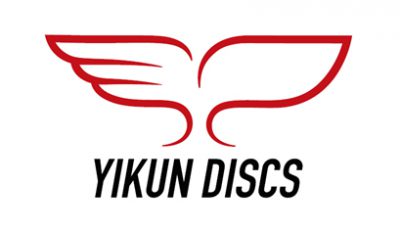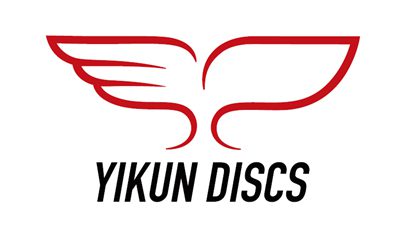 Yikun Discs
Yikun is an established disc golf manufacturer that has significantly expanded its range of disc molds in recent years. The Chinese brand's collaboration with Discmania and increase in production quality has undoubtedly bolstered its reputation within the disc golf community.
Furthermore, Yikun is set to launch a new line called Glaze next month, featuring a selection of innovative disc molds. Based on insider information, these forthcoming discs are visually captivating and some of the most aesthetically pleasing plastic discs ever made.
Are there too many disc golf discs on the market?
Undoubtedly, the disc golf pandemic boom created the surge of new disc golf businesses all trying to tap in on the growing market.
In my opinion, the growth of new disc molds is growing much faster than disc golf. Disc golf retailers will not be able to keep up. While Infinite Discs still attempts to stock all disc molds from every brand, independent brick and mortar pro shop only have room for so much product. Disc golf retailers need to pick and choose and will only select from the best and most popular discs from the most popular brands.
If companies can create demand for their discs they will find success with the new molds they are producing. If they cannot, then we will see a correction in the disc golf production market as new brands fail because the cost of developing and manufacturing discs exceeds revenue brought in from sales. I expect that we will see a large number of "out of production" and "expired molds" over the next few years.