Stamp Wars 2018 – Submit Your Design
***Post Update, December 4, 2017. Voting is now live! To vote for the submitted stamps go to the "Stamp Wars Blog" InfiniteDiscs.com/StampWars
In 2017, Infinite Discs featured a duel between two stamps to see which would win in popularity and sales. The Aztec went up against the Tommy Cat and won. We then featured the Aztec stamp on many discs from several different manufacturers. Now it's time to move on to the next battle…
STAMP WARS 2018
Infinite Discs is going to manage the battle differently this time. We're inviting everybody with art skills who would like to submit a design to enter the fray. If you've got what it takes to make a stamp design that will both appeal to the disc golf public AND fit within the standard specs for disc stamping (see here and here as examples of those specs), then you're welcome to enter!
We're looking for one-color stamp designs, so all artwork should be submitted in black, just to keep it simple. For example, the stamp designs should look something like this: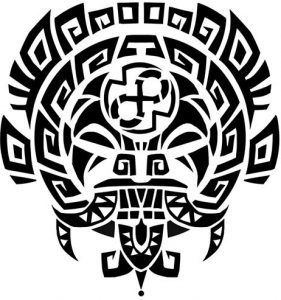 Basically, you'll want to make sure that there are not too many thick areas– solid black areas can trap bubbles beneath the foil and flake off. Plus you don't want lines that are too thin– they too can flake off. You'll want a relatively even balance of black space and empty space. Take a look at other stamps that you like and see how they have stayed within those specs.
TO SUBMIT A DESIGN…
We have a simple Google Form that you can read and submit when you have a design ready. You can submit up to three different designs, if you feel so inspired. But you'll have to submit the form with each work of art.
The form is basically a way to declare that you are willingly submitting your original artwork (NOT somebody else's) to be used in the Infinite Discs Stamp Wars contest. By submitting, you'll be giving us permission to display your artwork for voting and for advertising the contest. You'll also be allowing us to use that stamp on discs if you make it to the final four, or win the first place. The prizes for those winners will be the only compensation offered.
WHAT CAN YOU WIN?
Aside from the glory and bragging rights that come with victory, Infinite Discs will award a $100 gift card to each of the four finalists. Plus, the ultimate first place winner will receive an additional $250 gift card. Those gift cards can be used toward any products on the Infinite Discs website. Plus, you'll be able to see your design flying through the skies on hundreds of discs!
WHAT IS THE DEADLINE?
All artwork submissions must be turned in by the end of November 2017. Then we'll be able to launch the online voting in December so that the disc golf public and see all of the submitted stamp designs and pick their favorites. That gives you from now through November to polish and submit your designs.
HOW ARE WINNERS CHOSEN?
The initial voting will be online and the general public will basically cast their votes for their favorite stamps. The voting will be tallied at the very end of 2017 and we'll announce the four finalists who have received the most votes in January, as a kick-off to the 2018 year. Those "final four" designs will ALL be stamped on an equal number of discs in an equal ratio of disc models. Once the discs are in stock, the final round will begin. The stamp that sells the most will decide the first place winner.
ARE THERE ANY OTHER RULES?
Well…yes. There are a couple of other rules. If a piece of artwork is submitted that simply won't work as a stamp because the specs are ignored, then it will be disqualified. What is the point of having a design reach the finals that can't physically be stamped on a disc?
Also, Infinite Discs has the right to reject any artwork which is considered tasteless or pornographic. Usually manufacturers won't stamp those kinds of images on discs anyway, because they don't want their brand associated with highly controversial images. We're the same way. We don't want Infinite Discs to openly represent nudity, hate speech, violence, or foul language.
Also, you may not submit artwork that would break copyright laws. You may not submit artwork based on existing, copyrighted images or characters. For example, no existing superheros, movies characters, trademarks, etc. We must reject any artwork which might infringe on the intellectual property rights of another company.
If you have any specific questions you may email todd@infinitediscs.com but please be sure to research everything you can first, because we don't want to spend a lot of time explaining things that are already outlined here and on the Google submission form.
LET THE STAMP WARS BEGIN!