State of Disc Golf – What Brands Do You Know and Throw?

In the 2018 State of Disc Golf Survey we asked some questions that we love to ask every year– we want to know which brands are most recognized and loved, plus how many players bag discs by those brands. Sometimes we see an imbalance between brand awareness and loyalty vs. what is actually inside a player's bag. For example, last year we discovered that while more people claimed that Dynamic Discs and Latitude 64 were their favorite brands, there were actually more people who had Discraft in their bags than those who bagged Dynamic Discs or Latitude 64. Let's take a look at how those results panned out in this year's survey.
BRAND AWARENESS VS IN YOUR BAG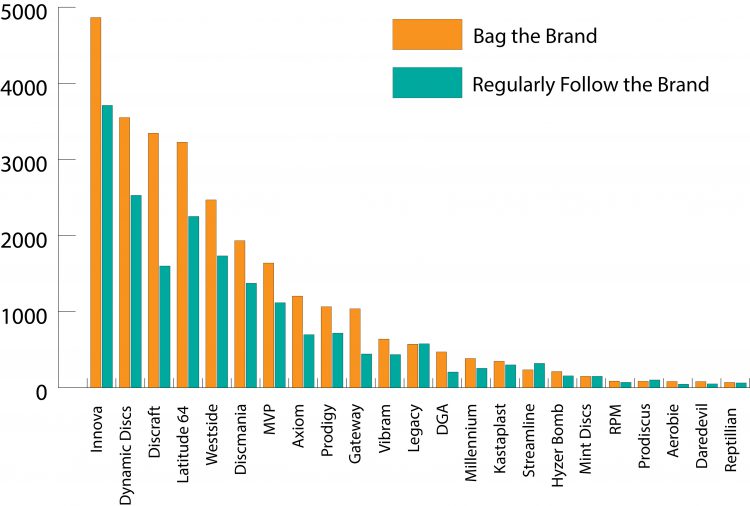 First of all, this chart excludes any brands that were under 1% of survey participants claiming to bag the brand. The "Regularly Follow the Brand" data is made up of those participants who said that they regularly follow the brand as apposed to "not aware of them," "heard of them," "I know some things about them," etc. In other words, we only included the data where players ranked the brand the highest in terms of awareness.
Innova has taken the top spot again in terms of high brand awareness with Dynamic Discs, Latitude 64, and Westside (all Trilogy brands) following behind. When it comes to bagging the brand, Discraft has now fallen right behind Dynamic Discs, but is still in front of Latitude 64. That is still a big disparity between people who regularly follow Discraft and those who bag Discraft — while they don't follow the brand, they do have Discraft discs in their bag. It's probably safe to assume that the extremely popular Buzzz mid-range has a lot to do with that.
Discmania is also making great headway in terms of the number of players who bag their discs, and their brand awareness is also growing rapidly. MVP and Axiom have picked up in the number of players bagging their discs. The awareness of those brands has also pulled up the awareness of their newer spin-off brand, Streamline, though not as many people bag that brand yet (at the time of this survey there were only two Streamline molds).
The rising of other smaller brands in awareness and disc use, like RPM, Mint Discs, Kastaplast, Hyzer Bomb, etc. is encouraging in showing that more players are becoming aware of newer or smaller brands, and are more likely now to add their discs to bags when compared to previous years.
FAVORITE MANUFACTURER

We also asked survey participants this question: If you could throw discs made by only one manufacturer, which would it be?
The "Innova Made" brands took the lead with 46.4% and that includes brands like Discmania, Hyzer Bomb, and Millenium, which are all manufactured by Innova.
Trilogy came in a strong second with 32.9% and that includes the brands Dynamic Discs, Latitude 64, and Westside.
MVP also manufactures Axiom and Streamline Discs, and they now take up third place with 9.3%. Though quite a bit behind the two leaders, they are a fast-growing part of the disc golf market. They passed Discraft this year to take that third place spot.
Another ironic move in this year's survey is that Vibram jumped into sixth place where they didn't even hit the top eight last year. But since the survey they have opted to exit the disc golf business.
CHANGING BRAND LOYALTIES
Finally, we asked if survey participants had changed their favorite brand during the last year. The majority 74.5% said that they did not change favorite brands, while the other 25.5% said that they did. So, a quarter of disc golfers changed brand loyalties last year, showing that the market is still fluid when it comes to branding.