This post on pro tips to help you improve your disc golf putting, is the next post in a series designed to help you elevate your game. Watch the videos and reinforce the concepts through reading. Watch, read, practice, and improve!
We all know the importance of putting. We hear it from enough people high up in the sport, that it simply has to be true.
It's also easy to understand it logically. If you throw two 250-foot throws and 1-putt, it's the same score as a 500-foot smash and a 2-putt.
But realistically, many of us don't have a ton of free time to get out and practice. So, when we do, we elect to practice our throws instead.
Throwing is usually more fun, so it makes perfect sense.
But you know what else is fun? Scoring well.
And scoring well is very hard to do without consistent putting.
So, it stands to reason that we will have far more enjoyment on the course, if we can confidently step up to a putt and knock it in the chains more often than not.
That is exactly what this post is designed to help you do. We'll give you tips from top pros, so that you can practice your putting confidently and have it translate directly to the course.
Let's begin!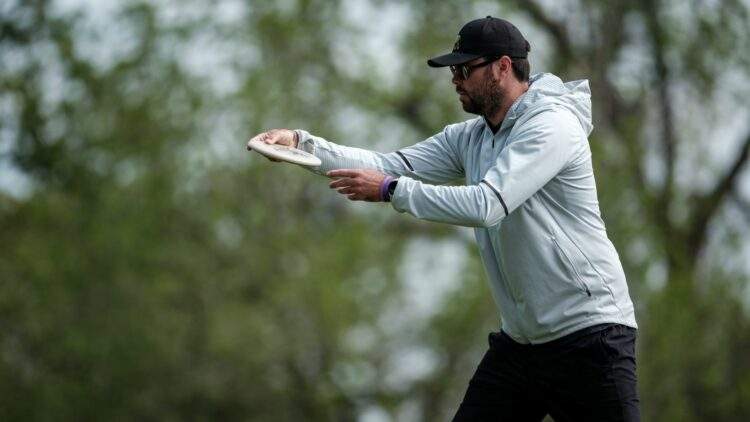 General Putting Tips
Tour pro Zoe Andyke has some great general putting tips that should prove helpful to players of all skill levels. 
Her main focus, in this video, is how to properly line up your putt. 
These are some of the pointers on lining up your putt but also some general putting advice mixed in as well!
Keep your feet steady and solid!
Keep your knees bendy and springy.
Your hips should be squared up to the basket.
Keep your chest and shoulders pointing at the basket. This tip is as much about lining up your putt as it is about making sure we don't hinge at the hip and point our chest towards the ground. Keep it pointing at the target, especially when you release your putt.
For grip, she mentions that you want to keep the disc "nice and tight" and that you can spin it a few times to find your grip. 
Another idea she gives is thinking about your putter having an eyeball on the end of it looking right at the target. 
After this, Zoe touches on the mental aspect (also discussed in-depth here). This is a HUGE part of making putts!
Tell yourself all sorts of encouraging thoughts and convince yourself you are going to sink that putt!
The last thing Zoe leaves us with is the focus on your legs. You get a lot more spin, speed, and power by harnessing the power of our legs. Use this knowledge, especially as your putts get farther from the basket!
Zoe has a very contagious teaching style and I absolutely encourage you to take a few moments to watch her explain these ideas herself in the video below!
Diversify Your Putting!
If you practice putting inside, then that's fantastic. You are undoubtedly improving your game, and you should definitely keep that up!
But we all know from experience, that those ideal conditions are never quite replicated on the course. 
Often times there's some wind or an obstacle that seems to get in the way. (Note: For some pro tips on putting in bad weather, check out a prior post called Pro Tips for Disc Golf in Bad Weather!)
If you aren't used to it, this can really throw off your game. 
That's why Infinite pro, Eric Oakley, tells us to go out and practice those very putts.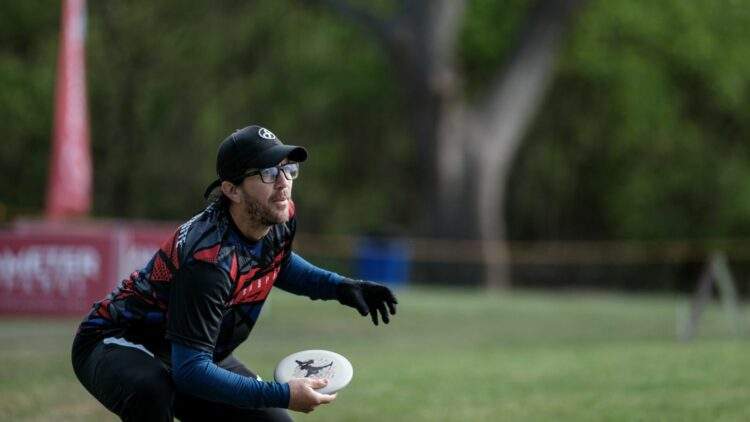 Practice with obstacles in your path, or brush in your normal swing path. 
Force yourself to step outside your comfort zone. 
You know this will happen while you're playing. 
By practicing these shots, you are vastly increasing the odds that you complete your putt.
Oakley tells us to try going to a knee, using a pitch putt, stretching out for an angled putt, or raising your putt for a higher spin putt.
In short, try to replicate the various obstacles you might find and practice them. 
It'll pay off.
Here's Oakley's explanation…
Make More Comebacker Putts!
Here's a quick tip from Joel Freeman that will probably save you a stroke or two over time. 
Nobody hits 100% of their putts right?
So, if, invariably, you are going to miss, you might as well set yourself up for a closer comebacker. 
You do this, Joel tells us, by controlling your speed.
Make your putt travel in such a way that, should you miss, it doesn't blow way past the basket. 
This will keep your disc golf putt totals down in the long run and pay dividends on the scorecard. 
Watch and see Joel explain it as well below…
Establish Balance!
Next up, Zoe Andyke helps us improve our disc golf putting by establishing your  foundation and checking your feet.
Zoe encourages us to take an extra moment before putting to pay attention to our feet. 
While you're doing that, here are some questions she asks: 
"Do you have proper balance?"
"Can you transfer your weight from backward to forward? Down to up?"
In the end she reminds us to check our feet and ensure they are balanced, solid, and ready to transfer weight, before attempting to putt.
Put Yourself in Tournament Scenarios!
This tip, from Dallin Blanchard, will help you sink those pressure putts. 
Essentially, he tells us to practice as if you are in a tournament. 
This is an alternative to just simply slinging putts at the basket as practice. 
Every time you step up to a putt, imagine that you have to sink it.
In addition, be sure to do your pre-putting routine. This will also help simulate tournament conditions. 
At the end, watch Dallin demonstrate his routine. To add to it, you can put the putters in different spots/distances so you literally have to step up each time to the putt!
Give it a look and see what you think…
This mindset shift should help you making a lot more putts when it really counts!
Keep Your Putting Routine Consistent!
In a related tip, Eric Oakley has a video for us about routine.
No matter what the putt looks like. Whether it's your normal putt, it's from a knee, or anything else, you'll want to keep that routine consistent. 
Then, around 0:45 Oakley takes us through his personal putting routine. 
See if you like any of it for your own purposes!
He likes to:
Make sure he is squared up

Establish a comfortable stance (he staggers with his feet closer together than most players)

Come down and push up (by bending at the knees)

*Hand extension towards the basket!
*Oakley considers that last part, on hand extension, to be the most important part of his routine. He got it by observing Eagle McMahon (one of the best putters on tour). 
No matter what type of putt (regular, from a knee, straddle, etc.) Oakley is focused on fully extending his hand towards the basket. 
This extension is something he believes everyone should focus on.
Watch and see how establishing a routine can help you improve your disc golf putting!
More General Putting Tips from Cole Redalen!
In this video, Cole Redalen credits his teacher who is the pro we started this post with (Zoe Andyke)!
In it, he gives his "spin" on disc golf putting and how he thinks about it every time he steps up to his lie.
Here are his major take-aways from the video.
Tip #1 on Grip – "Never put your finger on the very edge of the rim!"
Instead, put it slightly under, or some variation of under (see 0:55 to 1:40 for 3 types of putting grips he shows). This helps prevent the disc from slipping while you are putting. 
Tip #2 – Don't Spill Your Food!
To do this you make sure that you are not hinging at the wrist and your forearm bone (The radius (The one that lines up with your thumb)) is in line with your wrist. 
Tip #3 – Cole Keeps it on Hyzer!
As he said, putting is personal, but by  keeping it on hyzer, he explains,  you rule out some of the error that can happen when you roll your wrist and send putts off line.
Tip #4 on Alignment – Pretend you have 6 eyes!
Cole credits his teacher Zoe Andyke for this tip. Imagine 2 eyes on each of your shoulders, the sides of your hips and front of your toes.
Then, make sure all of those "eyes" are pointing towards the basket. This will help you stay on line with your putts. 
Tip #5 – Come down in line with the center of your body (and the center of the basket).
Cole advises against bringing the putt off line. It introduces too many other variables. 
Swing the putter down to the center of your body and bring it back on that line towards the center of the basket.
Now, watch him explain and we'll bring it all home afterwards!
Improve Your Disc Golf Putting – In Summary!
For lots of players, disc golf is a game we play to unwind. And what a game it is!
But for many of us, games are far more fun when you are doing well at them.
For this reason, it's absolutely worth it to improve your disc golf putting.
This post lays out many different aspects of putting and ways you can hit putts more consistently.
It reviews:
Alignment
Grip
How to diversify your putting.
How to establish balance
How to find your putting routine
How to practice like it's a tournament
How to make more comebacker putts
And more!
Take the time to go out and practice some of the points reviewed, and then come back and try a few more.
And while you are here, be sure to comment below!
Which tips did you find most useful?
Which ones do you plan to incorporate into your practice routine?
Are there any tips that you like when you are putting that were not covered?
Put this, or any questions you have in the comments. Together we'll improve our disc golf putting and watch the strokes drop from our scores on the course!
Thank you for reading and keep after it on the putting greens!