Top-Selling Discs On Sale for This Week

We thought it would be fun to put some of the long-term, top-selling discs on sale for this week, in case you need to restock after a busy disc golf summer season. The prices are automatically discounted on these disc models (no discount code is necessary).
DESTOYER – Distance Driver – ON SALE!
EXODUS – Fairway Driver – ON SALE!
BUZZZ – Midrange Disc – ON SALE!
P2 – Putter – ON SALE!

The DESTROYER had some competition this year as the top-selling distance driver as it pushed to keep up with sales of the new Discraft ZEUS and other new releases like the Discmania DD3 and the Dynamic Discs RAIDER.
There are some fun Destroyers in stock, aside from just stock stamps. There are a lot of custom stamp designs, plus some cool black Star Destroyers and Star Dyed Destroyers.
There are also a few signature series Destroyers in special plastics, Shimmer Star and Swirly Star, plus the new Halloween Destroyers.
You should be able to find plenty of different plastic types and plenty of different weights. Remember, when you click to SELECT YOUR DISC then you can sort by weight, from high to low, or low to high. You can also narrow your search to a specific plastic type by using the drop-down at the top left to pick the plastic you want to see.
There are also a few of the Paul McBeth 4x stamped editions in stock and a nice supply of the newer run of Ricky Wysocki stock editions.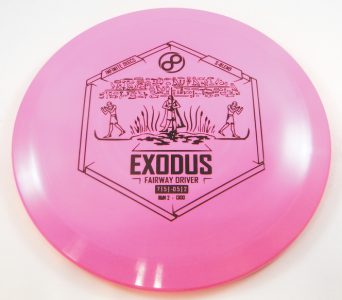 We also though it would be fun to offer a fairway driver companion to go along with your distance drivers, so we've also discounted the Infinite Discs EXODUS. This was the first disc released in the Infinite Discs line which is manufactured by Innova Champion Discs. It is a great "power fairway" that can be thrown for shorter, precision shots as well as longer drives off the tee. It is very similar to the classic "Eagle L" by Innova and has become a favorite of many players from intermediate to pro.
It's available in S-Blend (comparable to Star), C-Blend (comparable to Champion), and I-Blend (a long-lasting, inexpensive, Infinite Blend of Pro plastic).
The BUZZZ has always been among the top-selling mid-range discs on the market, if not the very top. It found new life with a Paul McBeth signature edition this year and has reached all-new heights of popularity. We currently have a great supply of the most popular edition in ESP Plastic, along with a lot of other choices, ranging from Jawbreaker to Full Foil. Again, simply click to SELECT YOUR DISC and you can pick your favorites.
To top it all off, we figured you'd need a discounted putter as well, so why not go with one of the top-selling putters on the market, the P2 by Discmania. We currently have a supply in many different plastics, from the softer, base plastic D-Line to premium blends like C-Line Glow. Check out the selection and remember, these prices are only good through Saturday, October 12th.