Disc Weights Across Disc Golf Brands
With a lot of disc golfers trying out popular discs by different brands, we thought that we would address the questions of disc weight. For some players, the weight of the disc is not particularly important as long as it flies the way that they want it to. But for other players, the disc weight is very important since they prefer the performance of heavier discs, or desire the easier distance that may come with lighter discs, etc.
Here at Infinite Discs, we try to represent each disc as accurately as possible on our website by including a photo and the details for each one. We decided years ago that we would trust the manufacturers when it comes to indicating the weight of their discs. Most major disc manufacturers take the time to weigh the discs as they come out of the mold and painstakingly mark those weights in ink, with stickers, or embossed on the bottom of each disc. We trust that they have a well-established procedure for accurately weighing those discs as part of their manufacturing process.
WHY DON'T WE WEIGH THE DISCS HERE?
Because we've chosen to trust the disc manufacturers to represent their products accurately and according to their own standards, we do not take the extra time to weigh each disc as we add them into our online inventory. Here at Infinite Discs, we currently have three different digital scales which we use to weigh packages as we ship them. When used to weigh individual discs, we can lay the same disc on each of those three scales and get results that may differ a gram or two from one scale to the next or from the weight indicated on the disc. So which of those scales is correct?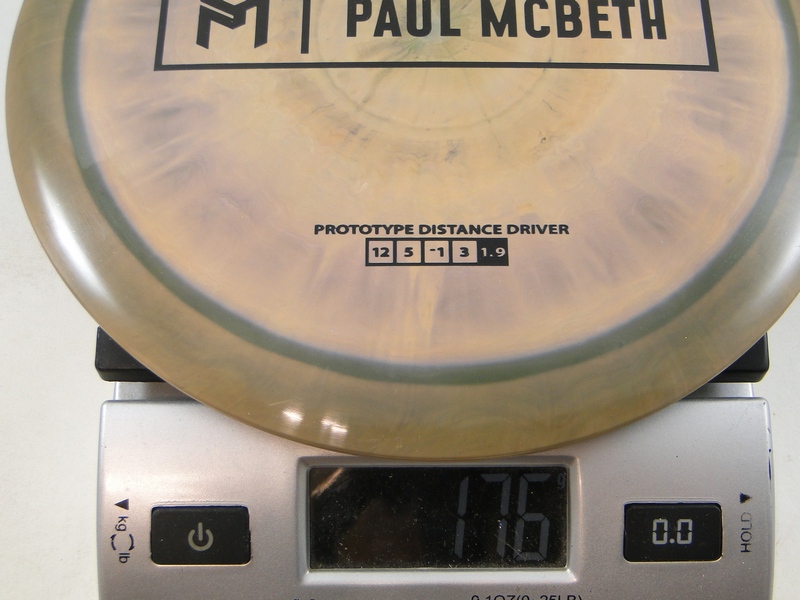 We have heard the argument that "gravity is the same everywhere," and that is correct. While gravity may not change, the calibration of different scales might differ. While we do not own the most top-of-the-line digital scales, we have noticed that there can be differences between them, so we don't feel that we should automatically judge a disc's factory weight to be wrong if it differs slightly from what one of our scales might say.
Let's assume for a moment that we receive a disc marked as 175g by the factory, using their procedures. Then we weigh the disc and find that our scale says 174g or maybe 176g. We feel strongly that it is not our place to then scratch out the factory weight and indicate our own results on the disc. We also don't feel that we should list the disc on our website with a weight that is different than the factory results– the purchaser of the disc would receive it, see that our advertised weight doesn't match what is marked on the disc and feel deceived. They might weigh the disc themselves and find a result of 173g on their own scale and feel that both we and the factory were wrong. Thus, we stick with what the factory says and don't alter the disc or the weight information provided. That way, the manufacturer becomes the ultimate authority for the disc that they produced.
DIFFERENT BRANDS AND THEIR WEIGHT DESIGNATIONS
We've seen a lot of players move from one brand to another when purchasing discs. We'd like to address another important consideration when it comes to the procedures of those different brands. Innova, for example, typically marks their weights to the precise gram by writing the weight on the bottom of the disc in ink. Players who throw Innova or discs by other brands that use a similar procedure are able to pick the exact weight that they feel is perfect for them.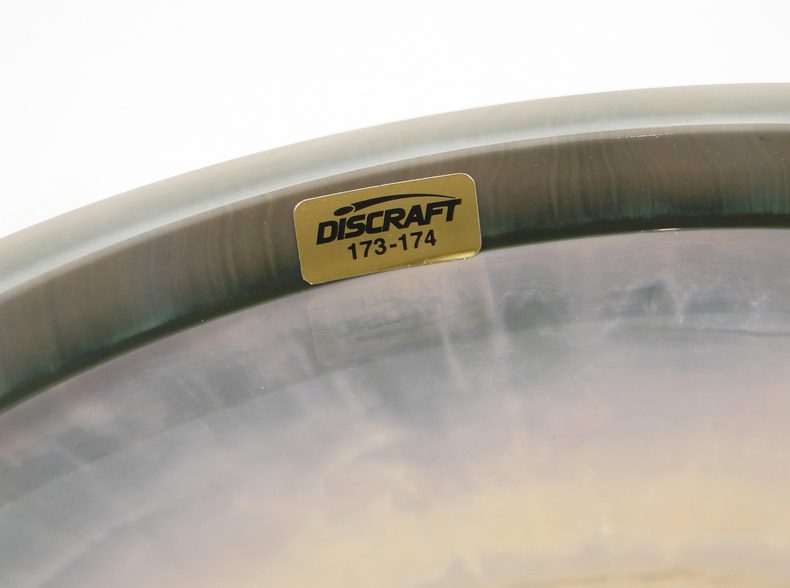 However, Discraft has not traditionally marked each disc to the gram. They instead choose to put a sticker on their discs that indicates a weight range. For example, they'll put a sticker on a disc that says 170 – 172. That way, they are acknowledging that there will be some variation in weight for the discs produced in that batch. Other discs may be lighter and marked with weight stickers like 167 – 169, or heavier with 177+ (typical for mid-range discs like the Buzzz). Again, we assume that their range is accurate, but can't promise that when weighed on somebody's personal scale that it won't fall a gram above or below the range that Discraft indicated.
When we list discs by companies that use a weight range on a sticker, we have chosen to be consistent in our data entry practices by simply listing the low number on that sticker. That is because our data entry system does not allow for a range, but wants a single number. Thus, a disc marked as 170 – 172 will be listed as 170.  A disc with a sticker saying 173 – 175 will be listed as 173.  The "max weight" for a Discraft driver would typically be listed as 173, but could actually weigh on the higher end of that range.
Other brands that use weight ranges include DGA, Viking Discs, Yikun Discs, and the new Active Baseline series of discs from Discmania (not individually weighed, but sold in a weight range).
WHAT IF THE WEIGHT IS JUST PLAIN WRONG?
While we'd like to believe that we live in a world where mistakes don't happen, that is simply not a reality. While taking photos and adding thousands of discs per week onto our website, it is possible that some busy, tired employee here at Infinite Discs may type a weight in incorrectly. Usually we catch that error before the disc ships and we contact the buyer to make sure that they get a weight that they want. If the disc slips past another employee at the shipping station and the buyer receives a disc that has a factory weight that is different than what we entered, then we take care of the problem.
If we have entered the disc weight according the factory-marked weight, as indicated above, but the buyer believes it is still inaccurate or marked incorrectly, then we're still happy to help the best we can, knowing that some busy, tired employee at the factory may have made a mistake. After all, nobody is perfect, and mistakes are always possible. We just want to clarify that we are doing the best we can to represent discs on our website exactly as the factory specified.
In the end, when disc weight becomes a hot topic of discussion or a complaint, we often find ourselves wondering if that gram or two was really going to make a difference in the player's game. Would a 174g disc perform that much worse for an average player who claims that they absolutely must have a 175g disc? That's an argument to be settled elsewhere. As disc connoisseurs, we can attest that here at Infinite Discs we have discs in our bags that straddle a lot of weight ranges, and they fly as well as we can throw them.
We hope that this information has been helpful in understanding a little bit more about how brands mark the weight of their discs, and how we at Infinite Discs work with those brands and trust in those manufacturers to indicate the weight of their discs so that our buyers can make an informed purchasing decision.