TOP TWENTY TUESDAY – JANUARY 7TH 2020

In case you missed the Top 100 best-sellers of 2019 at Infinite Discs, check out the newly posted charts and stats HERE.
But today, we look back at only the past week of sales for the Top 20 Tuesday chart. Our customers decide these rankings through their purchases– we do not alter the results for any reason. This chart covers the last week of sales and is broken down by disc model and plastic type.
Top Twenty Tuesday for January 7th, 2020
#1 – D-Line P2
#2 – Sublime FREETAIL
#3 – DX X-Out AVIAR
#4 – Discraft Special Blend LUNA
#5 – R-Pro PIG
#6 – Apex FREETAIL
#7 – ESP BANGER GT
#8 – Star DESTROYER
#9 – ESP ZEUS
#10 – ESP ANAX
#11 – ESP BUZZZ
#12 – Eternal FREETAIL
#13 – Swirly S-Line FD
#14 – Z Line ZONE
#15 – DX Color Glow ROC3
#16 – GStar DESTROYER
#17 – Star ROADRUNNER
#18 – Star WRAITH
#19 – K3 REKO
#20 – Classic JUDGE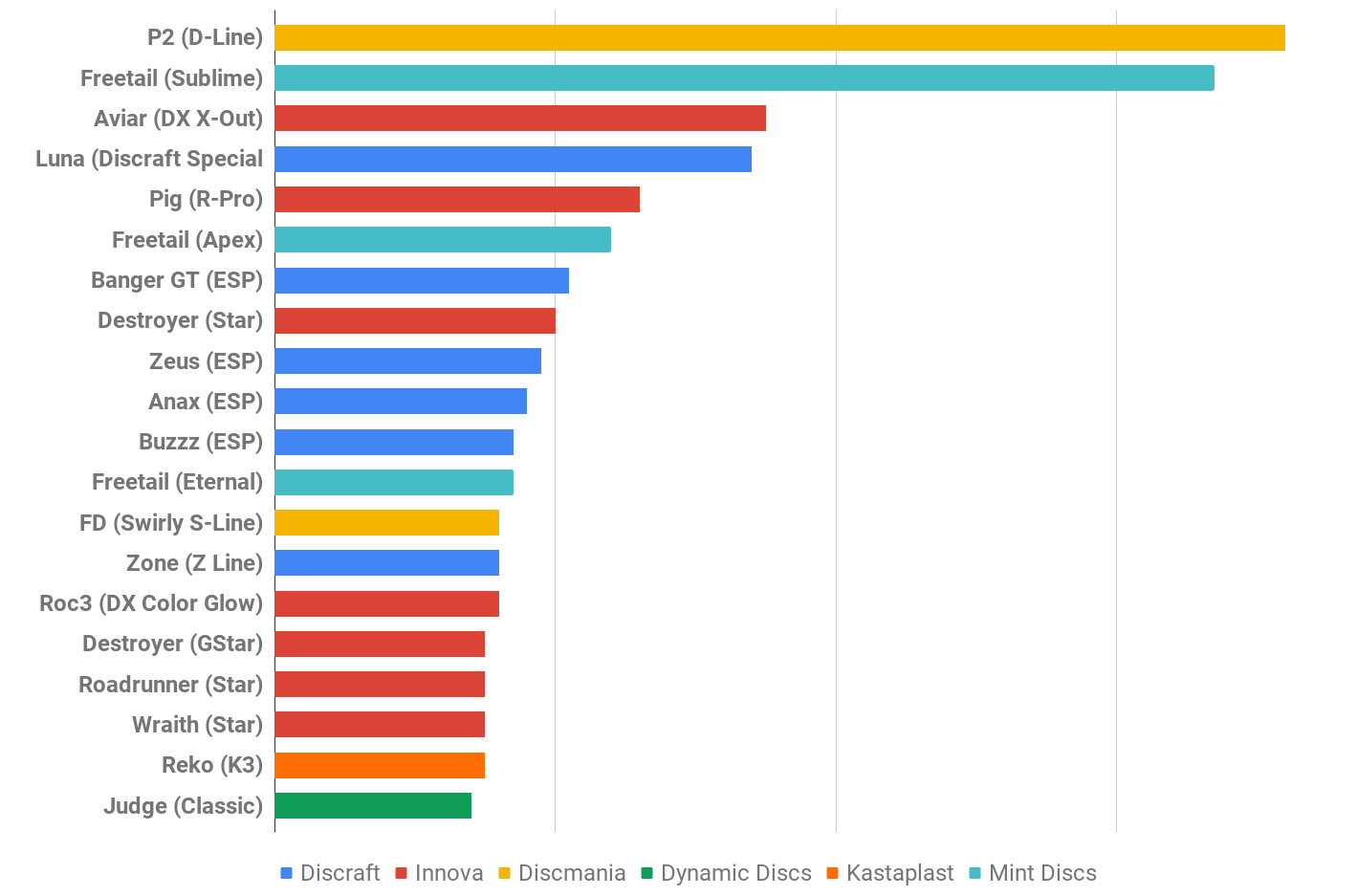 The biggest stand-out this week is the new FREETAIL driver by Mint Discs which hit the #2 spot in Sublime plastic and two other spots (#6 and #12) with the two other premium plastic blends. That's a nice debut!  The other spots mostly shuffled around with discs that regularly appear on the chart, since the first week of the year, and January in general, is slower for disc sales.
Here is a look at how many times different brands appeared on this week's chart: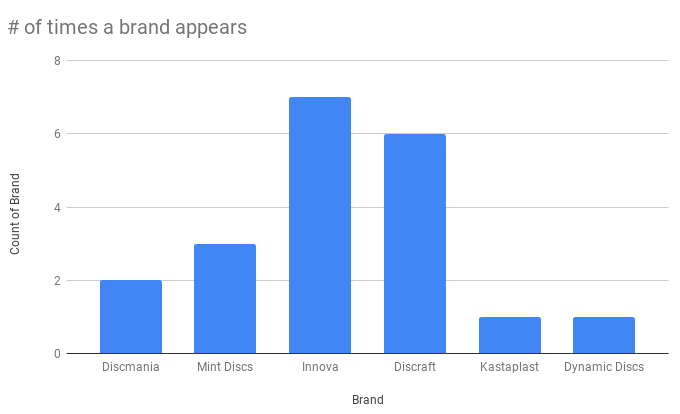 –> Each week we'll invite you to leave a prediction for a certain chart position on next week's TOP TWENTY TUESDAY report. The person to predict that chart position correctly in the comments will win a $10 gift card for the Infinite Discs website.
WINNER – The #10 spot this week was taken by the ESP ANAX by Discraft. It looks like nobody picked that as the possible #10 position, so we don't have a winner this week.
GIFT CARD PREDICTION FOR NEXT WEEK:  Leave your comment below to guess the #11 spot for next chart.  It will go to the FIRST person to get it right. Good luck!