2015 Christmas Disc Golf Guide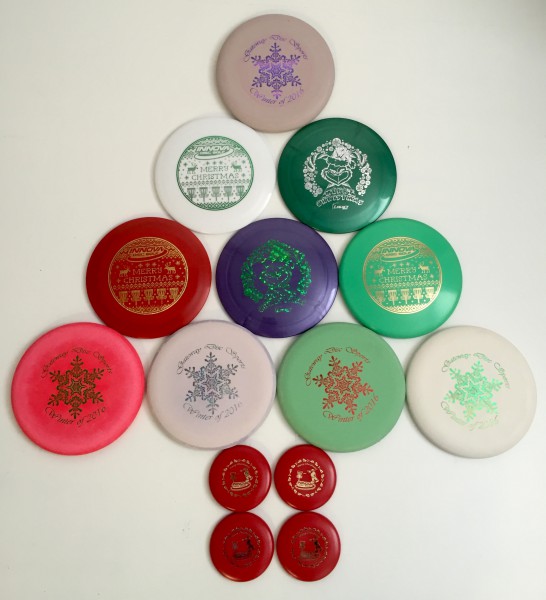 With Christmas just a couple weeks away, it's a great time to think about the gifts for the disc golfer in your life. Whether it's your sweet heart, a buddy, the guy who runs your club, or a blogger for Infinite Discs 🙂 , sometimes it's tough to decide on the best gift to give to that special person. After all, disc golfers like specific discs and getting the right model, plastic, and weight for them can be a tough choice. Fear not! We've compiled a list of gifts that most disc golfers would enjoy and appreciate.
To the casual observer, the only thing a person would need to play disc golf is a few discs. However, to a disc golfer there are tons of additional items that make the game a little better.
– For example, how about a copy of the inFlight guide? If you've ever wondered the flight numbers for a certain disc, and how it compares to your favorite disc, the inFlight guide is for you. A handy reference full of universal flight ratings and flight charts, the guide will help you know the flight numbers for nearly every disc available.
– Do you know a disc golfer who plays in the rain or the sweltering heat? Chances are, they could use a Dirt Bag. The Dirt Bag helps disc golfer's deal with moisture, humidity, and sweaty hands to achieve a better grip on their disc.
– Everybody needs a calendar. But, instead of pictures of puppies, cars, or beautiful models, why not get your disc golfer a disc golf calendar?! Featuring scenic shots from courses around the globe, the disc golf calendar is something every golfer would love.
– Disc golfers of any skill level would benefit from the advice given in the book, Zen and the Art of Disc Golf. This book gives practical advice for building a foundation for becoming a better disc golfer. It is a book BY a disc golfer, FOR disc golfers.
Bags: Okay, certainly every serious disc golfer already has a bag. But what about those days when they just want to carry a couple discs? Having a smaller bag around for those 'putt and approach' or tester rounds will make it easier to lug just a few discs around the course, along with some water or a snack. Is the special person in your life cramming all of their discs in an over-stuffed small bag? It might be a good time for them to move up to a backpack style bag. Plus, it gives them an excuse to get more discs to fill the new bag! One especially hot disc golf bag is the new Innova Heropack.
Stools (seats): If your disc golfer likes tournaments or plays in a league, chances are they would like to take a break while waiting at a tee box. A stool or seat is the perfect thing to allow golfers to take a break from the action and save precious energy for the game.
Misc: There are a variety of items that every disc golfer should have. A retriever, for example, has saved many a golfer from wading out into a pond or river to retrieve an errant disc. A good towel is invaluable for removing moisture due to rain, dew, or bodies of water. They also come in handy for cleaning mud from discs or for drying hands. If you really want to score points with the disc golfer in your life, give them a portable basket for Christmas! Every golfer wants to improve their putting, and a portable basket allows them to practice at home.
Discs: For the more adventurous gift giver, new release discs are a fun gift to give. Who doesn't love to try the newest plastic or rubber to hit stores?
Christmas Edition Discs: For the holiday's you can even purchase special stamped Christmas discs including the: Legacy Rampage, Hunter, Innova Leopard3, Thunderbird, Destroyer, Spider and MVP AMP (available December 14th).
For an especially inexpensive gift, Innova also has the OrnaMini. A tiny disc that serves as both a Christmas Tree Ornament and a mini-marker.
Apparel: Who doesn't love sporting a shirt from Infinite Discs? Choose from comfortable cotton or moisture wicking shirts in a variety of colors, all with the Infinite Discs name and logo.
Gift Cards: Okay, let's face it, some of us either don't do well selecting gifts for others, or, we are searching for a gift for a very picky person. The safe bet is a simply a gift card from Infinite Discs. It's the sure-fire way to know that the person will love what they get!