A Year of Fun Stamps from Infinite Discs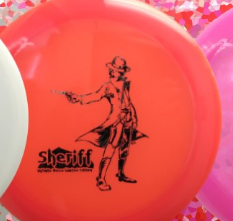 About a year ago, Infinite Discs decided to improve our selection of discs for our customers by adding some unique and diverse stamp designs. The new stamps could be presented across a number of different brands, or limited to a single brand or even a single mold. After all, we do believe, as a core part of our company philosophy, that a large and diverse selection of discs is best for disc golf shoppers.
One Year of the Infinite Bomber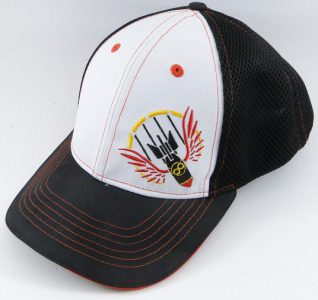 One of the first stamp images that we presented was the "Infinite Bomber" which is a simple, logo-style image of a bomb with wings. Now, a year later, the Infinite Bomber lives on as a regular part of our disc inventory, and it has also been presented in a few different versions through the year (Blitzkrieg stamp, Atom Bomb Stamp, etc.). To celebrate an entire year of that stamp design, we've just released a pair of trucker hats for players who like the Infinite Bomb.
The hats are manufactured by a leading sport hat brand called Headsweats, and they're comfortable, flex-fit hats for using out on the course. These limited edition hats can be ordered from Infinite Discs HERE. There is a white-and-black version with a colored bomb, and an all-black hat with a grey bomb.
The Monster and the Aztec
One of the next big stamps for Infinite Discs was the Monster, which was released for Halloween of 2016 featuring a three-headed beast. This stamp was limited to a few disc models from Innova and Discmania and was only a one-time run of about 300 discs. A few stayed in the vast disc inventory at Infinite Discs for a few months before eventually selling out.
To kick off the 2017 year, Infinite Discs presented two stamp designs after a dispute among company employees. The younger employees generally believed that a stamp design featuring a tough, gun-toting cat would be very well received, given the popularity of cats online and in other markets. However, the older guys believed that an ancient Aztec design would be more popular. Thus, 300 discs were stamped with each design. The disc models and quantities were exactly matched, using Innova as the brand testing ground. Whichever stamp sold the fastest and the most in a month's time would continue on as a regular Infinite Discs stamp design.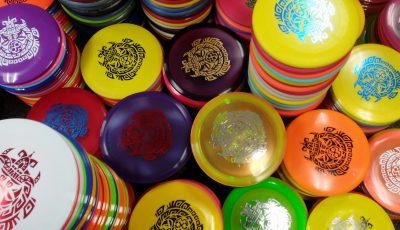 The contest was presented to our customers as "stamp wars" and a couple of Facebook fan pages were created where people could proudly display photos of their newly acquired discs. Though the contest was close at first, the Aztec stamp eventually took off and left the Tommy Cat stamp in the dust. Thus the Tommy Cat was abandoned (all discs eventually selling out, not to be seen again), while the Aztec stamp moved on to other disc brands like Dynamic Discs, Discmania, Latitude 64, Westside, and more. It has since been restocked on some brands and will be a regular part of the Infinite Discs selection for the foreseeable future.
Limited Edition Stamps
Along with the new year came announcements of new discs. Three of the first to be announced by Trilogy were the Dynamic Discs Sheriff, the Latitude 64 Gladiator, and the Latitude 64 Anchor. With two new distance drivers and an overstable mid-range in the mix, Infinite Discs decided to try a limited edition stamp which would be unique for each. Using the names of the discs as inspiration, three stamps were designed for the three discs. The Sheriff turned out to be the hottest selling of the three, and though it had the largest number of discs made with the stamp (250 total), it was the limited edition that became the most sought-after. The Gladiator limited edition had 150 stamped discs, some of which are still available. And then the Anchor had only 100 limited edition stamped discs featuring the only female character of the three discs– a woman disc golfer holding…well…an anchor.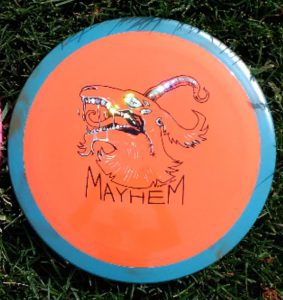 Other single-mold stamps followed and were received well, including discs like the Dynamic Discs Slammer, Streamline Pilot, Streamline Trace, and very recently the Axiom Mayhem. Others are planned to be released as new discs hit the market, again focusing on fun and interesting stamp designs.
Most of the Infinite Discs stamp designs so far have come through the hard work of a talented artist who uses the online name of NEOmi-triX. The same artist helped to design several stamps for the Infinite Discs VIP Club, which is a subscription service that presents a limited edition stamped disc each month to the disc enthusiasts who subscribe. Most of the VIP Club discs have already become popular collectors pieces, as well as favorites in the bags of many subscribers who choose to throw their limited edition discs.
Sprucing Up Vibram
Vibram's disc golf branch is a unique disc manufacturer because all of their models are made with rubber rather than plastic. Their discs are high quality in both material and performance. Fans of Vibram are very loyal and dedicated.
However, one thing that disc golfers will immediately notice about Vibram discs is that they do not feature traditional stamps. They are generally "blank" with only an embossed disc name and the Vibram logo. While that clean presentation is a plus for many players, it is also a missing element for other disc enthusiasts who like to have a little more personality and flair with their discs. One of Infinite Disc's new 2017 efforts in increasing variety and selection is to add some unique images to Vibram's great discs. So far, fans have been able to collect and throw Vibram discs with full-color Aztec variations, as well as with a really cool Medusa art image, and a new volcano graphic. More designs are planned in the future to spruce up Vibram discs for those who want to try the brand.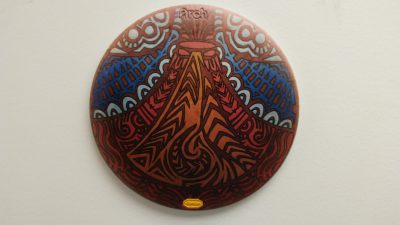 Infinite Discs plans to continue approaching different brands and working together on our mission to create an infinite supply of infinite disc choices. The journey will continue through 2017 and beyond!