Best Disc Golf Discs – Top 100 Selling Discs
This article was written several years ago. Click this link for an updated list of the best discs on the market.
Best Disc Golf Discs for 2021
Today we're going to take a look at the Best Disc Golf Discs for 2021. To learn which discs are the most popular, we are going to take a look at the Top 100 Sellers from 2020. All data is taken from InfiniteDiscs.com sales figures. (We cannot show exact figures, but we can easily see which discs sell most compared to others.)
Last year, 2020, brought crazy growth to our sport of disc golf. With many disc manufacturers being temporarily shut down, plus the massive influx of disc golfers, popular discs became harder and harder to come by throughout the year. Some discs, like the Zeus, quickly became "out of stock", thus dropping it's rank on the Top 100. When we did get the Zeus in, it would sell very fast, causing it to go higher on the chart.
We believe the top 100 selling discs of 2020 will still be an excellent indicator of the most popular discs of 2021. These sales represent the data from old and new disc golfers, making them a great summary of the best disc golf discs.
First we'll jump into the top 100 chart, then we'll look at some broken down stats. Lastly, we'll get to our recommendations for the Best Disc Golf Discs of 2021!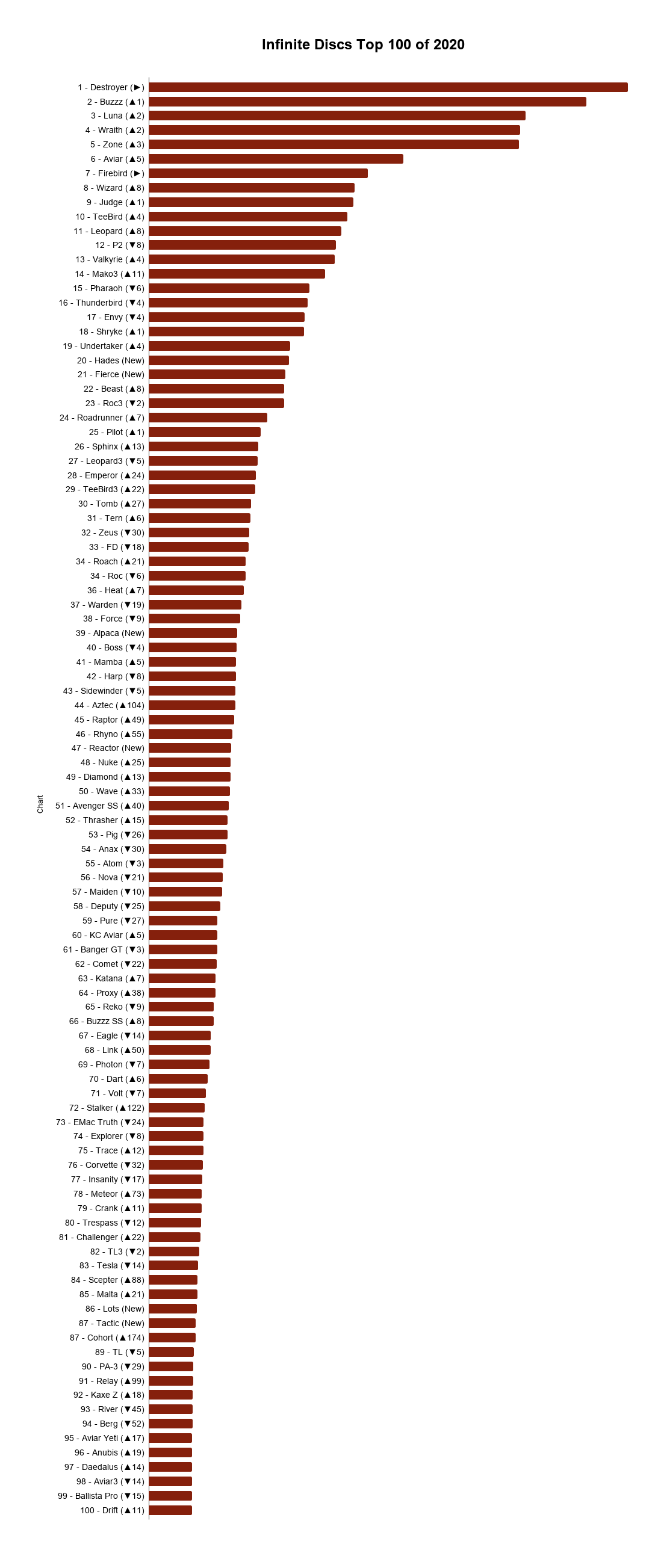 ---
The Top 5 Selling Golf Discs for 2020
Innova Destroyer
Discraft Buzzz
Discraft Luna
Innova Wraith
Discraft Zone
The Destroyer, Buzzz, and Luna took spots 1-3 respectively, making them the perfect Driver, Mid, and Putter combo… assuming you can handle a Destroyer. The Wraith and Zone were a close 4th and 5th place, showing that Innova and Discraft dominated the top five. The P2 dropped from it's top 5 spot in 2019, and this was primarily due to it being unavailable for most of the year.
---
Ups and Downs
Next to each disc is an arrow pointing up, down, or right. These arrows and numbers represent how much each disc climbing or dropped in the ranks from 2019. Many of the top discs shuffled slightly, but not enough to make a big difference in the rankings. The #44 Aztec, #45 Raptor, and #45 Rhyno made the biggest jumps into the top 50. The biggest overall jump was the #87 Cohort, jumping 174 spots to make the Top 100 chart. The #91 Relay also made a big jump of 99 spots.
The Hades and the Fierce debuted in 2020 and claimed the highest spots on the chart for new discs, at #20 and #21 respectively.
---
Types of Discs Sold
What types of disc golf discs are most popular?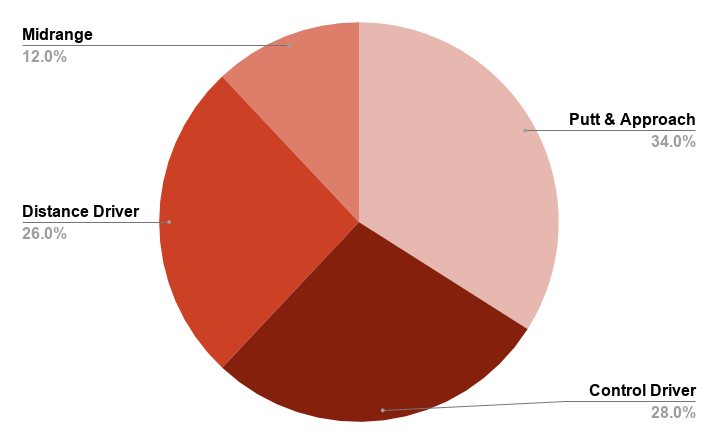 Putters were the top selling type of disc in 2020. We saw a big influx in putter sales. Putters made up 34% of all discs sold in 2020. Part of this may be do to the fact that many courses were closed for a time and disc golfers had more time to practice putting.
Control drivers came in second, at 28%. Distance drivers were at a close third at 26%, and mid ranges were by far the worst selling disc type at just 12%. Midrange discs are not the most glamourous golf discs. They do not wear out nor get lost as quickly as do drivers.
---
Top Disc Golf Brands
In terms of the best disc golf brands, here we list the number of times any brand had a disc golf mold that made our top 100 list.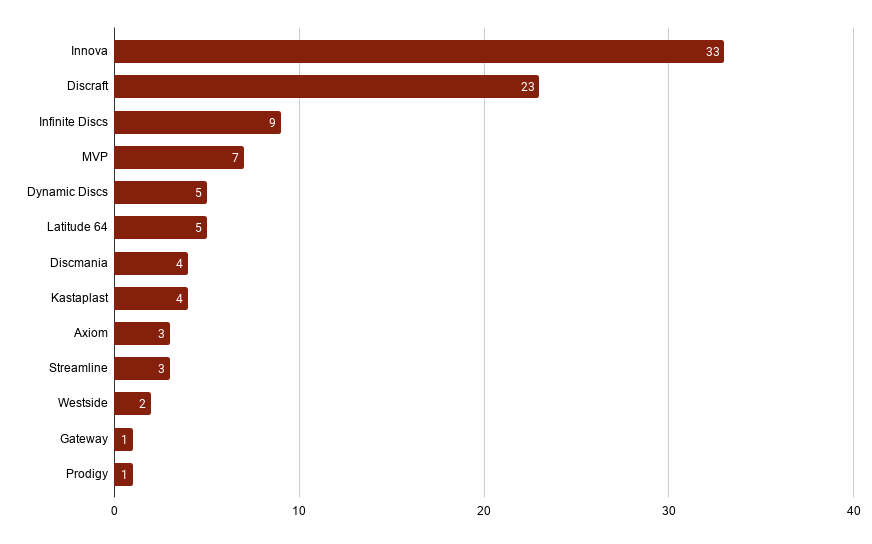 Innova appeared on the Top 100 chart 33 times, while Discraft appeared 23 times. Infinite Discs molds came in third with 9 molds on the chart. Many other brands made the chart, showing that there are excellent discs from every manufacturer. Because most of the disc golf manufacturers were unable to produce discs at a rate fast enough to keep up with demand, there was often lack of availability of many of the most popular molds. These graphs would likely be very different if we were able to keep in stock all disc models throughout the year.
---
Best Disc Golf Discs for 2021:
Now let's jump into our recommendations based on the best sellers! We've divided our suggestions here into best putters, midranges, and drivers. As skill level does effect ones ability to have success with different types of discs, we've also suggested different discs from our top 100 for different skill types.
Best Disc Golf PUTTERS for 2021
There are many great putters to choose from and they work for most, if not all skill levels. There's a reason many of these putters have been top sellers for a long time. They work well, and people love them.
Recommended Putters For All Skill Levels:
Try something hot and new: Infinite Discs ALPACA
---
Best MIDRANGES for 2021
We'll break down these midrange recommendations based off of sales, and skill level.

Best Mids For Beginners:
If you're new too disc golf a straight to understable midrange just might be the most valuable golf disc to you. Consider trying one of these great, easy to throw, mids.
Try Something Hot and New: Divergent Discs LEVIATHAN
Recommended Mids for Intermediate / Advanced Players:
Once you have better throwing technique and a little more throwing power a stable/overstable midrange becomes the consistent choice for accuracy. Try these from our list of best midrange discs for 2021.
Try Something Hot and New: Thought Space Athletics PATHFINDER
---
Best Disc Golf DRIVERS for 2021
We'll break down these driver recommendations based off of sales, and skill level.

Best Drivers For Beginners:
Understable moderate speed fairway drivers are typically the best disc golf drivers for new players. Be sure to check out these recommendations for the best drivers for beginners.
Top Drivers For Intermediate Players:
For many intermediate disc golfers, the most important aspect of improving the disc golf game is getting more distance. Our suggested list of best drivers for intermediate players here provides some excellent choices for improving your accuracy and maximum distance.
Top Drivers For Advanced and Tournament Players:
Skilled disc golfers need consistent discs that will provide them with both accuracy and distance. The suggested top drivers below are consistent choices among some of the top players in the world.
---
LET US KNOW what your top picks are for the best disc golf discs of 2021! Be sure to tell us about your skill level and list what you think the best drivers, midrange, putters or disc golf sets are.