Divergent Discs Glow Discs

Divergent Discs is a very beginner friendly brand. They focus on making discs that are incredibly easy to throw and that will provide satisfactory distance. In addition to these molds that they make, Divergent also makes plastic selection easy. This matter helps the overall disc selection easy. As their molds only come in one plastic, rather than a multiplicity of plastics that all affect the flight of the disc in some way or another.
Divergent Discs has been around for a short amount of time, and are doing a lot to get their foot in the door of the disc golf market. Recently they've released a new version of their plastic. They've created a glow version of their plastic. Now, you'll be able to use some of your favorite Divergent molds for your night rounds.
Molds Available for Single Purchase
At the moment, not every mold is available in the the Max Grip Glow or Stayput Glow plastic options. But a good large portion of their lineup is available. You can purchase the Narwhal, Leviathan, Kraken, and Lawin in the Max Grip Glow and the Golem in Stayput Glow right now. These molds are pretty solid molds.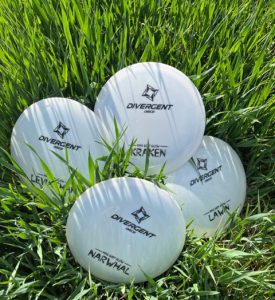 The Narwhal is a really nice floaty putter. Makes it great for putting and throwing. It is an understable mold, designed to be thrown easily. Helping the disc golfer to achieve good distance, control, and easy putting.
The Leviathan is an understable midrange that is easy to throw. It offers high glide and minimal fade. Providing a solid disc that works excellently in the hands of a new player. Providing a solid flight that is quite manageable for the player, easily a go-to midrange.
The Kraken is an understable fairway driver that helps the beginner get used to high speed discs. This mold provides a good controllable flight path, and offers good distance. Helping the player achieve better distance, all because of its easy-to-throw tendencies.
The Lawin is a distance driver that offers a lot of glide a good amount of turn and a decent fade. Offering a stable flight that is manageable, and controllable. This high speed distance driver is a good introductory disc for the high speed distance drivers.
These molds are all available on Infinite's site, and are more affordable than other glow plastic. As the Max Grip plastic is available for $13.99.
The Golem, comes in the Stayput glow. And this mold is a very overstable disc. It has little glide and a very hard fade. It makes for an excellent utility disc that can be trusted in many situations. Additionally, in the Stayput rubber blend, this absorbs impacts and limits ground play. This is available for $17.99 on our website.
Divergent Discs Glow Set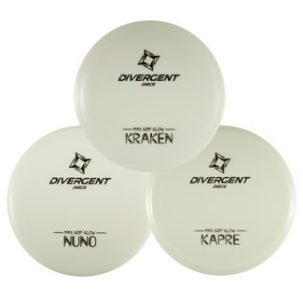 In addition to the single molds, there is a Max Grip Glow disc golf set as well. Within this box set of discs comes some other molds that are not available from single disc purchase at the moment. The disc golf set comes with a Kraken, Kapre, and Nuno; all in Max Grip Glow of course. While the Kapre and the Nuno are unavailable for purchase by themselves, you can still check them out on our site.
The Kapre is a nice stable midrange. it flies straight with a little amount of fade to finish its flight. Capable of a variety of flight paths because of its stability. This is a mold that can handle power and has the same easy-to-throw tendencies that Divergent Discs is known for.
The Nuno is a stable putter that has a straight flight with a minimal fade at the end. The Nuno is able to handle power and fly well for the beginner and the advanced player alike. This putter does well as an approach disc and as a putter.
Overall, the Divergent Discs Glow Set is a great introduction for night rounds. It provides 3 good discs to use that are in a glow plastic. This is available on our website for $24.99.
The Effectiveness of the Glow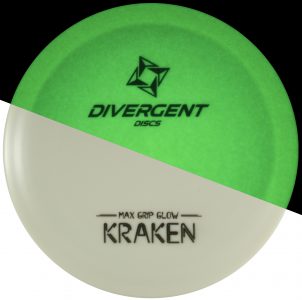 The Max Grip Glow and the Stayput Glow are pretty solid glowing blends. They both charge pretty quickly and easily, especially with a UV light. The length of the glow is somewhat proportional to the amount spent charging the disc. If you spend a minute putting it under a UV light, longer than a minute. My definition of glow is bright enough that it is easily visible. The feel of the plastic with the glow variant is different than the original blend. To me it seems that the feel is just a slight difference, so it doesn't seem that the glow addition ruins the benefits of the Max Grip or Stayput blends. They both still offer good grip and durability. The Stayput rubber blend still provides a flexible mold that will absorb impacts and or grip the ground; all to limit the ground play.
It seems that the Stayput Glow charges and glows better than the Max Grip. It seems that the opaqueness of the Stayput allows it to absorb the UV rays more easily. Which helps the plastic charge faster and resulting in a longer glow.
Overall the new plastic addition to the Divergent Discs lineup is a good add on. It provides a good material that will glow in the dark, and make playing those night roughs a possibility, and enjoyable. If you haven't heard of Divergent Discs you should check them out, you can read more about them in this article. Or you can check out their site here. Especially if you find that your discs aren't flying as far as you would like and want something that is easier to throw.